Totes, Bins and Dividers: Benefits + How to Use Them to Streamline Material Handling 
In any industrial or warehousing operation, a well-organized inventory is a key factor in improving productivity, processes, and ultimately, profitability. Even the smallest changes in how you store your products can impact your overall costs.
This is where warehouse tote dividers, bins, and totes come in.
Warehouse bins, totes, and dividers are the most common and straightforward methods to store your small to medium inventory.
But how exactly do these understated storage containers streamline warehouse operations? We're here to explain.
In this article, we'll share everything you need to know about totes, bins and dividers, including their benefits. Plus, we'll explain how you can utilize totes, bins, dividers, and partitions in automated picking and storage solutions to streamline your warehouse operations.
What are Warehouse Totes or Bins?
Warehouse totes and bins are containers used for storing and handling warehouse materials and goods.
What is the Difference Between a Tote and a Bin?
A tote is an industrial sealable box that can be easily stored by folding it when not in use. A bin is a container with an open top, allowing easy picking access for your warehouse operators.
Warehouse totes and bins help streamline material handling or the movement of products or components from one place to another while aiding in the storage and protection of warehouse inventory.
Typically, totes and bins are made of durable plastic or metal materials built to withstand oil spills and water. The most common materials are:
Polyethylene plastic: The most popular thermoplastic material used to create plastic containers, bags, and bottles
Acrylonitrile butadiene styrene (ABS) plastic: A type of plastic that is lightweight and impact-resistant
Acrylic plastic: An acrylic plastic, also known as plexiglass, that highly resembles glass
Polypropylene (PP) plastic: A type of plastic used in various industries, from automotive to textiles
Polyvinyl chloride (PVC) plastic: A type of durable thermoplastic material commonly used in pipes, medical devices, wires, and cable insulations
Aluminum: A type of lightweight material that doesn't corrode and is suitable for a wide variety of environments.
Steel and stainless steel: A highly durable, non-corrosive material that withstands well temperature and can be easily reclaimed

What are Tote Dividers?
Tote dividers are plastic pieces utilized within a tote to create compartments for both item segregation and bundled storage.
Warehouse operations in the food and beverage industry commonly use tote dividers to indicate which items should be picked first, to ensure first-in first-out (FIFO) stock rotation.
The FIFO stock rotation method ensures items are placed in order of their use-by dates.
Benefits of Totes, Bins, and Dividers for Material Handling
From organizing small items and kitted parts to providing better protection from contaminants, here are six key benefits of totes, bins, and dividers for warehouse material handling.

Integrating Totes and Bins with automated picking and handling solutions
At Modula, we offer automated picking and handling solutions that provide an efficient way to handle your totes and bins.
Here's how you can utilize totes, bins and dividers within our automated solutions, to increase picking efficiency and accuracy and streamline your material handling.
1. Improve Manual Picking
Do you need help streamlining your manual picking process?
Our picking solutions transport your warehouse totes to picking locations automatically. This eliminates the need for warehouse operators to manually move them from one area to another.
How it works: First, your warehouse operator picks an item from your vertical lift module (VLM). Then he/she places it directly into a warehouse tote carried by an autonomous mobile robot (AMR). The mobile robot then moves the warehouse tote to the consolidation area or the next picking zone.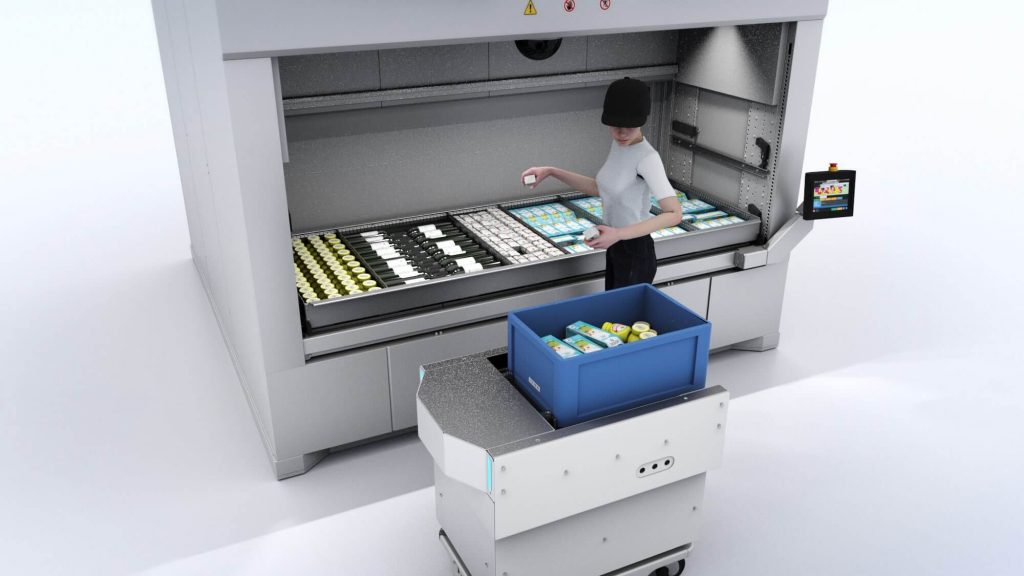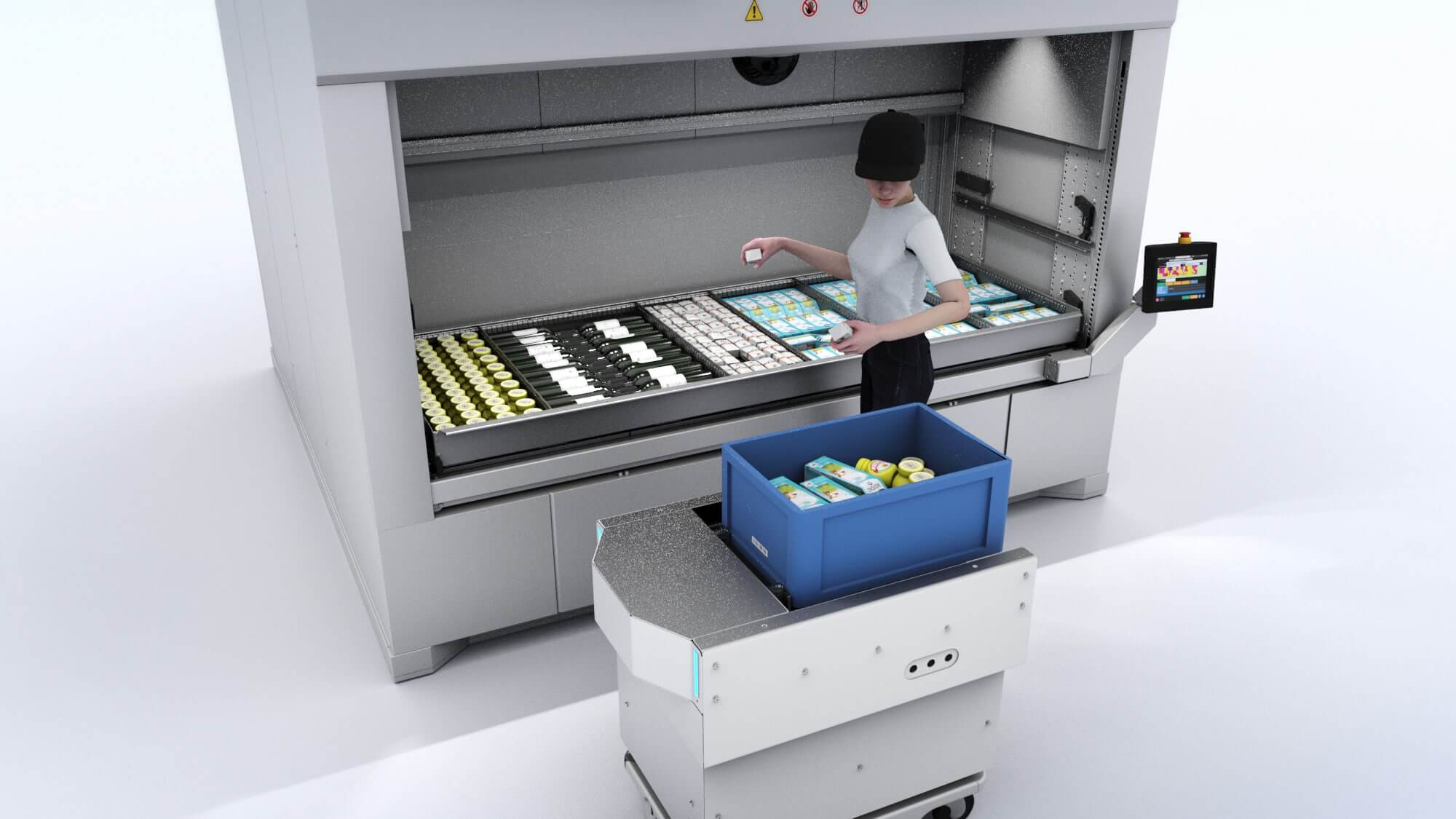 Have questions about AMRs? Check out our guide on how autonomous mobile robots work!
2. Utilize Picking Carts
Do you need to pick multiple totes to fulfill batch orders? Our picking solutions, such as our put-to-light systems and picking cart, have you covered.
How it works: Modula's picking cart is attached to an AMR. This allows multiple totes with dividers to be safely and quickly delivered to their next location.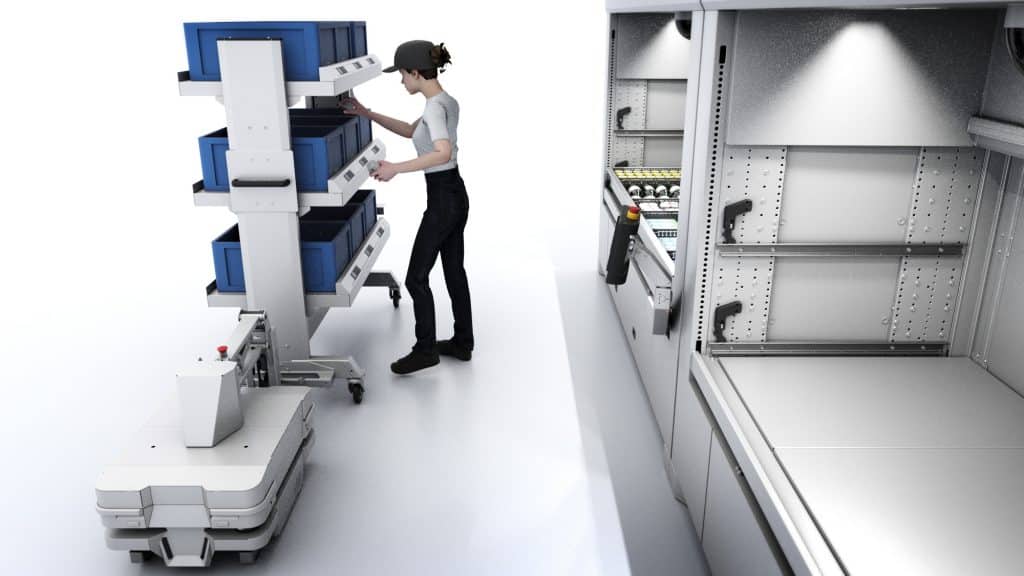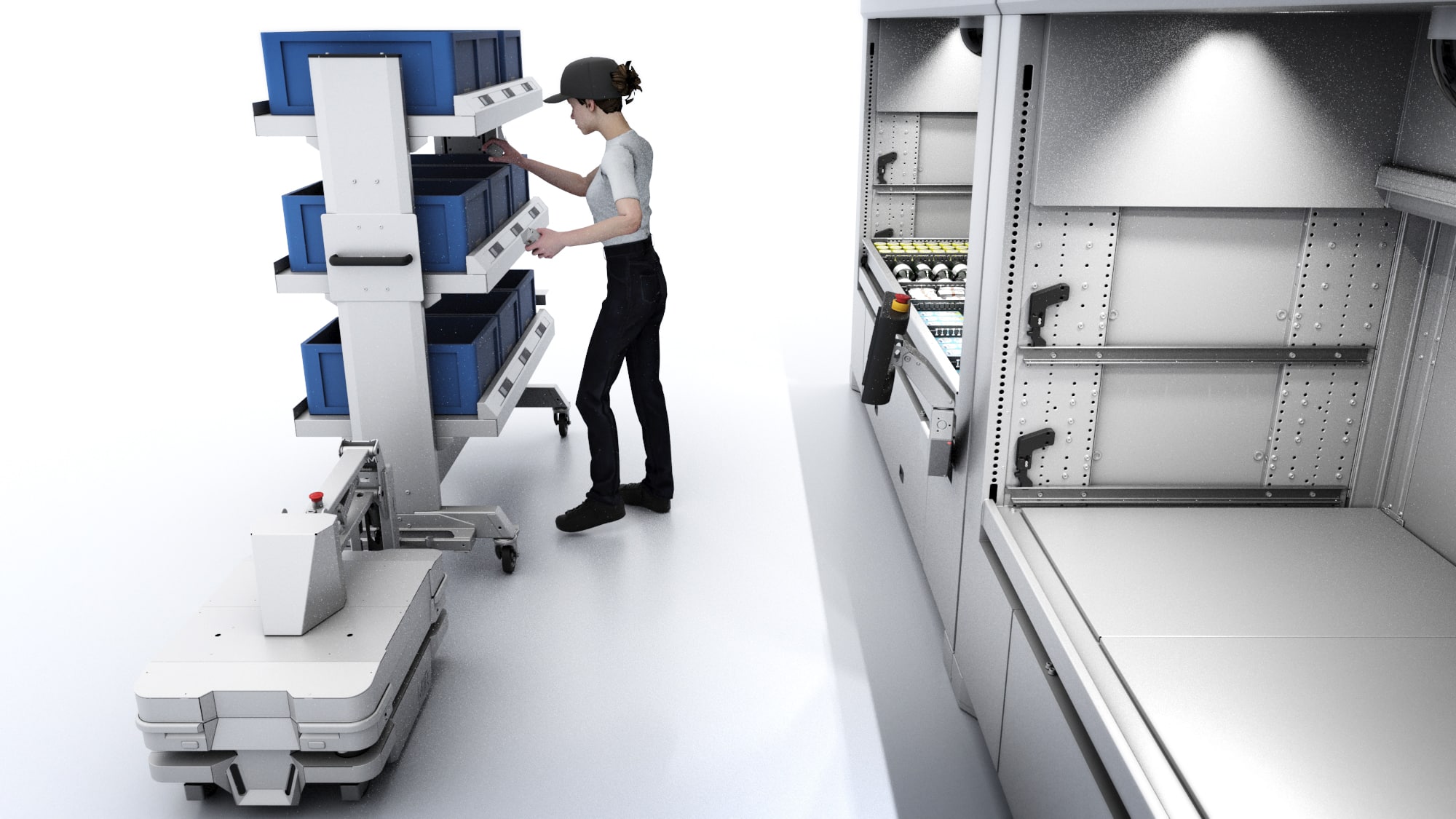 3. Fully Automate Single Tote Picking
If you want a fully automated solution to carry out your picking process from start to finish, look no further than our automated picking and handling solutions with Modula and MiR.
How it works: The AMR is equipped with a robotic arm and scans the QR Code in front of the picking bay to get the correct item. The robotic arm then picks the item directly from the VLM's tray and puts it away into a warehouse tote on top of the robot.
Once the items are picked, the robot moves to the next destination to deliver the totes with dividers.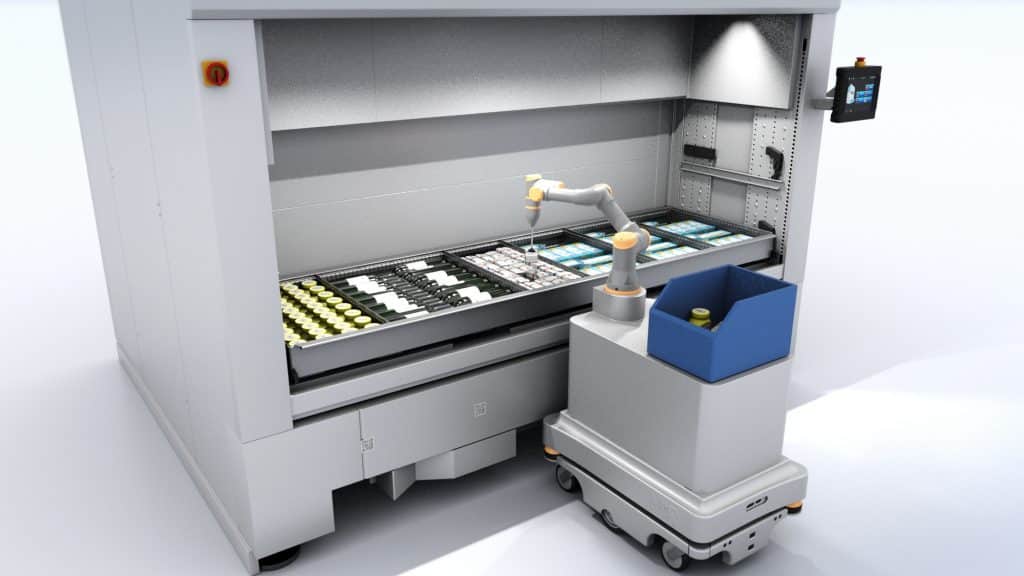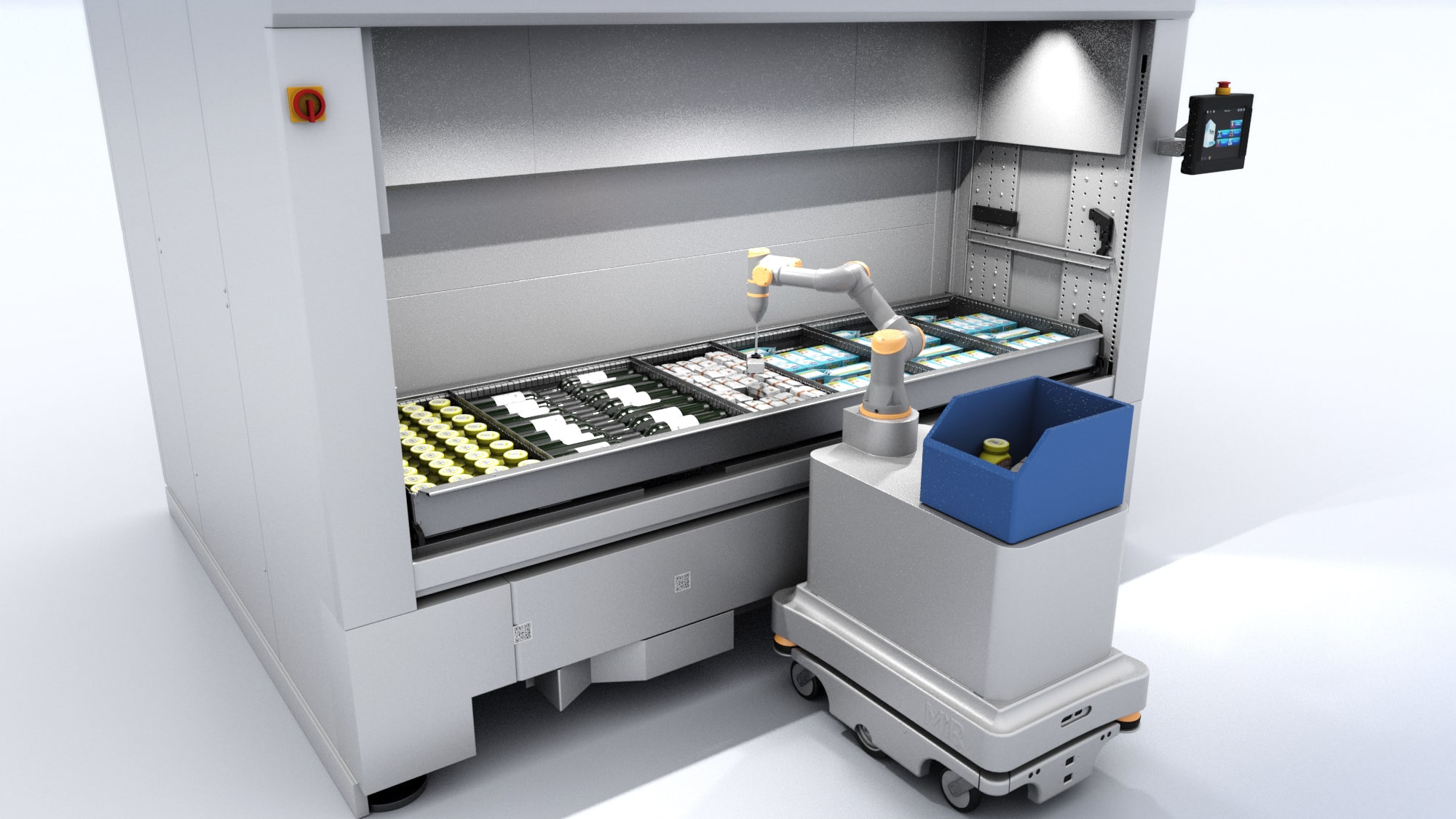 4. Fully Automate Multiple Tote Picking
Need help transporting your warehouse totes within your warehouse, but lacking enough manpower to do so? Our automated picking and handling solutions can help.
How it works: The robot heads to your VLM. Once it is in front of the picking bay, it scans the QR Code and picks the warehouse tote. Then it places it on the top module — a storage feature that lifts, picks and puts away totes with dividers.
Once the robot picks the warehouse tote, it will be transported to the next picking location.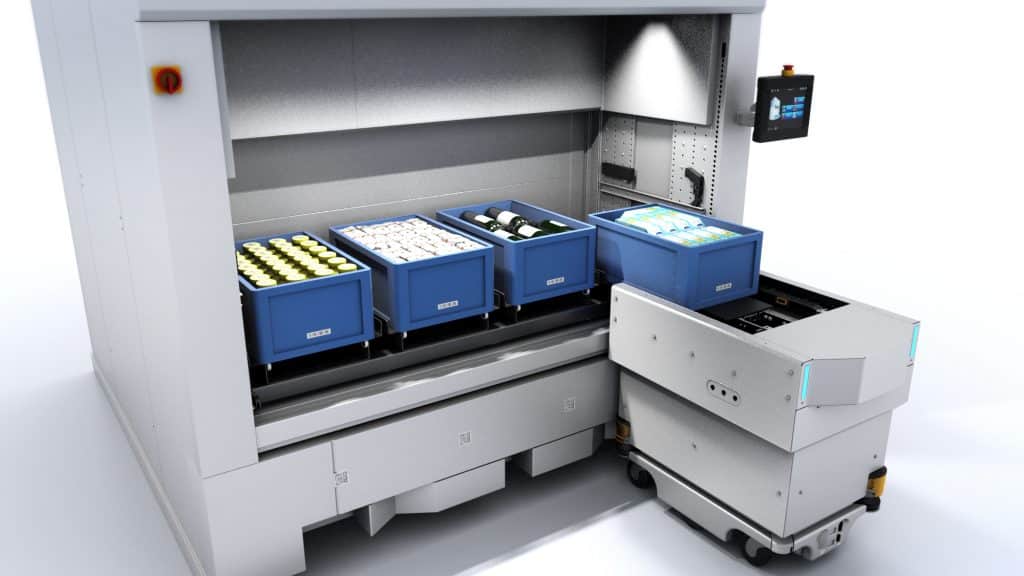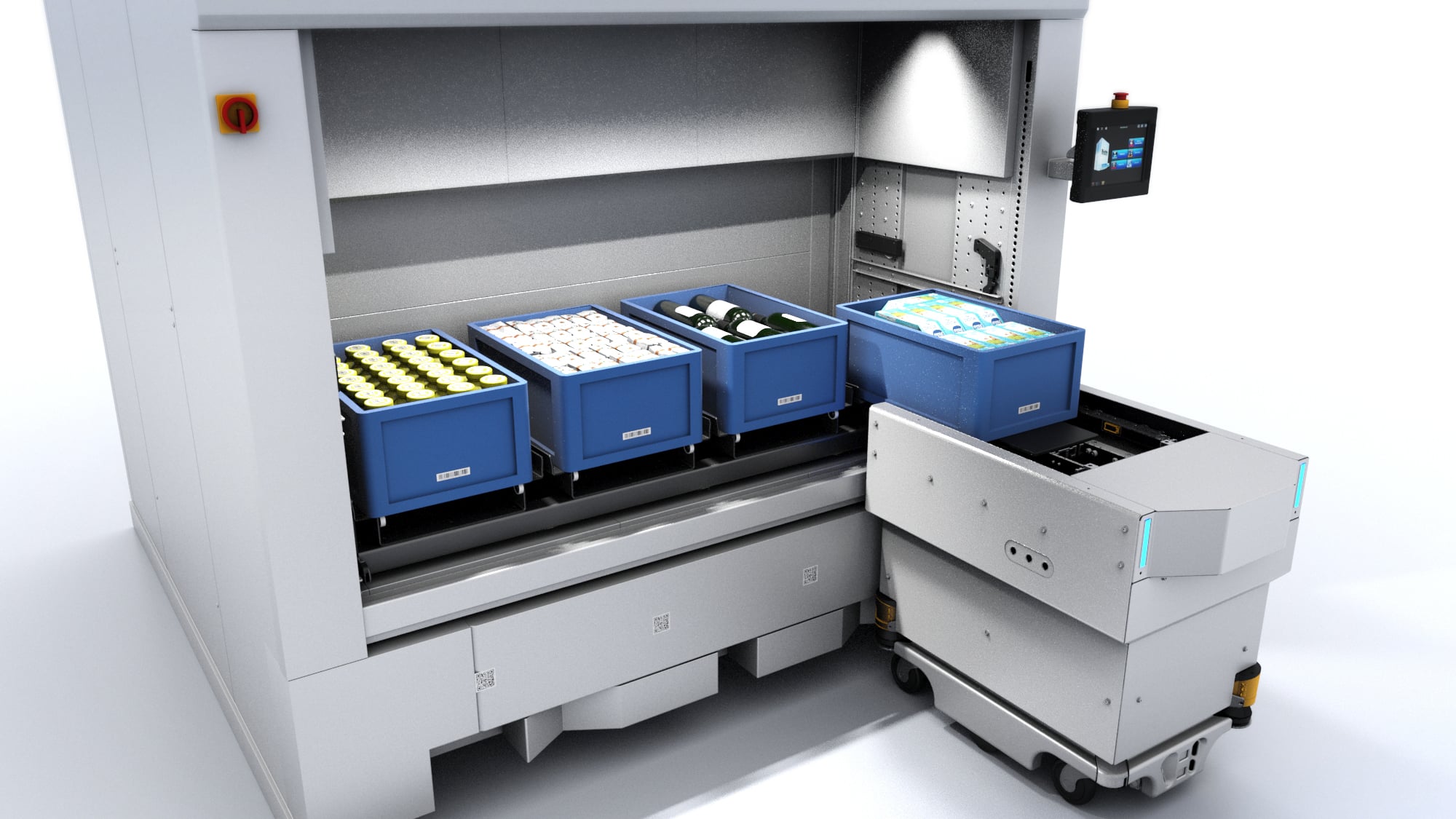 Check out our automated storage solutions and autonomous mobile robots in action below:
Integrating Totes, Bins, and Dividers With Modula Automated Storage Solutions
At Modula, our smart and innovative automated storage solutions can be easily configured to work with your totes and bins.
1. Modula Vertical Lift Modules with Totes, Bins and Dividers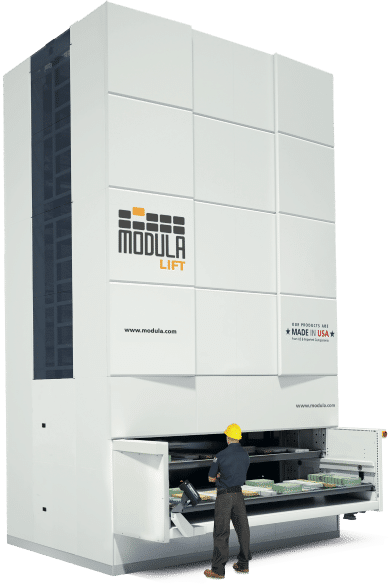 From the chemical and pharmaceutical industries to the electronic and mechanical sectors, companies from different industries rely on vertical lift modules (VLMs) for storing and handling various product types.
Modula's vertical storage solutions work as a vending machine in which inventory items are securely stored and retrieved.
Vertical storage solutions eliminate the need for your warehouse operator to walk between aisles to pull items from shelves. As a result, VLMs speed up the order-picking process.
From the smallest to the heaviest parts, everything is presented in the work opening where your operators have access to all materials — no bending or stretching required!
Each tray is a closed shelf that operators can organize with partitions and dividers to create the locations needed. In addition, each tray can host warehouse totes and bins, as it is easy to configure the trays' size.
If the tote and bin sizes change, the vertical lift module has a sensor that measures each newly loaded tray. Based on the measured height, it automatically stores it in the first available storage space. The VLM carefully stores trays above each other to maximize storage space.
The best part? Thanks to its user-friendly features, anyone can operate the VLM.
Here's a closer look at our Modula Lift:
Store your warehouse totes and bins in our Modula vertical lift modules :
Modula Lift: Our most popular vertical lift module, the Modula Lift takes up a minimal footprint by utilizing your available ceiling height
Modula Slim: The most compact VLM available on the market, the Modula Slim is ideal for warehouses with limited floor space
Modula OnePick: Our fully automated vertical lift solution, Modula OnePick integrates state-of-the-art technologies and innovations into your conveyor systems to pick and place inventory

2. Modula Horizontal Carousels with Totes, Bins and Dividers
Working with limited ceiling height? You can count on our Modula horizontal carousels to safely store your totes bins and dividers.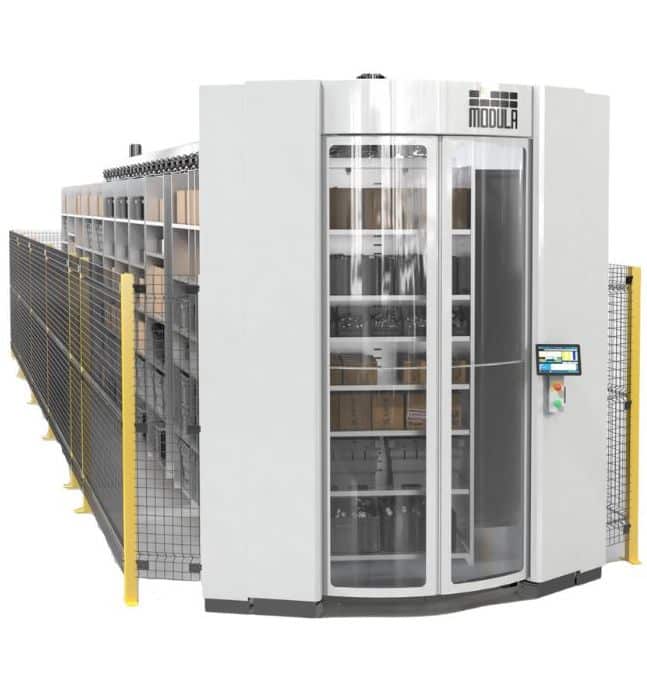 The horizontal carousel consists of carriers (bins) which are mounted on an oval track that rotates horizontally and delivers stored goods to the picker.
Each bin shelf can be divided into totes, bins, and partitions to create an efficient and well-organized storage space.
In both production and distribution settings, the horizontal carousel is extremely effective in saving space, reducing labor costs, increasing throughput, and improving accuracy and inventory control.
Similar to the vertical lift module, shelf spacing can be easily adjusted to store different goods.
The horizontal carousel delivers the items directly to the operator. This reduces handling times in both picking and replenishing tasks, as there's no walking back and forth to find and retrieve goods. Thanks to visual picking aids, your warehouse operator can quickly identify the item and quantity to be picked.
See the Modula Horizontal Carousel in action: MODULA HC: the New Horizontal Carousel for Efficient Picking
3. Modula Special Applications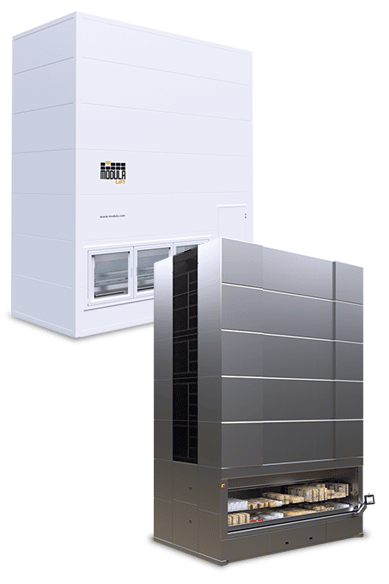 For totes and bins that need a safe and temperature-controlled environment for storage, look no further than Modula's controlled environment storage solutions.
Our controlled environment storage systems are built to house products in environments that are dependent on temperature. In addition, our controlled environment storage systems feature temperature variations that meet industry standards and regulations and protect goods from contaminants.
Our controlled environment storage solutions are available in two models:
Modula Climate Control: Our vertical lift module for controlled temperature and humidity allows you to:
Control the temperature from +2°C to +25°C (+35 °F to +77°F)
Control the humidity of ≥ 5%
Get easy access to stored inventory
Modula Clean Room: Our vertical lift module for cleanroom storage conditions allows you to:
Gain access to clean room classifications ranging from 6 to 8
Comply with ISO 14644-1 standards
Minimize exposure to contaminants, such as dust, dirt, particles, and germs
Ensure minimal air particles within your storage room
4. Modula Warehouse Picking Order Solutions
Need help transporting your totes and dividers with ease and accuracy?
Whether it's reducing employee strain or utilizing fully automated solutions to boost your picking efficiency and accuracy, our order-picking solutions will enhance the material handling process in your warehouse.
Our Modula Warehouse Order Picking Solutions include: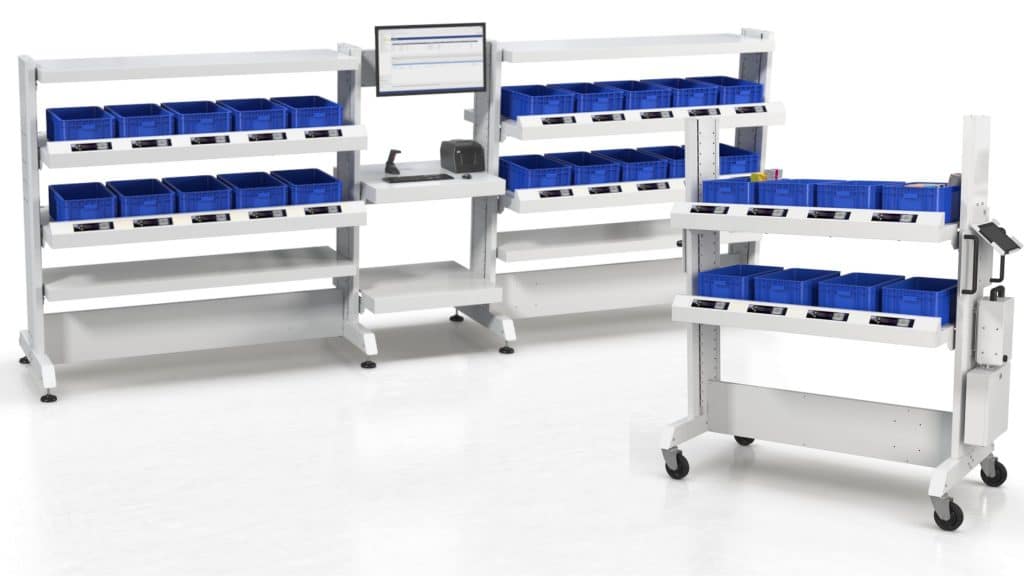 Wrapping Up on Totes, Bins, and Dividers
To recap, warehouse totes are plastic containers used to store warehouse goods and products.
On the other hand, bins are containers with open tops. Tote or bin dividers are plastic partitions used to create compartments to improve storage and picking efficiency.
At Modula, we provide easy-to-install, intuitive automated solutions. Our solutions streamline warehouse storage, improve picking efficiency and take your material handling to the next level.