The most compact VLM in the market
Modula Slim
Designed to fit warehouses with limited floor space, Slim boosts productivity, accuracy, and inventory management within a minimal footprint. All the Benefits of a VLM with the Footprint of a Vertical Carousel.
Intuitive Controls: Your operators will benefit from an intuitive touchscreen interface and picking aids, all integrated into the design
Easy to Learn Design: In just a few days, your staff will be up to speed and taking advantage of Slim's many benefits
Ready to Run in 48 Hours: Slim is built on a pre-assembled base module that ships quickly and can be installed in your facility in 48 hours. It's also easy to bring online and connect with your company's existing inventory management systems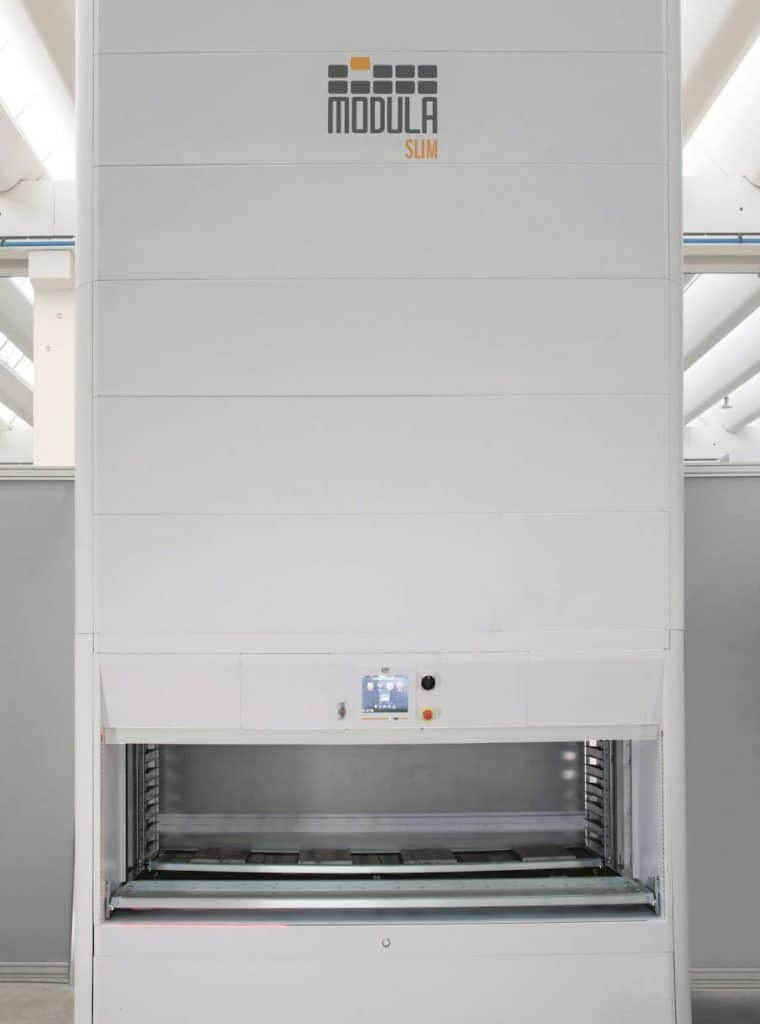 Enhances Operator Efficiency and Comfort: Delivers materials to operators quickly and at proper height
Unmatched Picking Accuracy: Enhanced by available alphanumeric LED bars and automated pointing lasers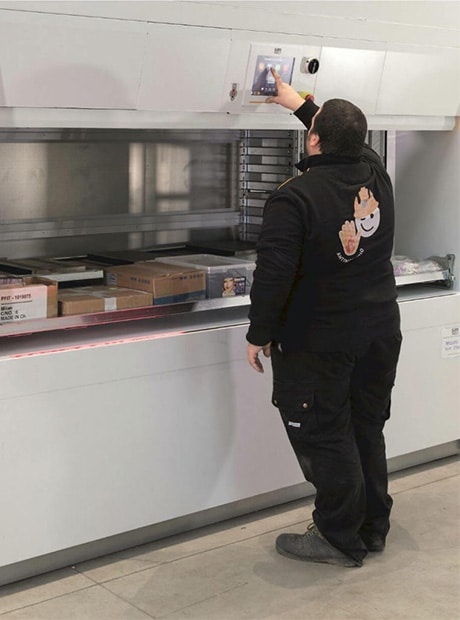 No Balance Issue
Modula Slim can accommodate any loads without the imbalance issues found in a vertical carousel.
More Flexibility
Unlike the vertical carousel shelves, Modula Slim tray can be easily adjust to accommodate items of different sizes and weights.
Higher Payload Capacity
Modula Slim has twice the load capacity of typical vertical carousels
Better Storage Density
Modula Slim measures items as the tray is put away and adjust the location to maximize storage density.
Picking Speed and Accuracy
Vertical carousels require the entire set of shelves to move. The Slim save you time by moving just the tray holding the item or goods
Security and Reduced Risk
As the Slim delivers one tray at a time, the other products are kept secure in the unit. This eliminated unnecessary product movements and reduce risks of damages
Fast Installation Time
Slim is built on a pre-assembled base module and can be installed in your facility in 48 hours.
Low Energy Consumption
Slim consumes less than 1.2kW/h
Modula Slim Customization Options
A range of customization options are available for the Modula Slim to customize it for different operations. Your Modula dealer can help you determine which accessories are best for your situation.
Boost Your Slim with End-To-End Inventory and Warehouse Management
Modula provides a wide range of warehouse management, remote support and analytics software that seamlessly integrate with your choice of ERP or DMS and deliver complete inventory management solutions.
Modula WMS Base Ideal for small or growing warehouse footprints, free for life with any Modula unit purchase.
Modula WMS Premium An advanced, end-to-end inventory and warehouse management solution for larger operations.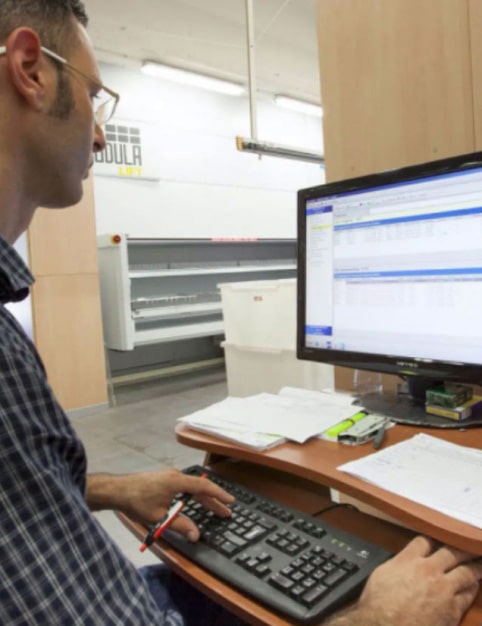 Modula Slim Technical Highlights
Unit heights
7'11"–22'12" (2,400–7,000 mm)
Unit height increment
3.94" (100 mm)
Tray storage pitch
1" (25 mm)
Tray widths
51, 75 or 98" (1,300, 1,900 or 2,500 mm)
Tray depths
16.73" (425 mm) for all models
Maximum tray load capacity
771.68 lbs (350 kg) for all models
Unit footprint
66.33, 89.96, or 113.58" W X 65.90" D (1,650 or 2,050 mm W x 2,376 mm D)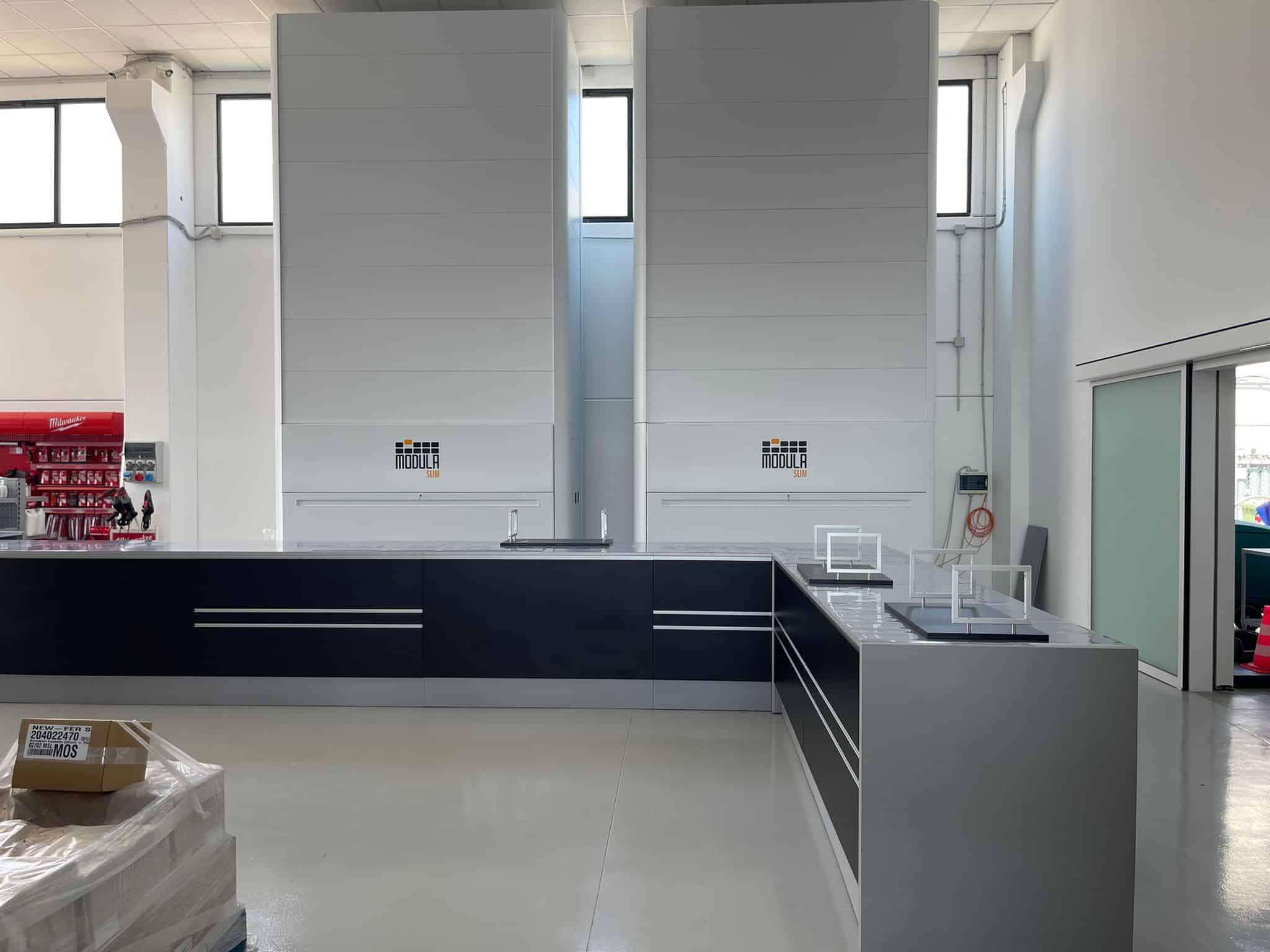 All The Benefits Of A VLM With The Footprint Of A Vertical Carousel.
Boosts your Productivity, Accuracy, And Inventory Management Within A Minimal Footprint