Best Practices in Warehouse Management To Increase Productivity, Safety & Organization
Whether it's ensuring that your customers receive accurate orders, your employees are safe in the workplace or your inventory is protected from theft, following best practices in warehouse management can help you increase productivity, improve safety and streamline your operations.
From batch picking and preventative maintenance to smart storage and automated solutions, we'll share the tips, tricks and tools you can implement to make your warehouse more efficient.
Best Practices in Warehouse Management for Productivity
Picking is a key process in the warehousing industry, and the speed and efficiency at which the process is conducted can impact everything from customer satisfaction to your bottom line.
1. Review Your SKU Type and Movement and Your Current Order Fulfillment Operation
The first step in planning an efficient warehouse is to analyze the current operation and the movement of all SKUs (stock-keeping units) within the warehouse.
An accurate SKUs analysis will reveal many important details about the type of products stored, such as size, configuration, slotting, replenishment quantities, and time.
On the other hand, a detailed order profile is a critical factor that can have an important impact on picking productivity. These order profiles include such things as the commonality of SKUs across orders in a batch, SKU and carton size ranges, batch line count, batch functionality, estimated pick rates, and replenishment procedures. This information determines the carton quantities and rates and picking and packing requirements
To review SKU type and order profiles:
Analyze the turnover speed of each SKU to determine which products are slow-moving and which ones are high in demand
Place fast-moving, popular SKUs in an easy-to-access area, close to the shipping area. This will speed up the order preparation process. Consider storing this type of product in automated storage systems to optimize picking and replenishment time
Analyze SKU type and velocity often. Some operations may have unusual spikes of activity on specific days of the week or during peak demand periods.
Group inventory by SKU velocity, size, seasonality, and storage requirement
Combine SKUs frequently picked together in the same storage area
2. Implement Batch Picking
Batch picking or multi-order picking is a method that allows your operators to pick multiple batches or orders at the same time.
To implement batch picking:
Create a picking list or a document that lists the items that need to be retrieved, along with the location and quantity

Group the same items in each batch

Integrate a warehouse management system to further streamline the process
3. Utilize Wave Picking for Priority Orders
Wave picking or cluster picking is a picking method that allows your employees to simultaneously pick orders based on shipping deadlines, the type of shipping carrier or the warehouse zone, increasing efficiency and eliminating warehouse travel time.
With the wave picking method, an employee receives a picking list which includes priority orders that need to be picked and sent over to packing. The employee then picks the goods, which includes 4-12 orders per wave.
Unlike batch picking where the employee picks orders based on same items and quantity, wave picking focuses on shipping dates — making it the ideal picking method for orders with tight shipping deadlines.
To implement wave picking:
Group orders based on priority shipping, carrier or like products

Create a pick list that includes 4-12 orders per warehouse picker

Assign a warehouse picker for each order
Best Practices in Warehouse Management for Safety
Ensuring a safe workplace is not only vital for your employees, but for your brand's reputation and your bottom line. To improve safety in your warehouse:
1. Ensure an Ergonomic Environment
A warehouse employee's routine often includes collecting items from hard-to-reach areas and lifting heavy products, which can lead to overexertion injuries.
In fact, overexertion ranked as the top disabling workplace injury in the United States in 2021.
Integrating ergonomic modules and lifts can help prevent workplace injuries.
To ensure an ergonomic environment in your warehouse:
Store items strategically by placing heavy items below waist level and storing frequently picked items at eye level

Integrate ergonomic modules and lifts to deliver items to your warehouse operators at a comfortable height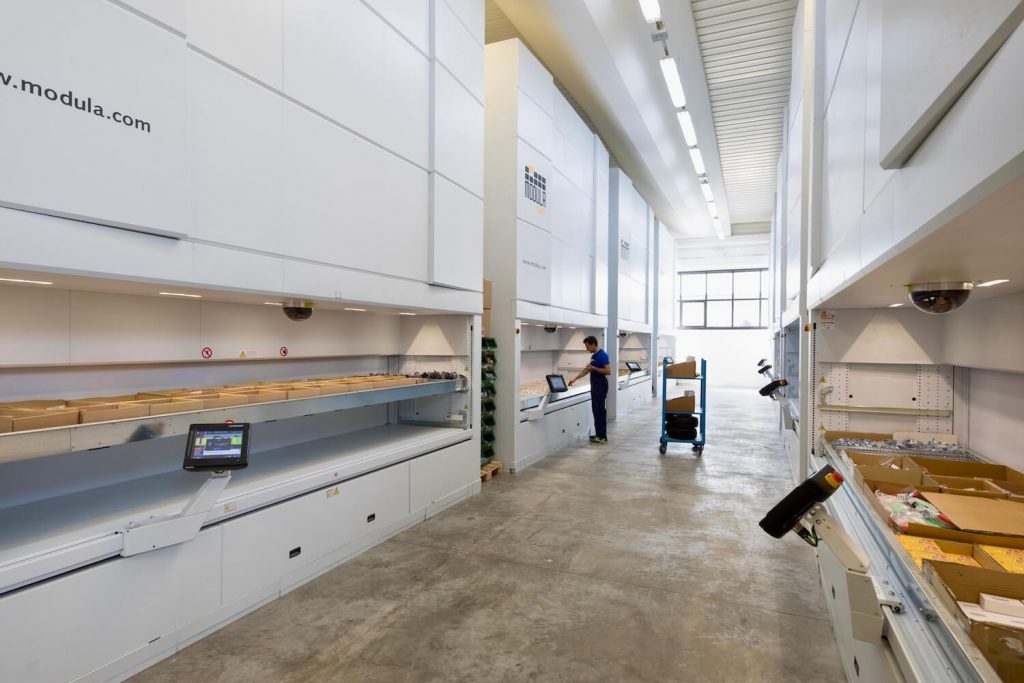 2. Utilize Signage and Labels
Use signs and labels in your warehouse to note safety hazards and ensure employees take proper precautions.
Signs throughout your warehouse might include those for exit doors, machine safety directions, protective gear, and product labels to emphasize harmful chemicals.
To utilize signs and labels throughout your warehouse:
Ensure signs are clear and easy to understand

Standardize signage through color coordination — For example, use red for safety warnings and yellow for traffic signs
Best Practices in Warehouse Management for Inventory
From protecting inventory from theft to preventing out-of-stock scenarios, here are the best practices to follow for managing your warehouse inventory:
1. Replenish Your Inventory
Inventory replenishment helps prevent stockouts, unavailable inventory, short picks, or missing items in a shipment.
To replenish your inventory:
Utilize safety stock, also known as additional inventory, to prevent stock-outs

Use accurate demand forecasting for fast-moving items that get sold during peak seasons, such as Black Friday and Christmas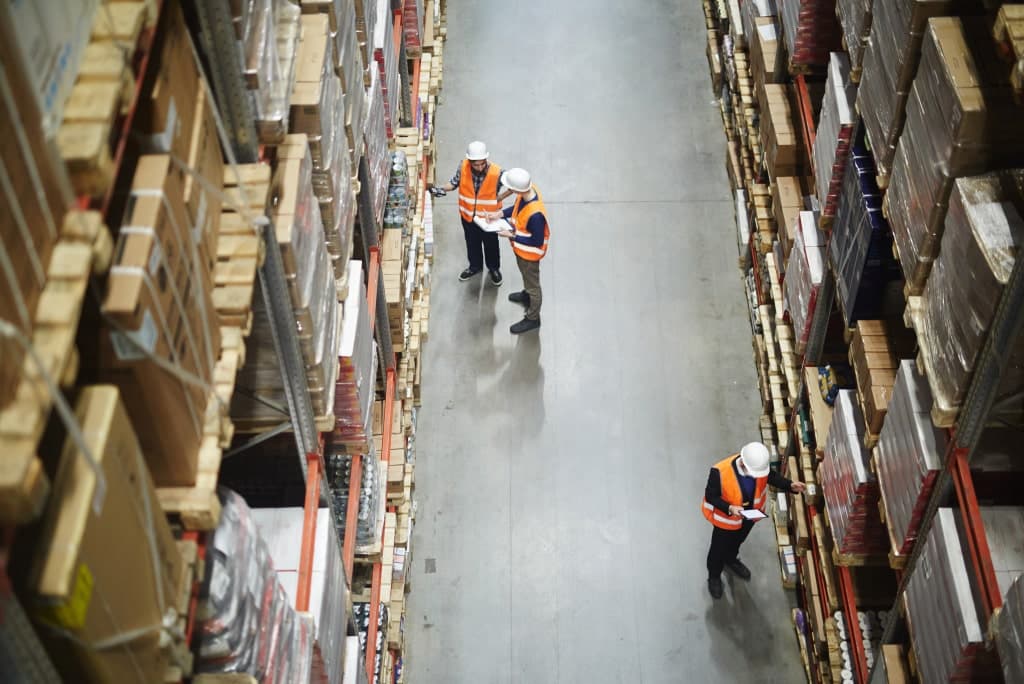 2. Protect Goods From Theft
Whether you own a small business or large enterprise, theft can occur when security measures are lacking.
In fact, even retail giant Amazon has experienced warehouse theft.
To protect warehouse goods from theft:
Monitor your staff

Restrict access to storage areas

Implement warehouse management software to assess transactions

Utilize automated storage to secure goods in an enclosed and secure environment
Best Practices in Warehouse Management for Organization
From maximizing your available space to using containers, here's how to organize goods in your warehouse:
1. Utilize Containers, Cabinets and Drawers
Whether it's storing small parts or grouping items into categorized inventory, storage containers, cabinets and drawers allow your employees to identify and retrieve items quickly and accurately.
To utilize containers, cabinets and drawers in your warehouse:
Identify the type of container needed

Store products based on size
2. Think Vertically to Save Space
According to a recent report, companies in the United States will need 330 million square feet of additional warehouse space by 2025 to keep up with the uptick in eCommerce demand.
While this additional warehouse space can cost around $7.50 per square foot, going vertical can help you save money while maximizing your available space.
To save space using your available ceiling height, integrate vertical lift modules — like the models we offer at Modula!
3. Leverage Warehouse Consolidation
Warehouse consolidation is the process of combining orders in one consolidation warehouse or logistics facility. When you store shipments that are ready to be delivered, you can clear your current warehouse from additional inventory.
Best Practices in Warehouse Management for Maintenance
When it comes to warehouse maintenance, best practices can help you identify safety hazards and costly repairs ahead of time. Here's what to add to your management list to streamline maintenance:
1. Perform Preventive Maintenance for Warehouse Equipment
Replacing warehouse equipment can be costly. For example, a brand-new electric forklift can range from $20,000 to upwards of $45,000. The best way to prevent the need for a full replacement is preventative maintenance.
Examining warehouse equipment on a regular basis allows you to pinpoint issues as they arise, so you can plan more cost-effective repairs before the issue becomes bigger and results in a costly replacement.
In addition to saving money, preventive maintenance helps eliminate unplanned downtime in warehouse operations.
To perform preventive maintenance for warehouse equipment:
Create a detailed warehouse equipment checklist that includes inspecting equipment safety that meets OSHA standards
Schedule preventative maintenance checks based on the equipment (for example, electric forklifts should be checked every day, before and after use)

Compile detailed reports to keep track of equipment status
2. Conduct Regular Warehouse Audits
A warehouse audit is a checklist of to-do tasks performed by warehouse managers to ensure a warehouse is running efficiently.
Warehouse audits can apply to auditing any part of your warehouse, whether it's your inventory, shipping or procedures.
To conduct a warehouse audit:
Create a warehouse audit checklist, including points such as inspecting inventory, policies and procedures, as well as shipping and logistics

Perform audits every few weeks or on a quarterly schedule
Modula's Automated Solutions for Warehouse Management
From saving space and securing inventory to increasing throughput and ensuring an ergonomic workplace for your employees, we take warehouse management to the next level with the most advanced automated storage and retrieval systems.
1.Modula Vertical Lift Modules
Whether it's maximizing your existing warehouse ceiling height or providing an ergonomic solution for your employees, our vertical solutions provide a wide array of benefits:
Boost picking speeds of 300 lines per hour or more
Secure goods with an enclosed system with limited access for unauthorized employees
Obtain items automatically with a user-friendly Copilot controller
Manage complete inventory visibility with documented and tracked picking operations
Increase employee safety by eliminating the need to reach for items in high or low places
Save 90% of floor space by utilizing available ceiling height
At Modula, we offer three vertical lift modules:
Modula Lift, our most popular vertical lift solution
Modula Slim, our most compact storage solution for warehouses with limited space
Modula OnePick, our fully automated vertical lift module
Check out the Modula Lift in action:
MODULA LIFT: Innovative Vertical Warehouse Storage System
2. Modula Horizontal Carousels
When ceiling height is limited, our Modula Horizontal Carousels serve as the optimal storage solution.
In addition to monitoring your picking operations in real-time, eliminating unnecessary travel in your warehouse and providing the most ideal workplace for your employees, our Horizontal Carousels allow you to:
Store more goods with high-density and compact storage areas
Pick items quickly and accurately with the digital Copilot feature
Boost accuracy and productivity with our Modula Warehouse Management Systems
Ensure 99% picking accuracy with our barcode readers and Put to Light Systems
Experience picking rates of up to 550 lines per hour for each operator
Check out our Modula Horizonal Carousel in action:
MODULA HC: the New Horizontal Carousel for Efficient Picking
3. Modula Warehouse Order Picking Solutions
Whether it's dealing with batch and multi-orders or guiding warehouse employees to accurate locations, our order picking solutions streamline your picking operations.
Our Modula Warehouse Order Picking Solutions include:
Check out our picking solutions in more detail, below!
Modula presents the new picking solutions to automate and speed up warehouse operations
Our automated solutions at Modula allow you to implement best practices for warehouse management and streamline operations across the board.
From our advanced picking solutions to smart storage options, you can improve productivity, safety and organization with Modula!