Modula Vertical Storage Solutions
Modula Vertical Lift Modules
Modula Vertical Lift Modules (VLMs) are fully automated vertical storage systems that take up a minimum footprint by utilizing the ceiling height available.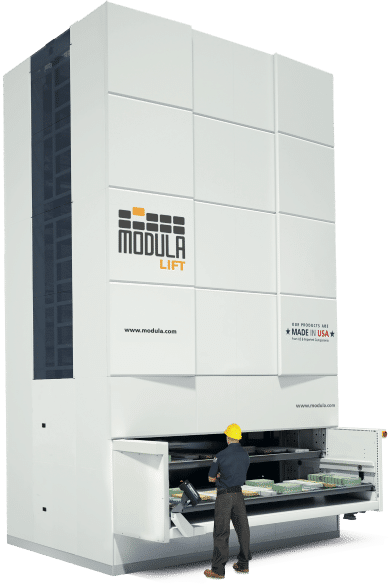 Modula Vertical Lift Modules (VLMs) are fully automated vertical storage systems that take up a minimum footprint by utilizing the ceiling height available.
These systems allow for large inventory of goods to be quickly accessible while being stored in a safe and secure environment and automatically delivered to the operators, with a simple touch on the user friendly Copilot controller or the scan of the barcode.
Following the Goods-to-Person principle, the vertical lift module delivers the right part to the right person at the optimum ergonomic retrieval height. This feature eliminates the need to search for items. As such, productivity and efficiency are increased while picking errors are drastically reduced.
View more details
Hide more details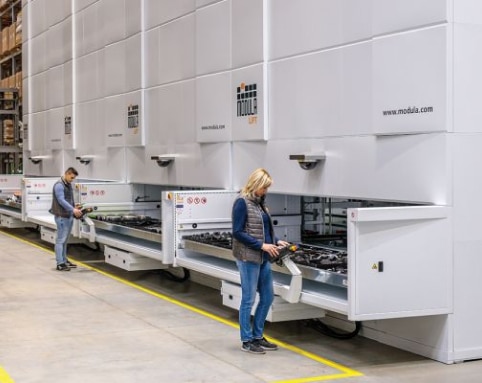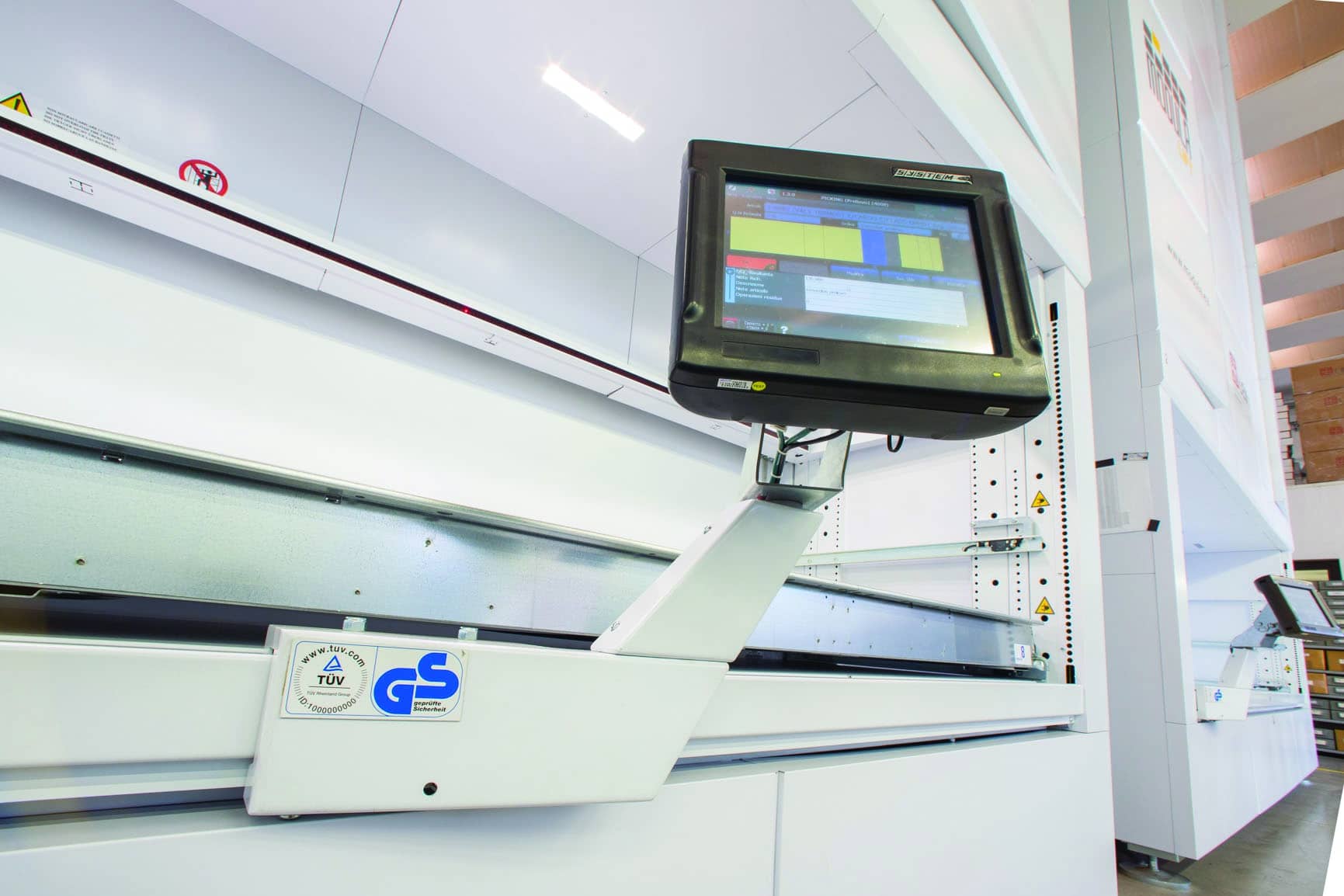 Modula Lift module features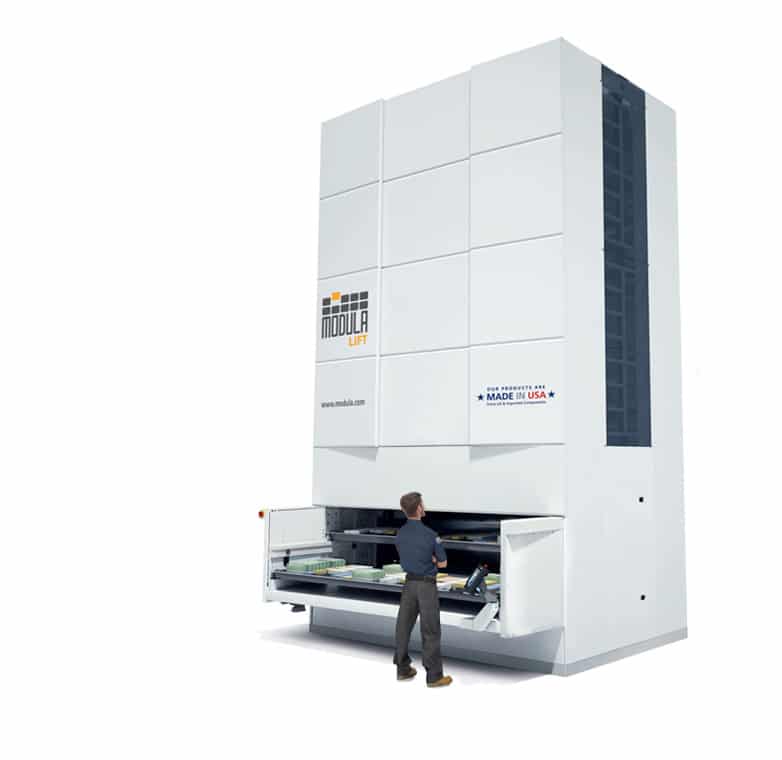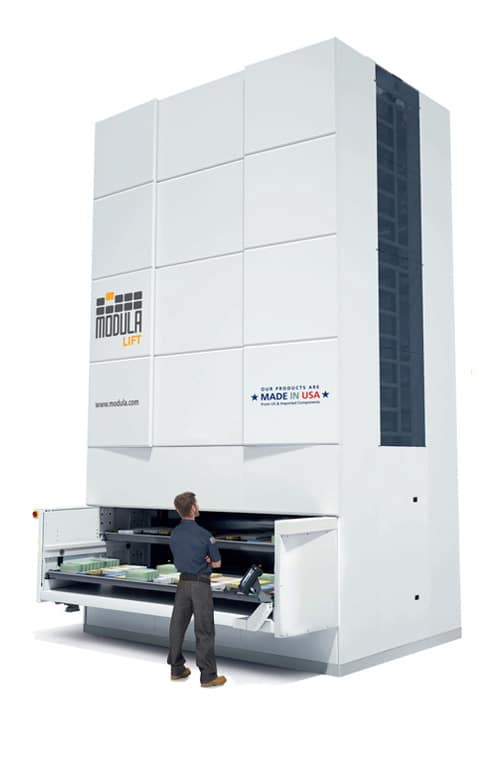 Thoroughput of up to 140 trays/hour
Tray payload capacity of up to 2,200 lbs
Internal external, single or dual delivery bay
3 bay heights 27.36" – 35.23" – 50.98"
Simple & intuitive software 10.4" touch screen operator console
Modula slim module features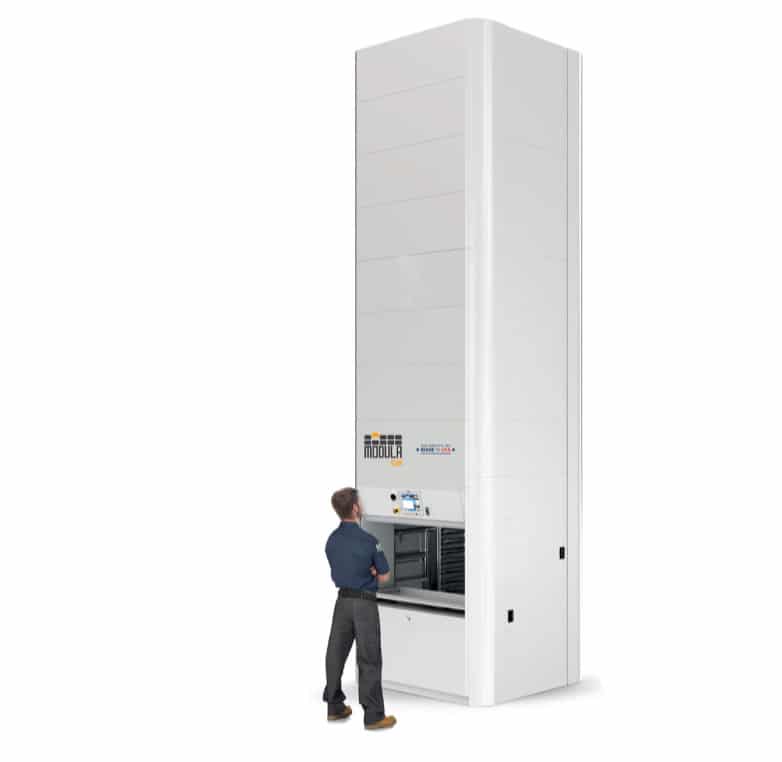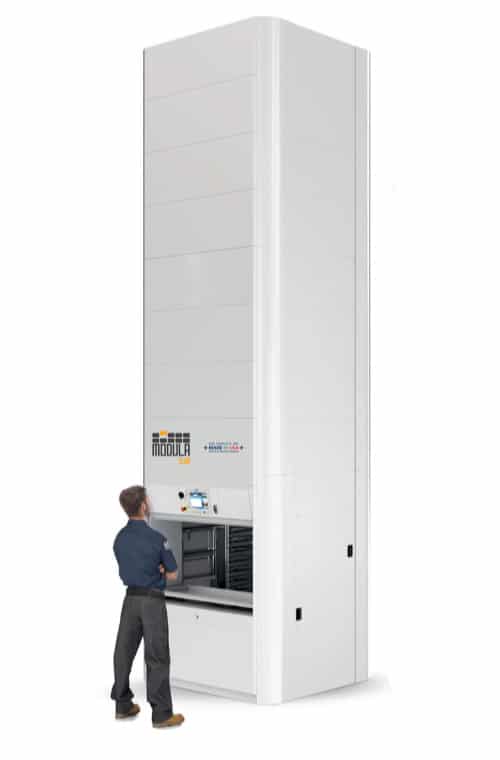 Quick to install,
easy to learn
Just 66 inch / 1.6 m depth
No waste of space between trays
No issues with unbalanced loads
240V single-phase
240V three-phase
48-V three-phase
Modula one pick module features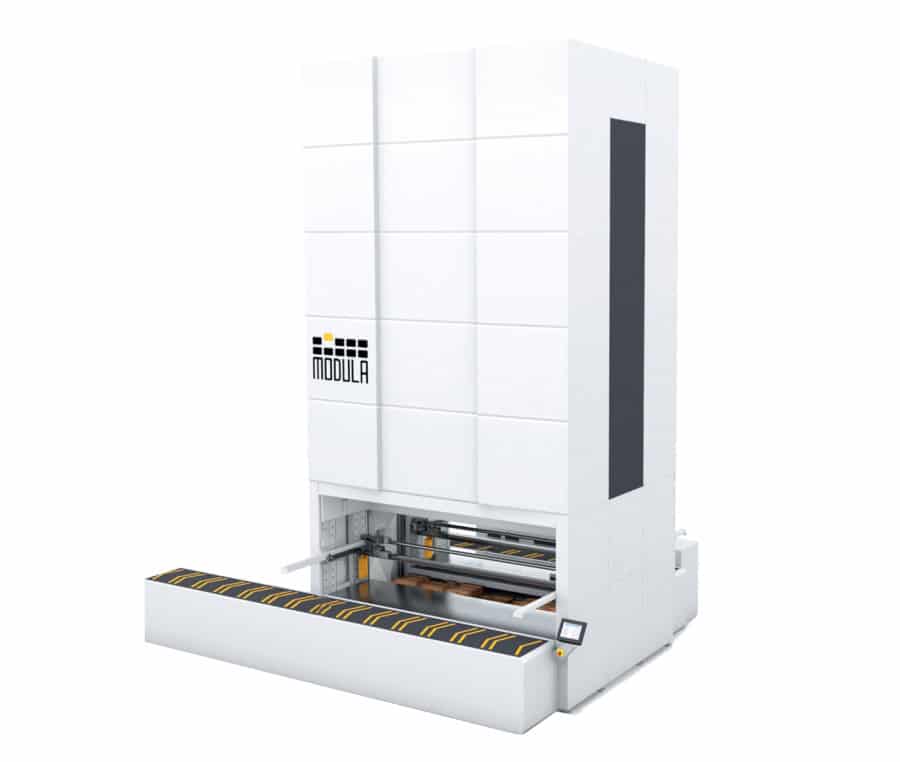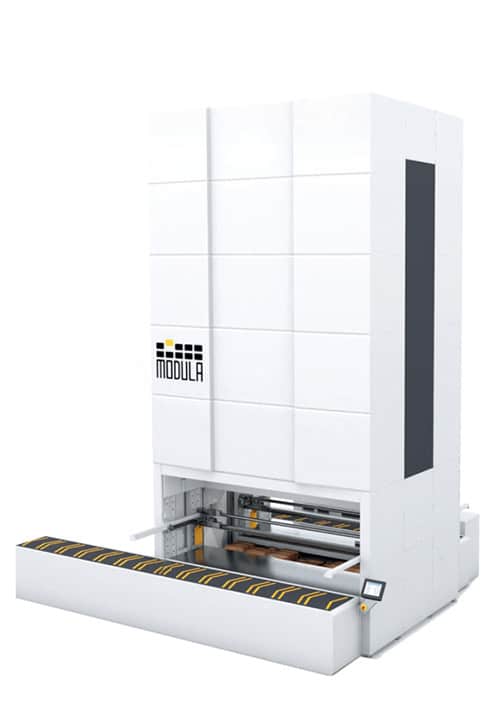 Max. load per item picked: 14.17" (360 mm)
Max. weight per item picked: 55 lbs (25 Kg)
Fully automated picking bay
Seamless integration with converyor belts, rollers, AGVs, AGCs
An automated system for the picking & replenishment of a single product at a time
Saves Space & Reduces Operations Cost
Saves up to 90% of valuable floor space compared to traditional storage methods and makes space available for future growth needs.
Increases Productivity and Accuracy
Vertical lift modules automatically deliver items to the operator with a simple touch on the Copilot console or a scan of a barcode. This feature drastically reduces handling times, both in picking and replenishing, as there is no walking back and forth to find and retrieve goods.
Process More Orders in Less Time
Operators can process even complex orders in the shortest possible time and with the highest quality level, even during peak workload times, as they don't have to wait between jobs when retrieving parts. 
Industry studies have shown that vertical storage solutions can increase workforce productivity by up to 85% because one worker is able to handle the same volume of work previously performed by multiple operators.
Stock Density Optimization
A height-detection system determines vertical dimensions of items as the tray is put away, calculating adjustments in real time to maximize storage density within the unit.
Designed with Worker Ergonomics and Safety in Mind
Following the parts to picker's principle, these automated storage systems deliver the items to the fixed operator's location where the picking operations take place. Walking time for parts retrieval is reduced up to 90% when compared to static shelving.
Security & Inventory Control
A reliable locking and validation feature plays a key role in many industries. Every unit is password protected, allowing only authorized operators with a personal badge and/or access code entry to operate the machine.
All picking operations are monitored and log-ins are tracked even down to specific trays, depending on the chosen level of security.
Thanks to our partitions and dividers, you can create the exact number of storage locations required, and their configurations can be adjusted at any time to accommodate changes in the size or quantity of your stored items or seasonal demands.
The modular design of the VLM ensures almost unlimited flexibility. The height can be modified and adjusted to optimize the unit for the ceiling height by adding or removing modules. If you change locations or move to a different site, your Modula VLM can be quickly adapted to the new height requirements.
The Modula Lift can extend over different floors with access openings on the front and rear, allowing operations on multiple levels simultaneously. The units can also be installed outside of buildings to further expand storage space.
View more details
Hide more details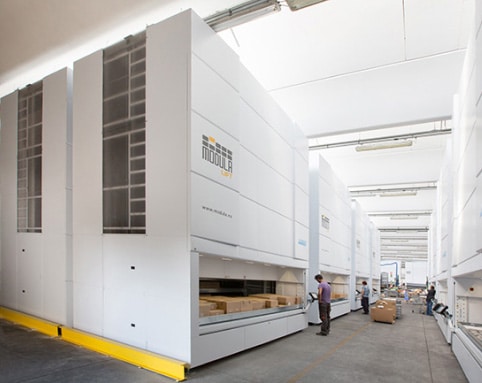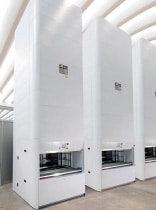 Available Modula VLM Models
Modula Warehouse Management Systems
Modula Warehouse Management Systems (Modula WMS) are easy-to-use, yet complete end-to-end inventory and warehouse management solutions.
Pre-configured to readily integrate with your ERP or DMS
Complete visibility into inventory and operations, down to a single tray
User-friendly interfaces and short training times
Expandable to grow with your business as needed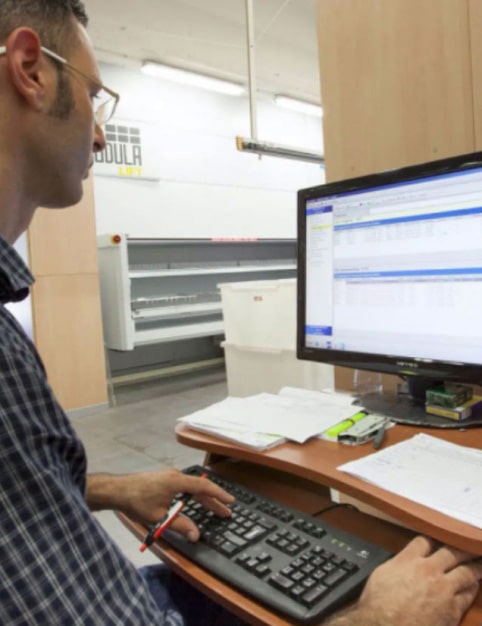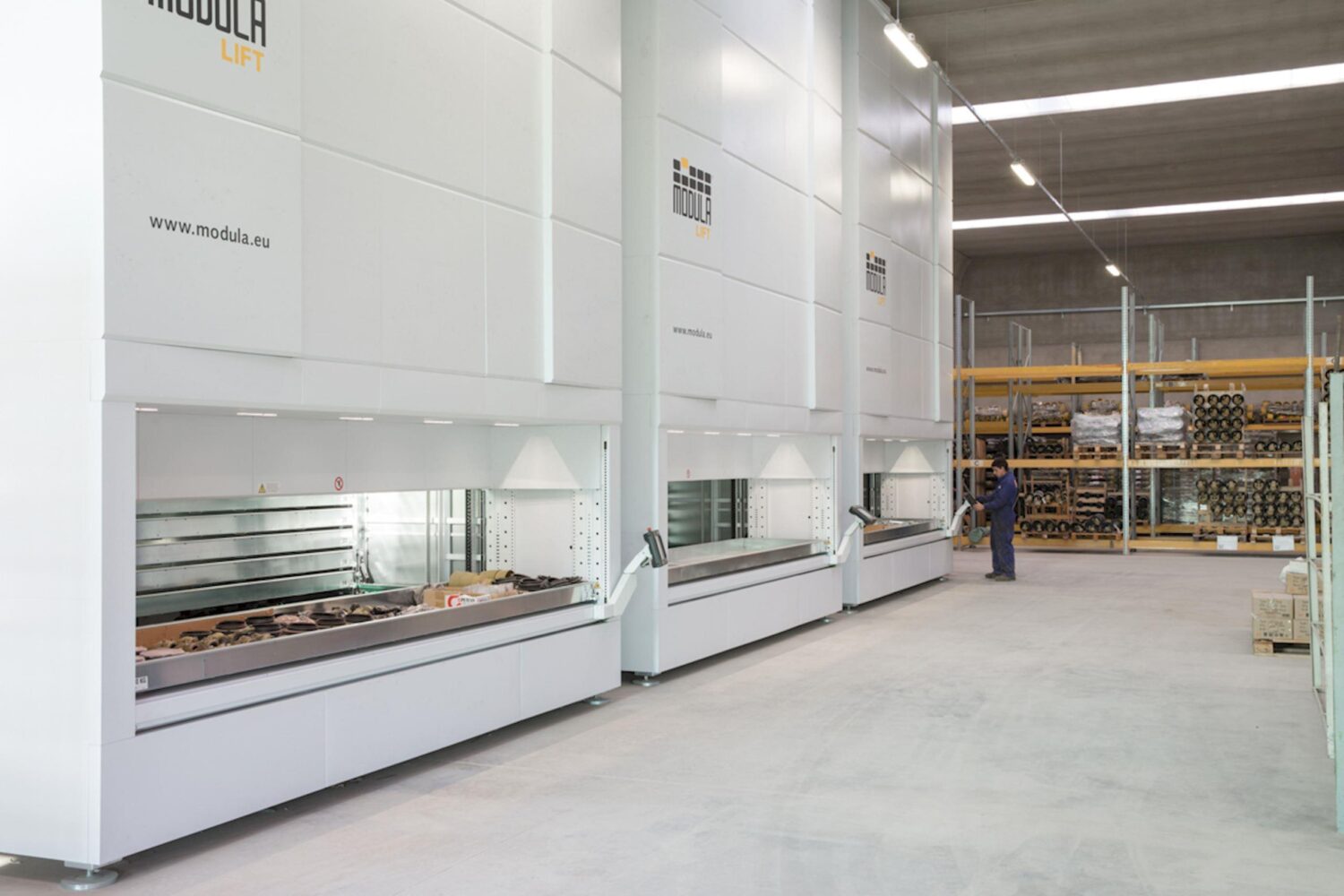 Want to improve the performance of your picking and storage operation?
Maximize the performance of every inch of your floor space with Modula Vertical Lift Modules.