Warehouse Consolidation [Benefits + Automated Solutions To Streamline Warehouse Operations]
When you have multiple warehouse locations, factors such as tracking inventory and keeping operational costs down can pose a challenge.
Enter warehouse consolidation — the process of consolidating all of your warehouse locations into one centralized facility.
We'll share all you need to know about this process, including how to implement it and key benefits. Plus, we'll share how our automated storage solutions and warehouse management systems can help further streamline your warehouse operations.
What is Warehouse Consolidation?
Warehouse consolidation, also known as inventory consolidation, is the process of combining shipments in a centralized logistics facility or consolidation warehouse.
Warehouse consolidation allows you to reduce shipping fees, minimize transportation costs from point A to point B and reduce the number of dispatches.
The Warehouse Consolidation Process
So how does warehouse consolidation work exactly?
Warehouse operators gather multiple individual orders from different suppliers into one shipment. Typically, warehouse employees group shipments from suppliers or other centers that are located in the same geographical area and have the same point of designation for shipment.
Once the orders are weighed, packed and sorted for shipment, they can be dispatched.
From the consolidation warehouse, shipments are loaded into a truck and transported to the same destination. In some cases, the consolidated shipments go through regional distribution before being delivered to customers.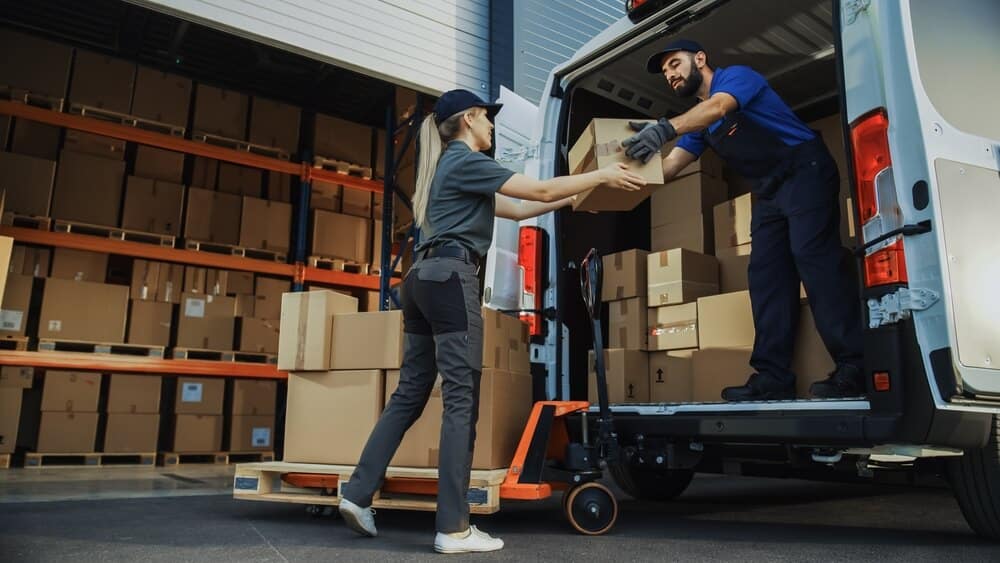 Benefits of Warehouse Consolidation
From minimizing transportation costs to optimizing warehouse space, here are the key benefits of warehouse consolidation:
1. Reduce Transportation Costs
According to the 30th Annual State of Logistics Report by the Council of Supply Chain Management Professionals, businesses in the United States spent an estimated $1.64 trillion on transportation and logistics services in 2018 alone — a significant leap of 11.4% from 2017.
The increase in transportation services was driven by several factors, including labor shortages regarding truck drivers and supply chain configurations to accommodate the uptick in eCommerce demands.
Instead of transporting multiple, individual deliveries to the same destination, inventory consolidation allows you to group your shipments into a single bundled truckload, lowering your transportation costs.
2. Lower Fuel Emissions
A recent study found that among total eCommerce greenhouse gas emissions, 13% stemmed from transport in 2020, ranking No.3 on the list.
Since individual shipments from various suppliers are loaded into one truck during inventory consolidation, less trucks are used for shipment transportation, leading to reduced fuel emissions.
3. Minimize Shipping Costs
A recent study found that the top reason customers abandoned their shopping cart in 2020 was expensive shipping fees.
In addition to a product's content value, package weight and dimensions, the shipping point and origin play a vital role in calculating shipping costs.
Inventory consolidation enables you to cut down on transportation costs by sharing truckloads with other suppliers, allowing you to offer more affordable shipping options to your customers.
4. Increase Customer Satisfaction
Inventory consolidation gives you more wiggle room where shipping costs are concerned. Accommodating customer demand for affordable shipping increases customer satisfaction across the board.
5. Save Warehouse Space
When you avail warehouse consolidation services from a 3PL provider, you can save space in your own facility, through the need to store less inventory.
But what if you want all of your inventory stored under one centralized warehouse? This is where automation comes in handy.
At Modula, we take the benefit of space optimization to the next level, by reimagining your warehouse space through our vertical and horizontal solutions.
Our high-density storage solutions occupy a minimal footprint, utilizing every inch of your warehouse's available floor space. Thousands of different SKUs can be stored, picked, packed and shipped with a high level of efficiency, optimized labor usage and reduced operational costs.
6. Increase Employee Productivity
Another benefit of warehouse consolidation is increased employee productivity. How so?
A study by the Princeton University Neuroscience Institute found that clutter can affect a person's ability to concentrate and process information.
In another study by the National Institute of Mental Health, researchers found that cluttered areas can affect the brain's performance and responsiveness.
Your employees are more vulnerable to making human errors when working in disorganized or cluttered spaces. Inventory consolidation allows you to declutter, and in turn, boost productivity.
Modula Automated Solutions for Consolidation Warehouse
At Modula, our technologically advanced warehouse management solutions and automated storage and retrieval systems take your warehouse operations to the next level.
Our warehouse management systems are built to operate automated storage equipment, in addition to traditional storage and retrieval methods like manual picking and shelving.
Typically, a consolidation warehouse consists of a large number of stock-keeping units (SKUs) or unique code that is assigned to every product.
A warehouse management system helps you monitor your inventory stock in real time, so your warehouse operators can quickly and accurately receive, pick, and put away warehouse goods.
1. Warehouse Management Systems
Our warehouse management solutions increase productivity, efficiency and accuracy.
Check out the Modula Warehouse Management Systems in action!
MODULA WMS: Easy Warehouse Management Software for Boost Productivity
Our warehouse management solutions allow you to:
Access inventory visibility, down to specific trays and items
Access real-time, automated order management and execution
Pick and replenish your inventory accurately and efficiently
Boost accuracy when integrated with our automated storage solutions
Operate in batch and multi-order modes without compromising productivity and quality for large orders
Reinforce better control over inventory management, materials handling and preventive maintenance
Prevent unauthorized access thanks to advanced security and identity systems
Manually import/export your warehouse management system data to your customer's ERP or DMS system
2. Modula Vertical Lift Modules
In addition to warehouse management solutions, our most advanced automated storage and retrieval systems save space
Check out the Modula Vertical Lift Modules in action!
MODULA LIFT: Innovative Vertical Warehouse Storage System
Choose from three vertical lift solutions:
Modula Lift, a customer favorite among our vertical lift modules, is the ideal storage solution for industrial products, components and spare parts for every possible environment and industry.
Modula Slim is the most compact VLM on the market, ideal for warehouses with limited floor space. Utilizing the same advanced storage technology as the Modula Lift, it boosts inventory management, productivity and accuracy in warehousing environments where space is at a premium.
Fully automated, Modula OnePick is our vertical lift solution that integrates innovations and advanced technologies into your conveyor systems to pick and put away goods.
Thanks to our vertical lift modules, stock density is also optimized.
Our height detection system measures the height of each tray as it is put away. The system determines the storage location density in real time, maximizing it within the unit. Trays can be configured for every type or size of stored items.
Our vertical lift modules allow you to:
Save 90% of floor space by using a minimal footprint, taking advantage of available ceiling height
Boost inventory management with documented and monitored picking operations. (On that note, check out our blog about warehouse inventory management)
Keep your goods safe by securing them in an enclosed system with restricted access
Increase picking speeds of 300 lines per hour or more
Receive products automatically with the user-friendly Copilot controller
Reduce employee and operational costs
Adapt to heavy loads without strain
Improve safety for employees by removing the need to reach high and low to get goods
3. Modula Horizontal Carousels
Have limited ceiling height? Our Modula Horizontal Carousels are the solution you're looking for.
Check out the Modula Horizontal Carousels in action!
MODULA HC: the New Horizontal Carousel for Efficient Picking
Our horizontal carousels allow you to:
Utilize picking rates of up to 550 lines per hour for each warehouse employee
House more goods with high-density and compact storage areas
Integrate with Modula Warehouse Management Systems (WMS) to increase productivity and accuracy
Generate 99% picking accuracy with our Put to Light Systems and barcode readers
Retrieve items quickly and easily with Modula's digital Copilot feature
Monitor picking operations in real-time through automation
Offer the most ideal working environment by protecting employees against hazards, minimizing physical strain, enabling fast machine stoppage and removing unessential travel around the warehouse
4. Modula Warehouse Order Picking Solutions
Easy to use and install, our order-picking solutions help with your consolidation warehouse when experiencing batch- and multi-orders.
Check out the Modula Warehouse Order Picking Solutions in action!
Modula presents the new picking solutions to automate and speed up warehouse operations
Our Modula Warehouse Order Picking Solutions include:
Wrapping Up on Warehouse Consolidation
Managing multiple warehouses, including shipping and inventory, can be costly and labor-intensive.
From paying expensive warehouse rent to managing employees in different locations and beyond, warehouse consolidation is the solution to keeping your expenses at bay, without sacrificing the efficiency of your warehouse operations.
At Modula, our automated solutions are built to safely store and organize your warehouse goods while providing you with complete visibility of your inventory, whether in one warehouse or multiple.