Industry
AUTOMATION SOLUTIONS FOR THE ELECTRONICS INDUSTRY
Challenges in the Electronics Industry
The Electronics Industry encompasses a wide range of companies involved in the design, manufacturing, and distribution of various electronic components like semiconductors, wires, inductors, and transistors, to finished electronic products.
This sector serves a multitude of industries, including aviation, healthcare, and consumer electronics. Given the nature of their products, these companies face similar challenges when it comes to efficiently manage their inventory:
Rapid Technological Changes: The industry's constant evolution affects component lifecycles, making storage and handling of electronic components complex due to changing designs and materials.
Sensitive Inventory Management: Electronic components are often delicate, requiring careful handling to prevent damage from factors like impact, temperature changes, humidity, and dust​.
Effective Inventory Management: Companies need to balance stocking sufficient quantities of components against risks of obsolescence, excess inventory, and long-term storage challenges.
Environmental Control in Warehouses: Electronic parts are sensitive to environmental factors. Excessive humidity can cause conductivity loss and rust, while high temperatures can shorten the lifespan of internal hardware like circuit boards and microchips. In addition, dust accumulation can lead to conductivity issues​​​​.
Demand Fluctuations and Scalability: The volatility in consumer demand necessitates flexible material handling and supply chain systems that can rapidly adjust to changing needs.
By adopting automation solutions for the electronics industry, companies can significantly improve their operational efficiency, product integrity, and adaptability to market changes.
Discover All Benefits
Modula Case Studies in
Electric & Electronic Industry
With over 1,950 installations of warehouse automation in the Electronics Industry
Electronics Industry Clients we
Also Serve
The Companies Leading the Way in Electronics Industry with Our Automation Solutions
Benchmark Electronics
USA
Bonfiglioli
Italy, China, Germany
Celestica
China, Mexico, Spain, Malesia
Christie Lites
Canada, USA
Delta Systems & Automation Inc.
USA
Drs Laurle Technologies
USA
Eaton Corporation
Mexico, USA
Electric Motion Company Inc.
USA
First Solar
Germany, Malaysia, USA
Flextronics International
Insrael, USA
General Electric
Canada, France
Hubbell Power System Inc.
USA
Industrial Automation Supply
USA
Infineon Technologies
Mexico, Portugal, Malaysia
Kimball Electronics
Hungary, China, Mexico, USA
Exm Manufacturing Ltd
Canada
Microelettrica USA LLC
USA
Mitsubishi Electric Automation Inc.
USA
Prettl Electronics
Germany, Hungary
Schneider Electric
Mexico, Italy, Indonesia, China
Siemens
India, China, Spain, Mexico, France, USA
Texas Instruments Inc.
USA
Thales Electron Devices
France
Zebra Technologies
UK, USA
>
THE ROLE OF
Automation Solutions in the Electronics Industry
In the electronics industry, managing a precise and controlled warehouse environment is essential for ensuring the integrity of electronic components and maintaining industry standards. Implementing Automation Solutions in the electronics sector significantly enhances the management and protection of sensitive components.
Navigating Complex Supply Chains
Modula's automated storage and retrieval solutions are designed to manage the complexities of global supply chains in the electronics industry. Our systems enhance efficiency in tracking and organizing components from multiple sources to mitigate the risk of disruptions.
Adapting to Technological Evolution in Electronics Storage
The rapid pace of technological change in the electronics sector often leads to quick obsolescence of products. Modula solutions can accommodate a diverse range of electronic components and products, each with different storage requirements. These systems also efficiently track inventory, helping to prevent products from becoming outdated by ensuring timely use and management of stored items.
Demand Fluctuations
Thanks to the modular design, Modula automation solutions can be easily integrated and expanded, accommodating fluctuating demands while maintaining operational efficiency ensuring that companies can respond rapidly to changing market demands without compromising on efficiency or operational effectiveness.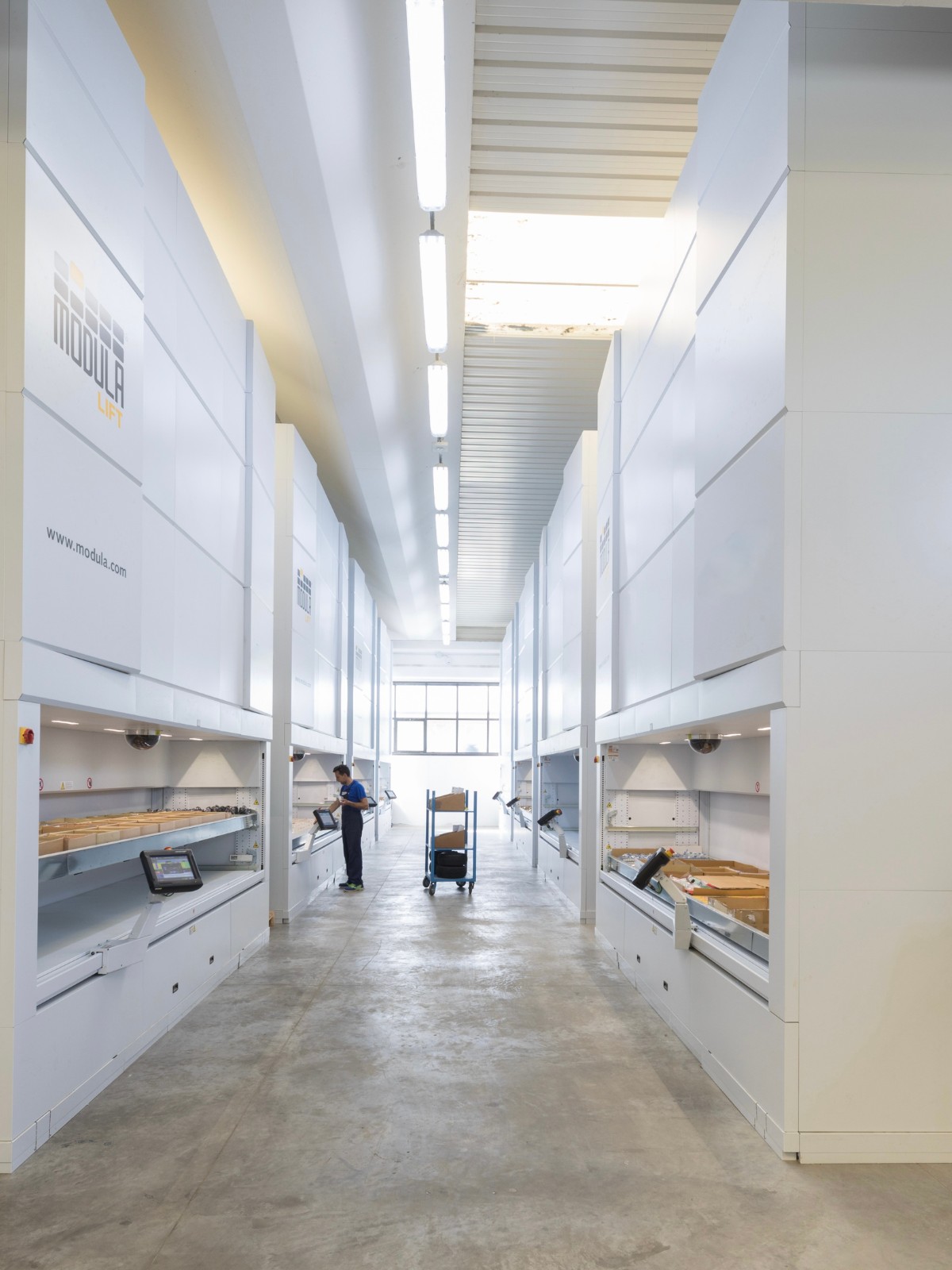 >
Environmental Controls
Our Clean Rooms and Temperature-Controlled Environment solutions are specifically designed to shield electronic components from contaminants and temperature variations, adhering to stringent industry standards and regulations.
ESD Protection
Our automation solutions can be equipped with an advanced ESD (Electrostatic Discharge) protection system. This system is engineered to shield vulnerable electronic components from the harmful effects of electrostatic discharges, a crucial factor in the handling and storage of sensitive electronics. This feature provides an extra layer of safety for delicate electronic parts.
Specialized Storage Solutions for Electronic Components
Modula units are ideal to store specialized electronic components, such as reels and surface-mounted devices (SMD). Modula's fully enclosed vertical lift systems effectively protect these sensitive items from dust exposure. The trays can be customized with specific partitions and dividers, enabling them to hold larger quantities of SMD reels and electronic component rolls securely and efficiently.
Electrified Tray Feature
Modula's innovative electrified trays are designed to supply electricity to stored goods like rechargeable lamps, computers, and radios. These trays can power up to 10 trays with a 240V supply within a single Modula Lift, offering a unique solution for charging needs.
Enhanced Product Protection
Given that electronic components are often small and easily misplaced, our system efficiently locates and retrieves electronic components, safeguarding them from damage and theft. Real-time inventory monitoring is a key feature, ensuring precise management and security of the inventory.
These automation solutions not only bring day-to-day operational efficiency but also contribute significantly to the strategic growth and technological advancement in the electronics industry.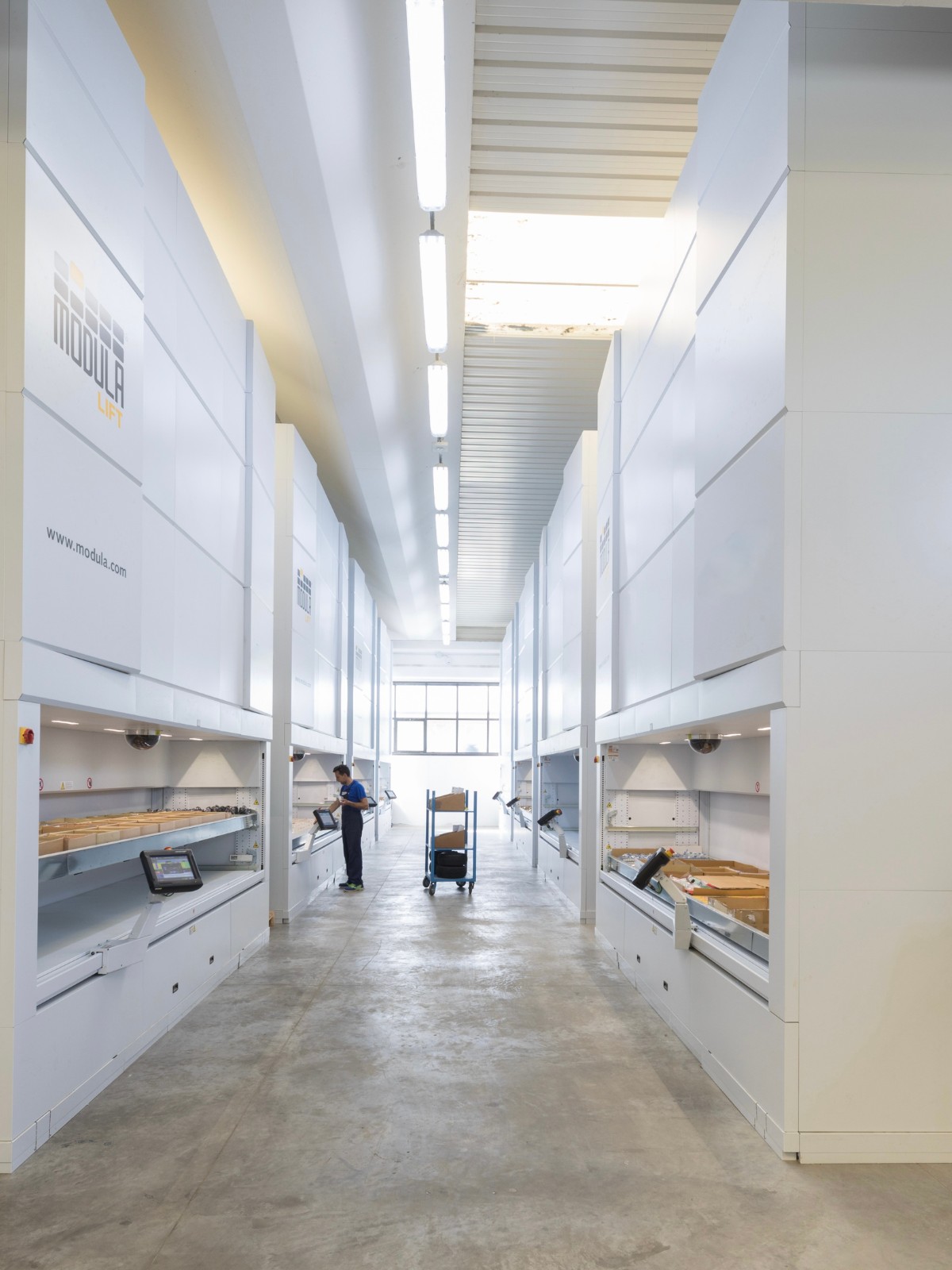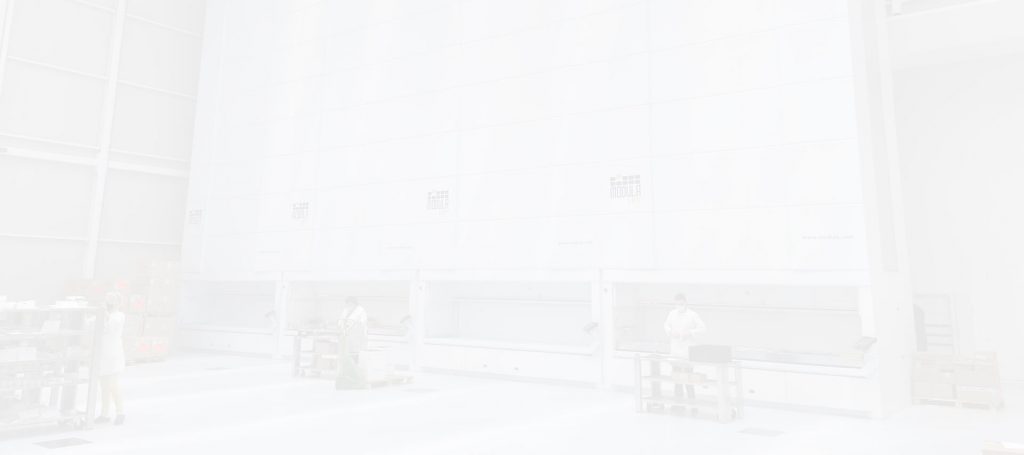 Ready to Transform Your Operations?
Modula's automation solutions for the Electric & Electronic Industries are designed to adapt to your unique operational needs.