Automated Inventory Management Made Easy
Modula Robotics integrations
Automate Your material handling Processes with Modula's Innovative Robotic Integration Solutions to achieve more Efficiency and Productivity.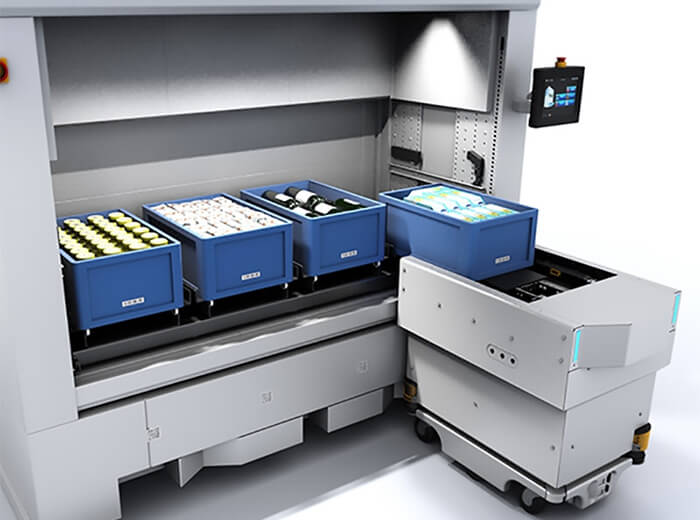 Integration Autonomous Mobile Robots
Modula's integration with Autonomous Mobile Robots (AMRs) optimizes picking operations, with the flexibility for semi or fully automated solutions.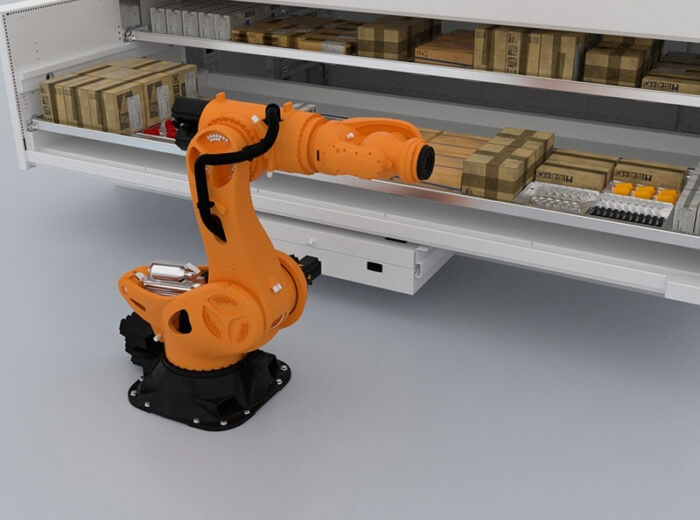 Robot interface
Modula Vertical Lift Module can seamlessly interface with anthropomorphic robots to automate repetitive tasks and improve productivity.
The Advantages of Modula Robotics Integrations
With the ability to interface with anthropomorphic robots, mobile autonomous robots, and collaborative arms, Modula's solutions offer a comprehensive approach to warehouse automation
Safety and ergonomics
Automating repetitive and time-consuming tasks enables workers to focus on higher-value work, reducing the risk of injury or human error. Robotic systems can safely perform tasks that may be hazardous for human workers, improving the overall safety.
Modularity and scalability
Modula Robotics Integration solutions are highly modular and well-suited for growing or seasonal businesses, providing flexibility in adjusting operations. Companies can expand their scale in stages, reducing the impact on workflow.
Quick installation
Modula's robotic solutions are highly customizable, enabling quick implementation within existing warehouse facilities without the need for costly and time-consuming structural modifications.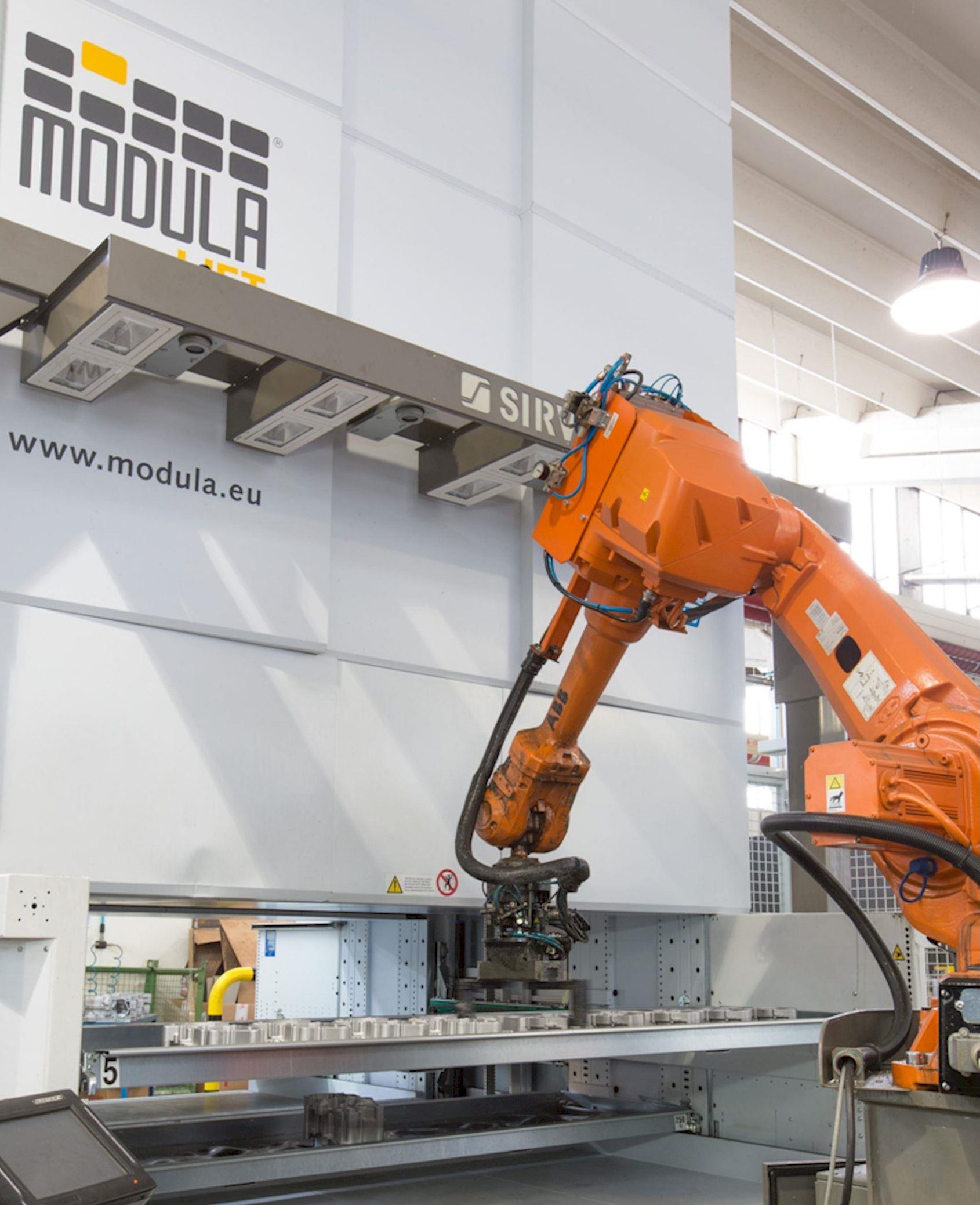 Productivity and Accuracy
Modula's robotic integrations improve productivity and accuracy by taking over time-consuming and error-prone processes. This allows businesses to fulfill more orders efficiently and in less time. With Modula products integrated with robots, companies can achieve significant improvements in their warehouse operations.
Native software integration
Modula's automated solutions seamlessly interface with robots through the Robot Interface Kit, allowing for optimized material handling operations. Communication between the Modula unit and the robot occurs through WMS Premium software with a standard protocol and identical command structure, streamlining the integration process.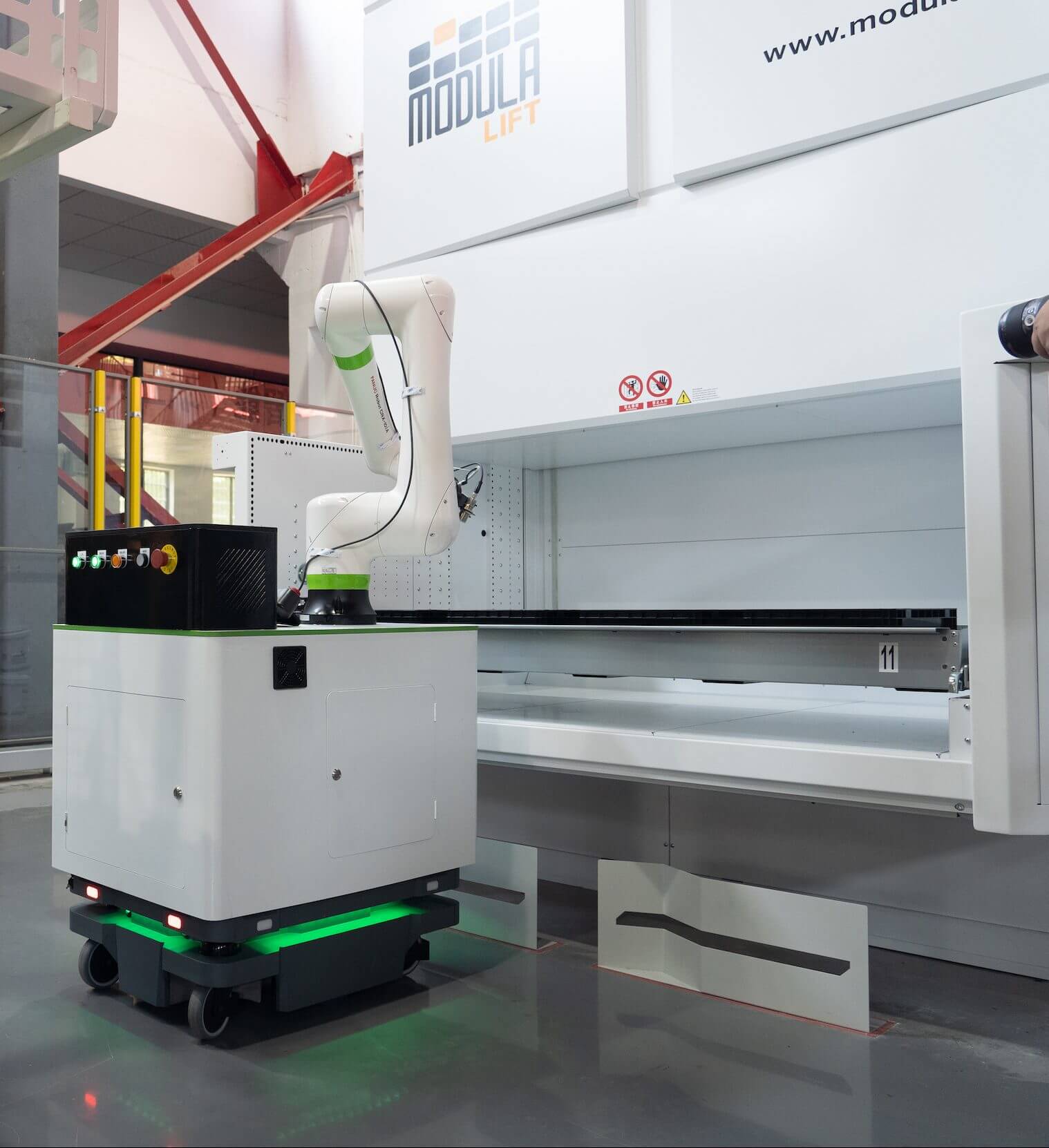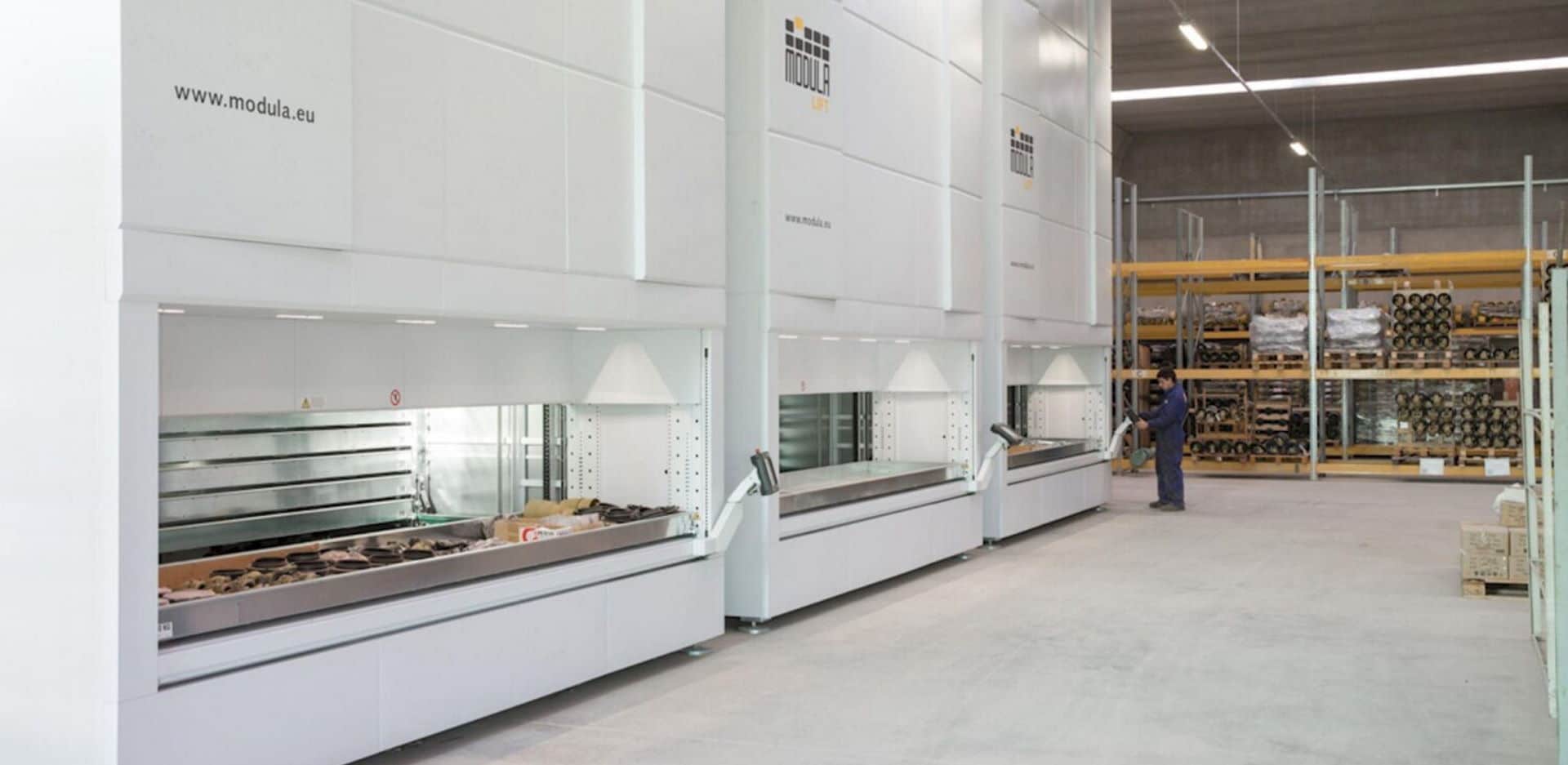 Amer uses Modula VLM and AGV robots to create a fully automated production operation
The company sought a way to fully automate the material handling in its production facility to maximize efficiency in the face of changing manufacturing operations.
Modula Vertical Lift Modules Help Ford Boost Engine Production Efficiency
Ford's Engine production keeps rolling with 3 Modula VLMs integrated into automated systems for efficient auto parts storage
Global O-Ring and Seal Speeds Shipping with Modula VLMs
The company bought three Modula vertical lift modules that provided 12,000 square feet of storage space on just 465 square feet of floor space, reducing their operational footprint by 90%.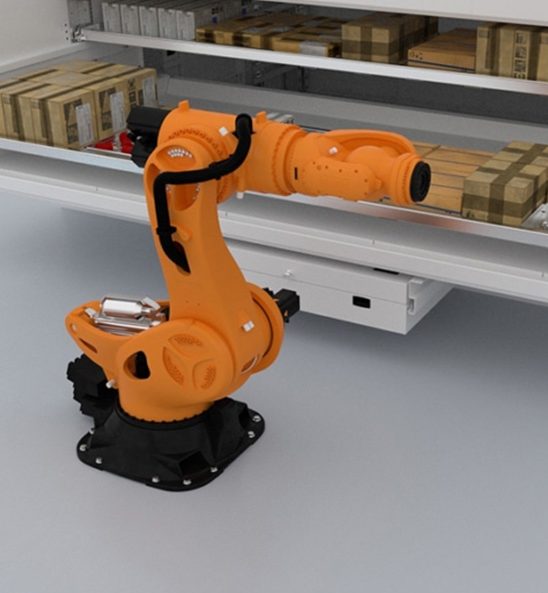 Modula Robot Interface
Modula Vertical Lift Module can seamlessly interface with anthropomorphic robots to automate repetitive tasks and improve productivity.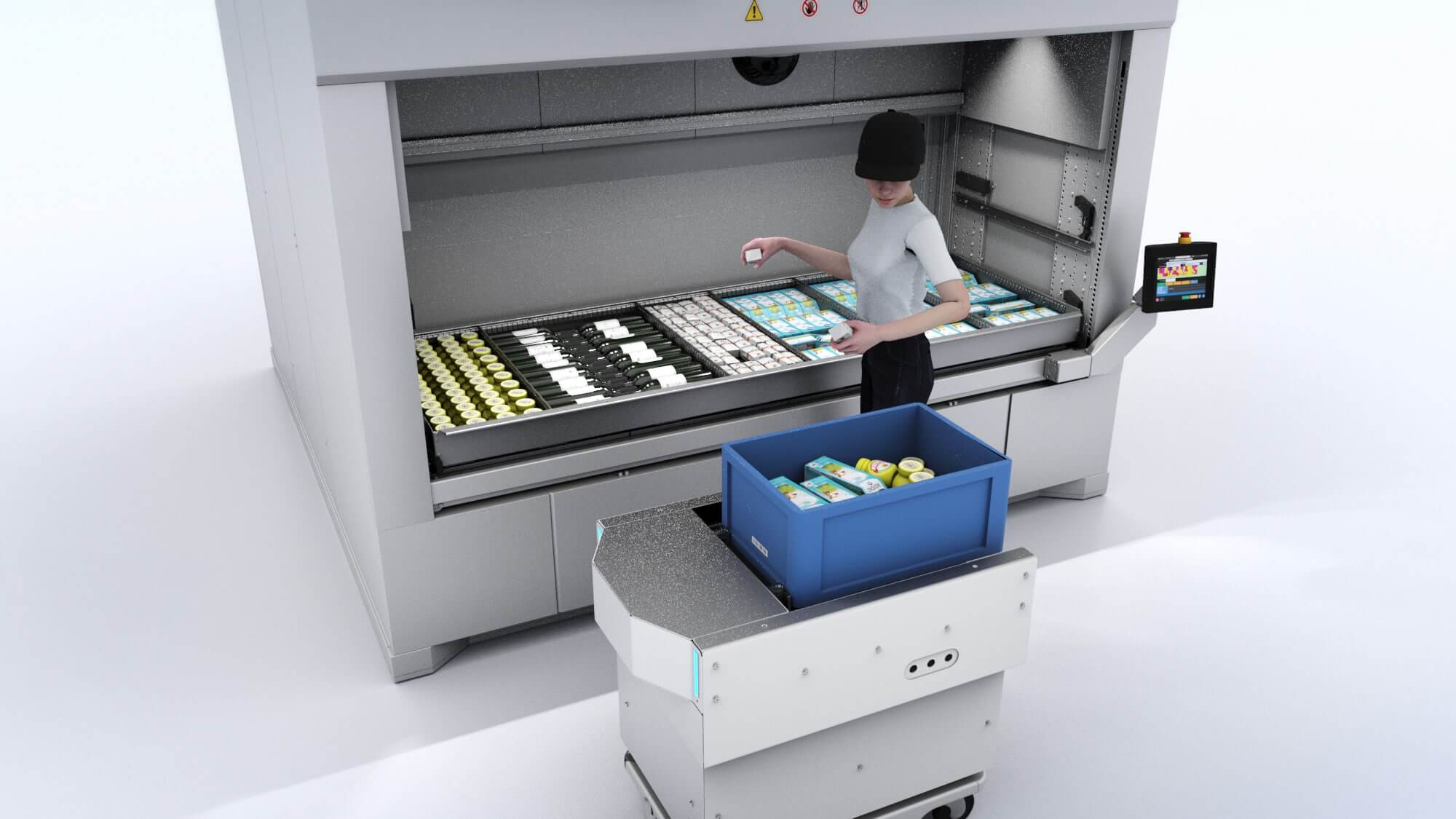 Modula Integration with AMRs
The seamless integration between Modula and Autonomous Mobile Robots (AMRs) for a semi or fully automated picking & replenishment operations.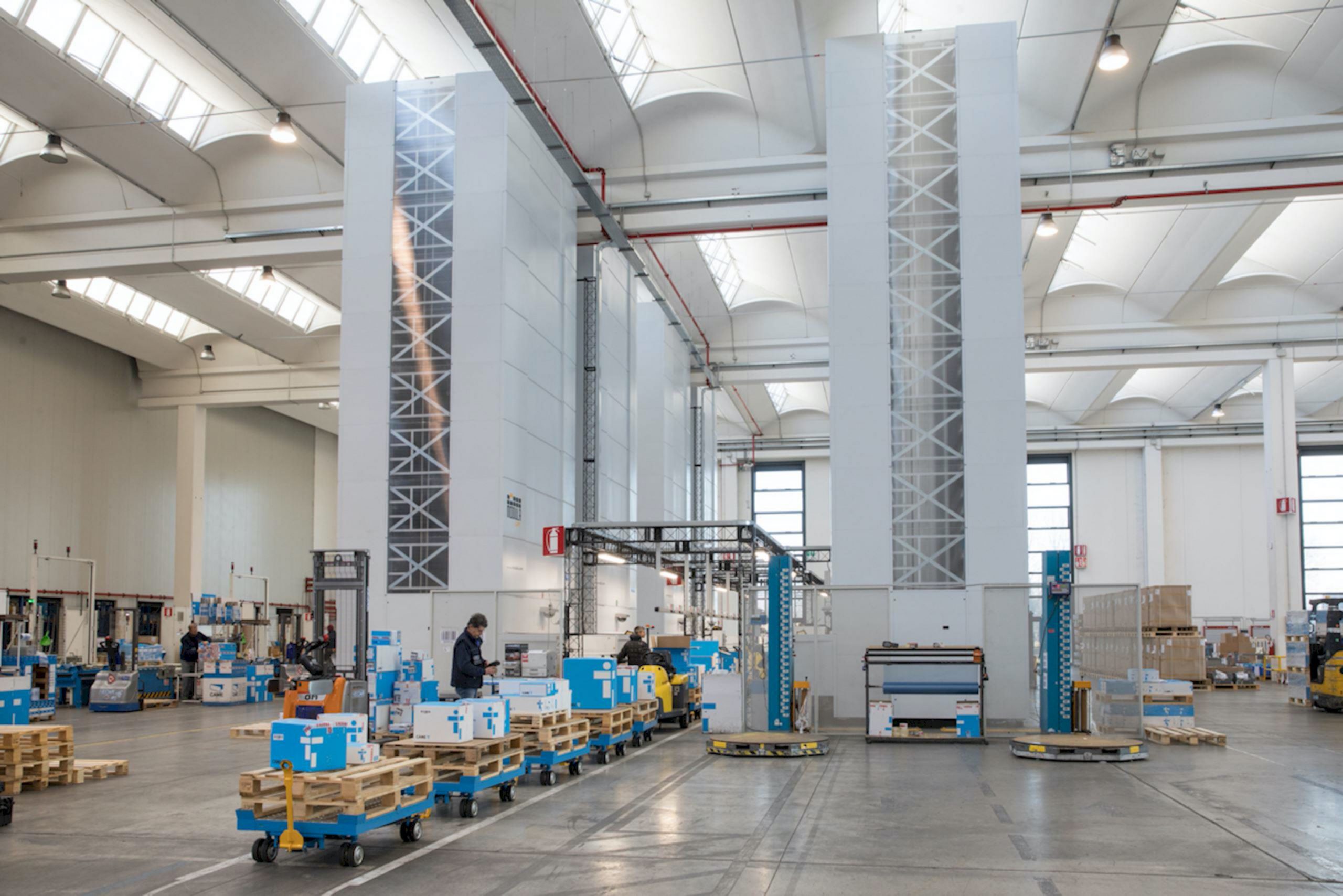 Are you Looking to optimize your warehouse operations with automation?
Explore Modula's robotic integration solutions to boost productivity and streamline material handling.