Industry
AUTOMATION SOLUTIONS FOR THE FOOD & BEVERAGE INDUSTRY
Addressing Challenges in the Food & Beverage Industry
The Food & Beverage industry is a vast and diverse sector that includes the production, processing, and distribution of food and drink products. This industry plays a crucial role in the global economy and faces unique challenges in material handling and supply chain management.
Perishability and Inventory Management: The limited shelf life of many products in this industry demands efficient logistics for freshness and waste reduction. Effective inventory management systems are crucial for forecasting demands, managing stock levels, and reducing spoilage.
Safety and Hygiene Standards: Stringent food safety regulations require precise handling and storage procedures. Food & beverage Industry Automation Solutions help manage specific temperature and humidity levels, reducing contamination risks.
Supply Chain Complexity and Disruptions: The industry contends with complex supply chains and is vulnerable to disruptions, which can impact product safety and quality. Automated solutions and just-in-time inventory management can help mitigate these risks.
Demand Variability: Fluctuating consumer and seasonal demands require agile supply chain and inventory management. Anticipating changes using forecasting tools is essential for maintaining service quality despite demand shifts​​.
Sustainability Concerns: Sustainable practices are increasingly important, involving challenges like reducing packaging waste and the carbon footprint of transport and production processes.
Overall, Food & Beverage Industry Automation Solutions are pivotal in enhancing operational efficiency and promoting long-term sustainability in this essential sector.
Discover All Benefits
Modula Case Studies in
Food & Beverage Industry
With over 170 installations of warehouse automation in the Food & Beverage Industry
Food & Beverage Industry Clients we
Also Serve
The Companies Leading the Way in Food & Beverage Industry with Our Automation Solutions
Brown Forman Corporation
USA
Bunzl Processor Riverside
USA
Coca Cola
UK, Germany, Chile, Mexico, USA
Domain Chandon
France, USA
Mars Chocolate North America
USA
Woodford Reserve Distiller
USA
>
THE ROLE OF
Automation Solutions for the Food & Beverage Industry
The Food & Beverage industry faces unique obstacles, from maintaining stringent safety standards to managing diverse inventories. Automation solutions are key to enhancing efficiency, safety, and compliance.
Tailored Solutions for Food Safety Adherence
The Modula Climate Control system offers a tailored solution for the food & beverage industry, able to handle temperature and humidity-sensitive products. Its ability to maintain a controlled environment, ensure that perishable items are stored in optimal conditions, reduce waste, and adhere to strict food safety regulations. It also streamlines inventory management, making it easier to track and utilize perishables efficiently.
Automated Safety and Heavy Load Handling 
Automation in the Food & Beverage industry serves a dual purpose: increasing operational safety and facilitating the handling of heavy loads. By minimizing the need for manual handling, they reduce the risks of workplace injuries. Additionally, these systems are ideal for managing heavy products quickly, even during peak times.
Cost Reduction through Streamlined Operations
The food and beverage industry constantly strives to cut operational costs. Modula's automated solutions optimize warehouse operations, reducing labor costs and enhancing productivity. By automating repetitive tasks, companies can reallocate resources to more critical areas, thereby lowering operational expenses and increasing profitability.
Sustainability in Operations
Sustainability is a critical concern in the Food & Beverage industry. Automation solutions contribute significantly by reducing energy consumption and optimizing space usage. They provide more efficient storage options, which help in minimizing the carbon footprint of warehouse operations, aligning with the global move towards greener practices.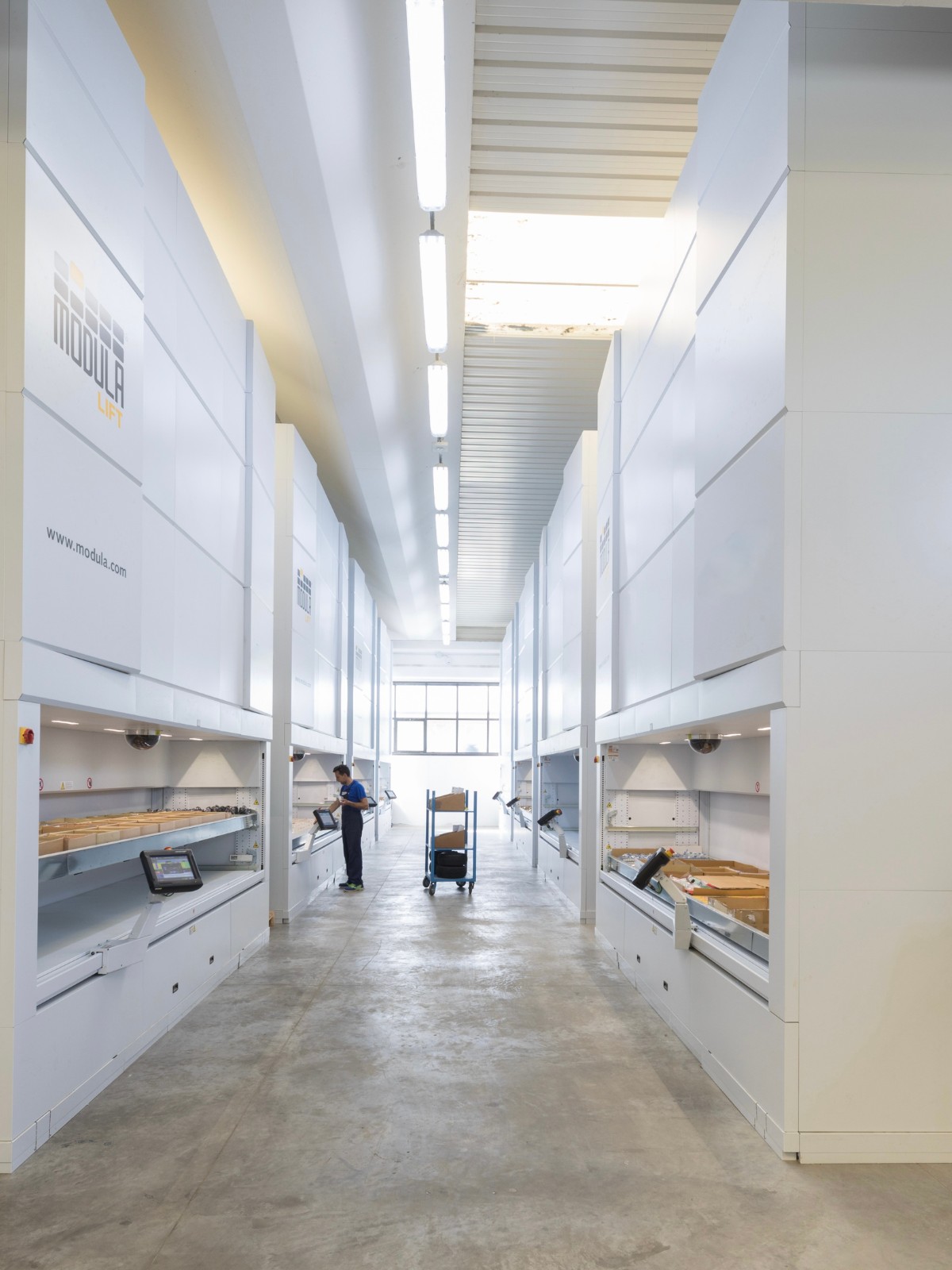 >
Precise Storage for Wine and Beverage Labels
Modula's automated storage solutions offer an ideal environment for the storage of wine and beverage labels, which are essential for product identification and regulatory compliance. These labels require organized and secure storage to maintain their integrity. Modula's systems ensure that these labels are not only well-organized but also protected from potential damage or misplacement.
Advanced Optimization in E-Grocery Logistics
Automation solutions make optimal use of vertical space to enable more compact storage. This feature is especially beneficial in urban or limited-space settings and for managing the growing diversity and volume of online grocery orders. Moreover, thanks to WMS software's precision, they improve inventory management, allowing grocers to accurately track stock levels and reduce wastage. The rapid return on investment (ROI) positions them as a cost-effective choice for e-grocery businesses to thrive in a competitive landscape.
Addressing Supply Chain Complexity and Disruptions
The complexity and frequent disruptions in the supply chain pose a major challenge. Automation solutions for the Food & Beverage Industry offer flexibility and resilience, enabling businesses to adapt quickly to changes and disruptions in the supply chain. By improving inventory accuracy and reducing lead times, they help maintain a steady flow of goods even in unpredictable conditions.
In summary, automation solutions in the Food & Beverage Industry are not only enhancing day-to-day operational efficiency but are also crucial for strategic growth, compliance, and adapting to the dynamic demands of the market.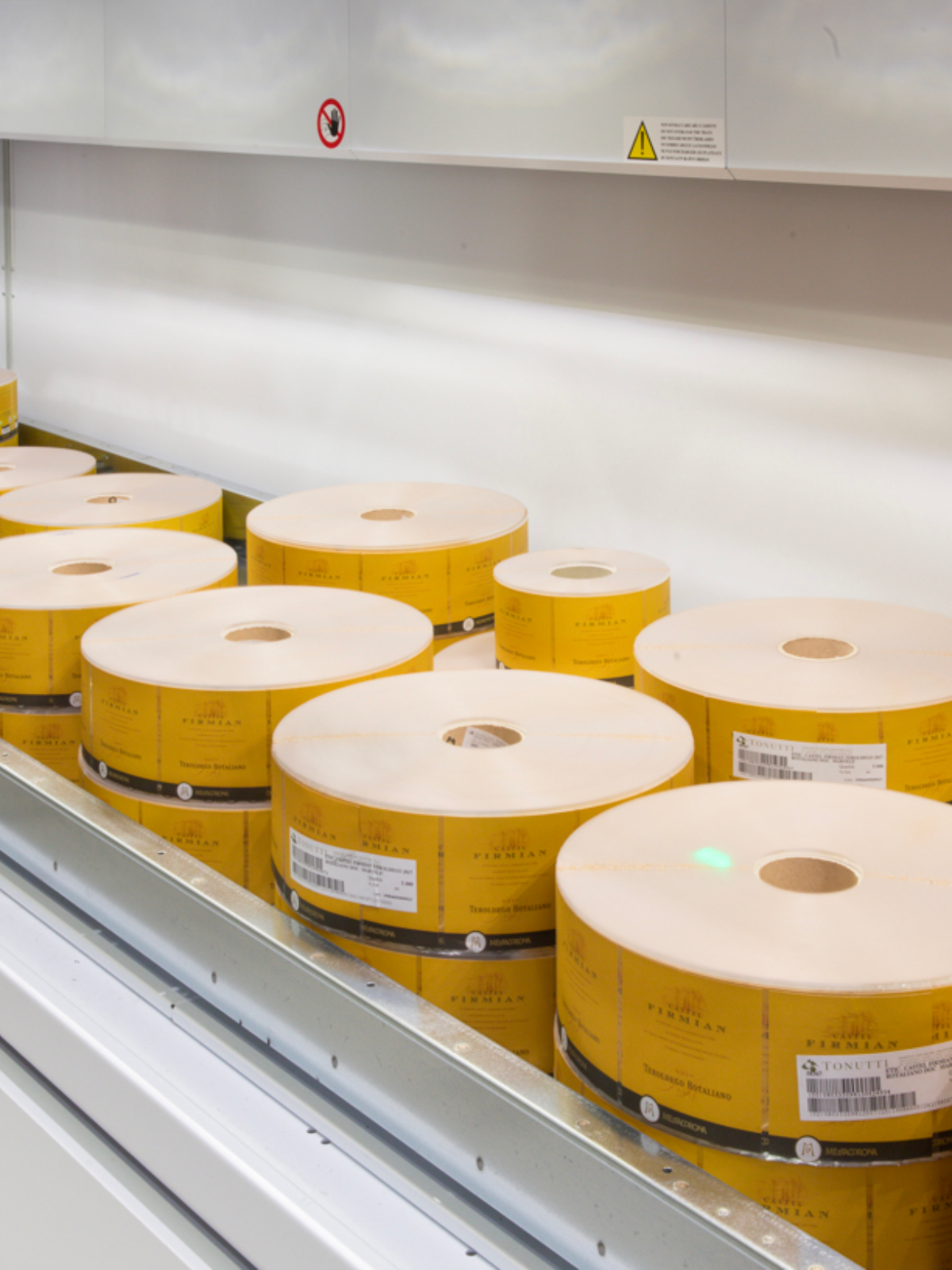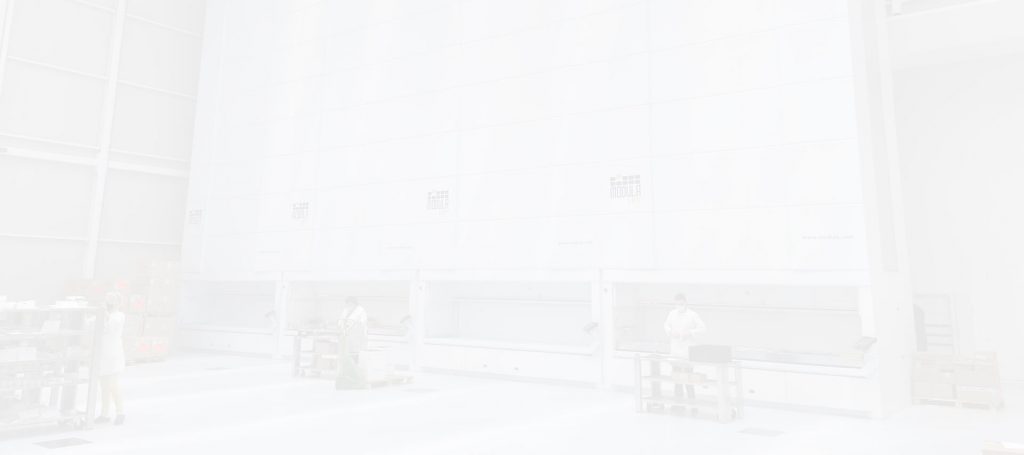 Ready to Transform Your Operations?
Modula's automation solutions for the Food & Beverage Industries are designed to adapt to your unique operational needs.