How To Run an Efficient Warehouse, From Optimizing Space to Lowering Costs & More
Running a successful and cost-effective warehouse relies on one main factor: efficiency. Without streamlined execution, organization and productivity, your warehouse operations will suffer.
We'll explain how to run an efficient warehouse, from optimizing warehouse space to improving accuracy, productivity, and even employee satisfaction. Plus, we'll introduce you to our automated solutions and explain how they can help.
How To Run an Efficient Warehouse: 5 Key Factors to Consider
If your warehouse isn't efficient enough to meet the pressures of receiving, sorting, and delivering, you risk losing revenue and damaging client relationships, among other consequences.
From ensuring productivity to managing employee safety and satisfaction, here are five key areas that contribute to a successful warehouse.
1. Space
A 2021 global outlook report found that U.S. businesses will need a combined 330 million square feet of warehouse space to keep up with the uptick in e-Commerce. However, moving your operation to a bigger warehouse could be extremely costly. The answer may not be to move to a bigger space but to optimize the space you have.
Hint: think vertical.
2. Accuracy
Warehouse accuracy means storing, receiving, and distributing inventory with precision. Lack of accuracy can lead to production and shipping delays, misplaced items, heightened idle time, and ultimately, revenue losses.
If your physical inventory doesn't match your inventory records, for example, backorders may increase, productivity may be lost and your customer service reputation might be in trouble.
3. Productivity
A 2018 Gallup poll found that a highly engaged workforce increases profits by 21%.
Employee productivity plays a key role in the profitability of your overall operation. If you're not actively updating methods or encouraging ideas to streamline processes, you risk falling behind.
4. Employee Satisfaction & Safety
According to the U.S. Bureau of Labor Statistics, there were 4.8 recorded injuries for every 100 full-time workers in warehousing and storage in 2019.
Workplace accidents, including falls, being struck by an object, or getting caught in equipment, can be extremely serious, making employee safety paramount to your operation. In addition to physical safety, employee satisfaction also plays a vital role in running an efficient warehouse.
Not only does job dissatisfaction produce low morale, but it also causes loss of motivation, lack of interest, frustration, poor productivity, absent employees, and increased turnover rates.
You cannot run an efficient warehouse without satisfied employees. This truth is even more important now than ever due to the current labor shortage. Job satisfaction is a key element in retaining your employees.
By streamlining tedious aspects of employee operations, you can eliminate some of the monotonous tasks that lack real value, and help reduce confusion and stress levels. All of this contributes to higher job satisfaction rates and a more positive workplace association.
5. Cost
Even if your warehouse is organized and your employees are satisfied and productive, running an efficient warehouse ultimately means you're turning a profit, right?
Labor, equipment, storage, utilities, rent, and other costs all factor into the overall success of your warehouse. Running a cost-effective operation means finding ways to reduce costs without sacrificing quality.
How To Optimize Your Warehouse Space
It's not necessarily the size of your warehouse that matters the most — it's all about how you use your space and resources. To optimize your warehouse space and increase storage:
Identify underutilized space
Store items according to their size
Store items vertically
Reduce aisle width
Remove obsolete inventory
With a strategic layout, you can avoid cramped spaces, bottlenecks, and inefficient storage space in your warehouse.
At  Modula, we go vertical.
Our Vertical lift modules (VLMs) are fully automated vertical storage systems that use minimal floor space by taking advantage of high ceilings. As a result, you can reduce the space dedicated to storage. Here is how they can optimize your warehouse space:
The VLM measures the height on the products each time trays are put away so it can store the trays as densely as possible above each other, to maximize the storage space.
The VLM trays are designed to accommodate heavy loads without strain.
Trays can be organized for every type/size of stored item. Thanks to partitions and dividers, the user can create the exact number of storage locations needed and their configurations can be adjusted at any time to accommodate changes in the size or quantity of stored items or seasonal demands.
VLMs have different bay types to fit various operational and space needs. Internal bays are best for limited floor space applications, while external bays can be useful when employing mechanical aid such as a forklift or a crane.
The best part? Vertical lift modules can reduce your space requirements by up to 90%!
Thanks to the modular design, our VLM ensures almost unlimited flexibility. The height can be modified and adjusted to optimize the unit for the ceiling height by adding or removing modules. If you change locations or move to a different site, your Modula VLM can be quickly adapted to the new height requirements.
How To Improve Accuracy in Warehouse Operations
Lack of accuracy in warehouse operations can quickly lead to unhappy clients or customers, damaged relationships, and lost revenue. From implementing management systems to making use of RFID tags, here are our top tips to improve accuracy in your warehouse operations:
Implement a warehouse inventory management system
Perform inventory cycle counting
Integrate robots and other automated storage systems
Establish designated picking routes
Train your employees to follow accurate inventory control procedures
Determine causes of inventory stock outs
Automate your reporting process
Use wireless RFID tags
How To Improve Warehouse Productivity
Warehouse automation can eliminate repetitive and labor-intensive tasks in your warehouse, to give your employees the opportunity to focus on areas that need human attention. To improve employee productivity in your warehouse:
Invest in quality training processes
Offer financial incentives
Provide your employees with the tools and equipment they need
Ask for employee feedback and implement changes as needed
At Modula, our automated solutions can help drastically increase productivity and provide a more efficient working environment in your warehouse.
Our vertical lift modules and horizontal carousels are designed to save time and reduce unnecessary walking, bending, and reaching. Following the parts to picker's principle, these automated storage systems deliver the items to the fixed operator's location where the picking operations take place.
This feature significantly minimizes the risk of injury from motion and provides maximum safety for personnel in even the most demanding working conditions.
Thanks to visual picking aids, workers can quickly identify which item to pick and how many items are required. This eliminates the risk of human error, improving accuracy up to 99%.
In addition, through computer-aided picking and inventory tracking, all picking operations are monitored and documented. As a result, you'll always have inventory information at your fingertips, and your employees can save time locating items.
How To Improve Warehouse Employee Satisfaction & Safety
Unsurprisingly, a 2017 study found correlations between worker fatigue and injuries at work. Part of maintaining employee safety throughout your warehouse is being able to identify when an employee isn't able to function safely. The other part is implementing safety protocols and automated solutions.
Our Vertical Lift Module and Horizontal Carousel help employees stay safe on the job by eliminating the need to reach high and low, and constantly travel throughout the warehouse.
Modula VLM and HC bring the requested item to the operator quickly and accurately. From the smallest part to the heaviest item, everything is presented in the opening bay. This saves human energy and drastically lowers the risk of personal injury.
Moreover, both automated storage solutions are equipped with several safety precautions, such as security light sensors, emergency stop buttons, automatic shutter doors to ensure the safety of both workers and the stored items.
Additional ways to help prevent accidents in your warehouse include:
Ensuring only certified and knowledgeable workers operate warehouse vehicles and equipment
Maintaining warehouse vehicles and machines per manufacturers' recommendations
Installing safety lights and clear signage
Keeping your warehouse clean and organized
Ensuring safe vehicle and equipment operation through standardized processes and policies
Providing personal protective equipment (PPE)
Holding regular training and safety courses for both new and existing employees
Along with employee safety, comes employee satisfaction. A happy employee is a more productive employee.
To help improve employee morale and in turn, productivity:
Provide clear goals and instructions
Listen to employee feedback
Recognize and reward your employees
Promote transparent communication
Encourage health and wellness
Support career development
How To Save On Warehouse Costs
Cutting costs without sacrificing quality or productivity is a dream scenario for most businesses. Whether you are looking for immediate or long-term solutions, here are a few ways you can cut down on your warehouse costs:
Reorganize your warehouse to ensure every space is optimized
Invest in automation and/or state-of-the-art equipment to increase productivity
Prioritize regular maintenance to keep machines clean and functioning properly
Change your traditional lighting fixtures to energy-efficient lighting such as LED
Focus on employee retention rather than hiring and training new employees
But how do you determine the return on investment in a Modula vertical lift module or horizontal carousel? And how long should it take to reach payback on that investment?
It depends on the starting point, and the financial impact on your operation by saving space (up to 90%), increasing productivity (often 300% or more), reducing picking errors (down to nearly 0), and other factors.
In general, our automated storage and retrieval systems have an expected payback period of 6 to 18 months. For more detailed info about the financial calculations, check out our recent blog post.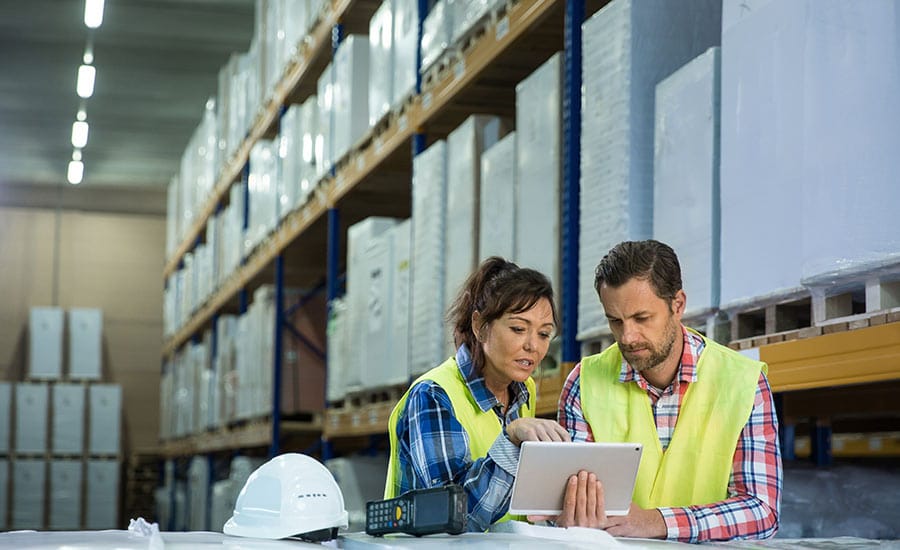 Efficient Warehouse Solutions: A Look at Our Modula Case Studies
From improving performance, efficiency, and safety to reducing space demands and inventory errors, our warehouse automation solutions provide measurable results for businesses across North America.
1. Dassault Falcon Jet
The challenge:
Dassault Falcon Jet, Dassault Aviation's subsidiary, which has a distribution center for large aircraft parts and headquarters in Teterboro, NJ, was experiencing delivery issues.
Aircraft parts were taking too long to deliver and since they were using a traditional shelving warehouse system, picking errors were common. They needed automated solutions to cut back on the time it took to find the right parts.
The solution:
Dassault installed three 25-foot-tall Vertical Lift Modules. Thanks to these modules, Dassault's employees can now find an aircraft part in less than a minute, compared to the five minutes it took when they were relying on manual pickers.
2. Innomed Inc.
The challenge:
Innomed Inc., a Georgia-based company that manufactures orthopedic surgical instruments, was facing storage issues that affected their lead time. They needed a permanent storage location for their expanding inventory of surgical instruments but they were unable to move to a bigger warehouse.
The solution:
To help accommodate their growing inventory of surgical instruments, the company installed four Modula Vertical Lift Modules in their warehouse. The modules streamlined their process accelerated their lead times, providing significant time savings in inventory stocking and order fulfillment.
Wrapping Up on How to Run an Efficient Warehouse
In an efficient warehouse, space is optimized, employees are happy and productive, inventory is managed accurately and costs are cut without sacrificing quality. The secret to achieving all of these things? Automated storage solutions.
At Modula, we help you reimagine your storage with our next-generation solutions to improve accuracy, boost productivity and ensure your warehouse runs efficiently.