How to Recession Proof Your Warehouse and Reduce Warehouse Costs In 2023 
For many in the warehousing industry, this past year was spent recovering from supply chain disruptions. While it's no secret that the COVID-19 pandemic took a significant toll on businesses around the globe, the need to prepare for the unexpected has never been greater. 
Whether there's another global pandemic or a nationwide recession around the corner, taking action to reduce your current warehouse costs and in turn, help recession-proof your warehouse, may be key to not only surviving but to thriving in 2023 and beyond. 
We'll look at warehousing predictions for 2023, share actionable methods to reduce your warehouse costs — specifically through automation — and explain exactly how our automated solutions at Modula can reduce your operating expenses and set your warehouse up for profitability in 2023. 
Industry Trends That Will Impact Warehousing Costs In 2023
Over the last few decades, warehousing has become increasingly complex and costly as a result of many factors: inflation, increasing supply chain complexity, rising transportation costs, and labor fees.
Warehouse operators can expect their warehousing costs to increase by at least 5% over the next year, due to these factors alone.
What else is in store for 2023? Experts have several key predictions for the warehousing industry, including a drop in U.S. warehouse development, a new record for Mexico nearshoring operations, and an uptick in eCommerce leasing.
However, the prediction that may be the most important when it comes to recession-proofing your warehouse, is that the demand will increase significantly for sustainable warehouses.
While some may see the focus of this prediction as solar rooftops and greenhouse gas emissions, we're looking at it from another point of view: setting your warehouse up for sustainable operation, as in the ability to perform profitably over time.
What does this entail? From opting for used containers to reducing energy costs and investing in automated solutions, we'll explain exactly how to reduce your overhead.
6 Ways to Reduce Warehouse Costs in 2023
Before we get to automation, there are several ways you can reduce your current warehouse costs manually.
From organizing small items and kitted parts to providing better protection from contaminants, here are six key benefits of totes, bins, and dividers for warehouse material handling.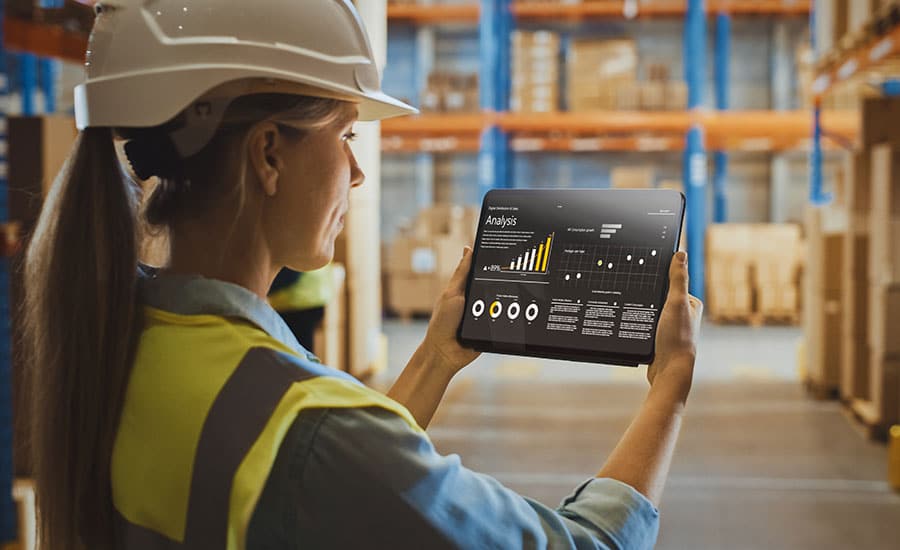 How Can Warehouse Management Reduce Costs Through Automation?
Enter your warehouse's best friend: automation. Here are at least four ways that automated solutions can help drastically reduce your warehouse costs.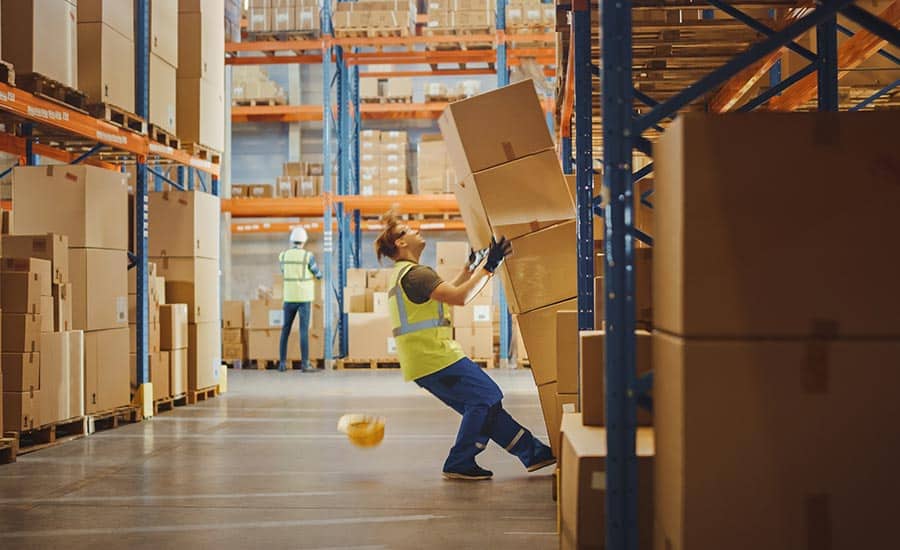 Reduce Your Warehouse Costs with Modula's Automated Solutions
While you can utilize manual methods to reduce your warehouse costs, investing in automated solutions takes warehouse cost savings to another level.
Automated storage and retrieval systems allow you to maximize your current warehouse space, speed up your picking rates, ensure picking accuracy across the board and ultimately, eliminate labor-intensive and tedious tasks to minimize costly human errors.
At Modula, we offer state-of-the-art innovations to help you reduce warehouse costs and set up your business profitability for years to come.
1. Modula Vertical Lift Modules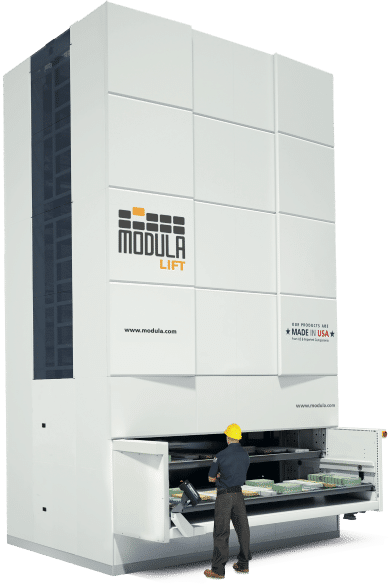 Make use of your existing warehouse space by utilizing every inch of your available ceiling height.
To use our vertical lift modules, simply place configured totes, dividers and bins into the system's picking bays.
A scan of a barcode or simple touch of the system's user-friendly Copilot controller allows inventory to be automatically delivered to your warehouse operators.
Designed with your employee's safety and ergonomics in mind, our automated storage systems deliver the goods right to your operator's location, eliminating the need to reach or travel.
The ability to store more products in a smaller space also allows you to reduce your warehouse's carbon footprint by reducing the amount of energy you use.
Modula vertical lift modules come in three models:
Modula Lift: Boost efficiency, picking speeds and accuracy by up to 90% with our most popular vertical lift module.
Modula Slim: Leverage the same innovation as the Modula Lift, but in a more compact design. Ideal for smaller warehouses.
Modula OnePick: If complete automation is what you're looking for, Modula OnePick has you covered. Ideal for eCommerce and fully automated warehouses.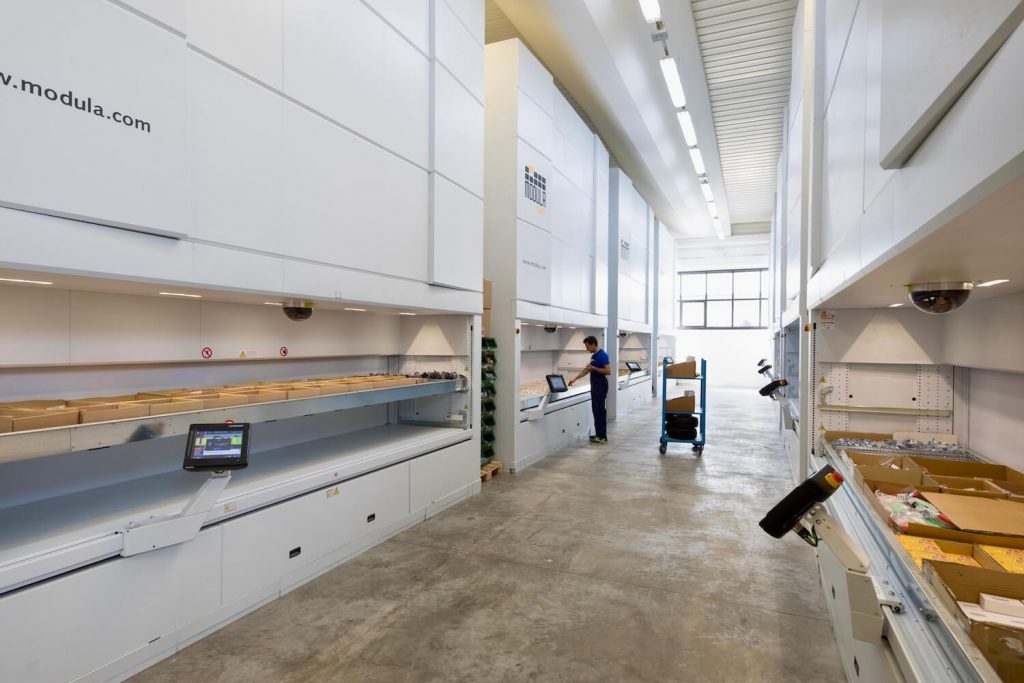 2. Modula Horizontal Carousel
Working with limited ceiling height? You can count on our Modula horizontal carousels.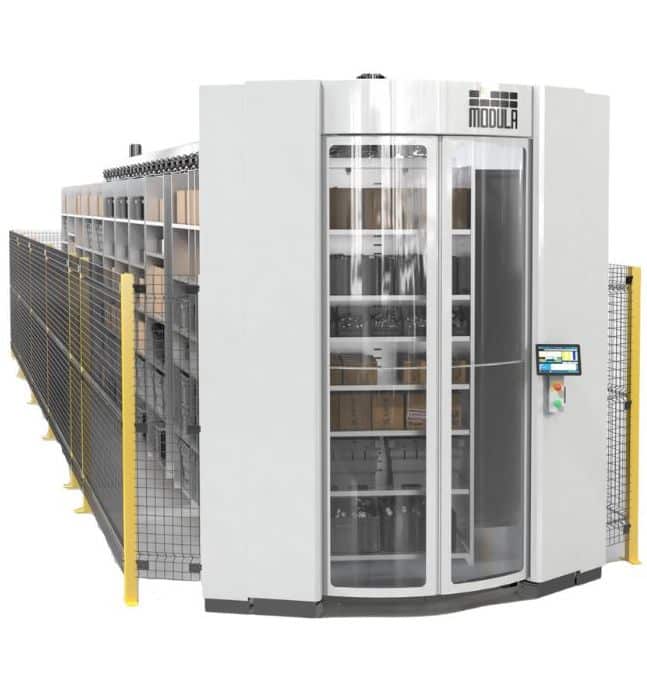 Modula Horizontal Carousel allows you to save space, reduce labor costs, store and retrieve items as needed with minimal additional labor. This feature boosts throughput and improve accuracy and inventory control.
The horizontal carousel consists of carriers (bins) which are mounted on an oval track that rotates horizontally and delivers stored goods to the picker.
Each bin shelf can be divided into totes, bins, and partitions to create an efficient and well-organized storage space.
They are commonly used in warehouses and distribution centers for their ability to quickly handle large quantities of inventory.
Check out our horizontal carousel in action in the video below!
MODULA HC: the New Horizontal Carousel for Efficient Picking
When seasonal demands arise, you can boost your picking accuracy by up to 99% when you use our barcode readers and Put to Light Systems (more on this below!).

3. Modula Warehouse Picking Order Solutions
Are your picking operations quick enough to meet challenging consumer demands? Save time and money with our picking order solutions.
Our automated warehouse picking solutions allow your operators to simultaneously fulfill multiple orders.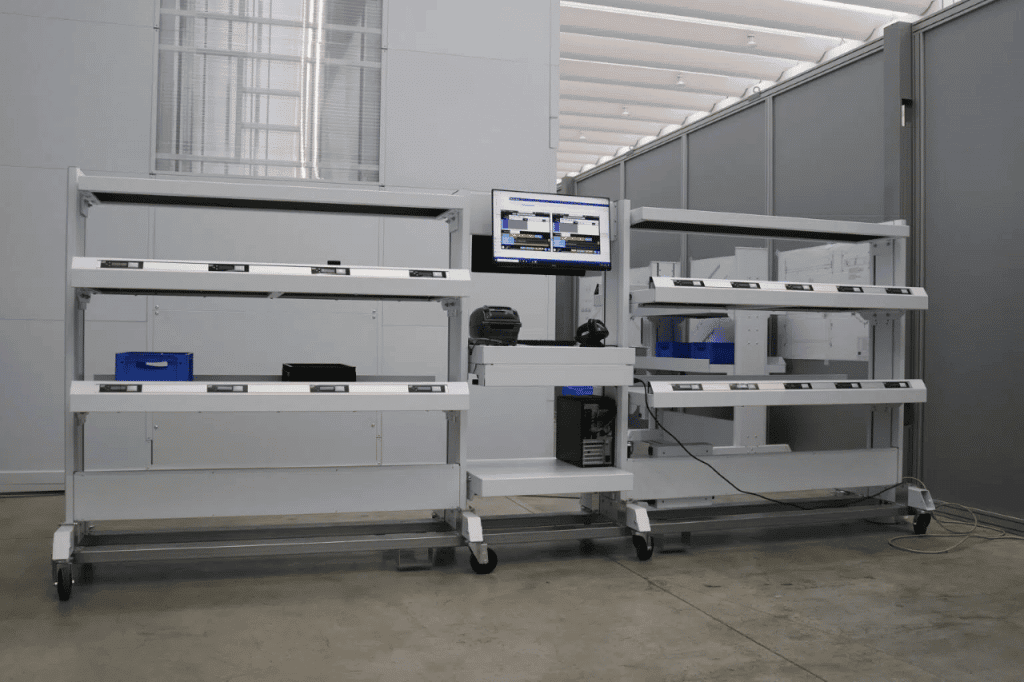 Our Modula Warehouse Order Picking Solutions include:
4. Autonomous Mobile Robots
Need an extra hand with order fulfillment when demand spikes?
Autonomous mobile robots (AMRs) are smart robots that:
Navigate their way in the warehouse without supervision from human operators, thanks to next-level sensors, digital mapping and artificial intelligence software.
Perform warehouse tasks such as picking and putting away inventory while taking the fastest possible route.
Check out our AMRs in action in the video below!
Modula & MiR: automatic storage systems and autonomous mobile robots. How do they work together?
Autonomous mobile robots allow you to:
Automate time-consuming tasks, allowing warehouse operators to focus on more value-added work that requires human intervention
Dramatically increase accuracy and productivity to fulfill more orders in less time
Overcome the uptick in demand during fluctuating and peak seasons
Save on labor costs when warehouse operators are not available
Adapt to the evolving needs of each customer, without requiring any structural modifications
Streamline inventory management, when integrated with Modula's warehouse management system
(Interested in learning more about AMRs? Check out our guide to autonomous mobile robots!)
5. Modula Warehouse Management Systems
Gain inventory control and visibility to prevent dead stock and overstock when you invest in Modula Warehouse Management Systems.
Modula WMS is a comprehensive warehouse management software that automates the flow of work through a warehouse and improves the accuracy, efficiency, and visibility of all operations.
Modula WMS integrates with vertical lift modules to provide a complete warehouse solution.
The WMS can be configured to receive data from VLMs and other material-handling equipment and integrates with any local ERP systems.
This allows you to store and manage your data in a centrally-located, easy-to-manage system. Thanks to its scalability, it can grow with your business as your warehousing needs change over time.
Check out our warehouse management systems in action in the video below!
MODULA WMS: Easy Warehouse Management Software for Boost Productivity
Our warehouse management solutions allow you to:
Access warehouse trays to gain inventory visibility
Accurately pick and replenish your warehouse inventory
Gain better control over inventory management, preventive maintenance and material handling
Prevent potential employee theft and unauthorized access with next-level security and identity systems
Operate in batch and multi-order modes
Wrapping Up
Reducing your warehouse costs through automation and other means can help you prepare for even the most unexpected situations that might lay ahead.
At Modula, our automated solutions are designed to help you streamline operations and reduce costs throughout the warehouse, from storage to picking and beyond.