The Order Fulfillment Process From Start To Finish + Our Automated Solutions 
According to a recent survey, lack of speed and lack of accuracy are two of the top causes of customer frustration in the U.S.
Similarly, lack of speed and lack of accuracy in warehouse operations can lead to employee and customer dissatisfaction, along with reduced productivity and loss of revenue.
The solution? A streamlined order fulfillment process.
In this article, we'll cover all you need to know about order fulfillment and order processing, including a step-by-step guide, best practices, and why our own automated solutions can help.
What is Order Fulfillment?
Order fulfillment is the process of receiving new orders and accurately delivering them within an expected timeline. It starts with receiving and sorting inventory and ends with picking and packing items and shipping them to your customers.
Order processing is a key element in order fulfillment that ensures your customers' orders are efficiently prepared in a fast and accurate, streamlined process.
4 Types of Order Fulfillment
The best type of order fulfillment for your business depends on factors such as your industry, your volume, and your budget. Here are the four types of order fulfillment you can choose from to streamline your operations.
1. Dropshipping
In dropshipping, you rely on a third-party supplier to provide items and manage your inventory. Once you receive an order from your customer, your supplier takes over, from handling orders to shipping items to your buyers.
While dropshipping is common among start-up companies, large brands also use this method, including online retail giant Amazon.
2. In-house Order Fulfillment
In-house order fulfillment requires using your own employees to manage your order fulfillment process from start to finish, allowing you to have full control over your operation.
This method works well for home-based startups, where orders are typically placed in small volumes.
Amazon started out with an in-house fulfillment process.
While cost-effective, in-house order fulfillment can be time-consuming.
However, if your startup scales into a bigger company, you can transition to outsourced order fulfillment or even hybrid order fulfillment to accommodate a larger operation.
3. Outsourced Order Fulfillment
Outsourced order fulfillment is handled by a third-party or contract logistics (3PL) provider. This type of order fulfillment is especially beneficial if you lack storage space or if you don't have access to qualified employees.
While it sounds similar to dropshipping, the difference between the two is that in outsourced order fulfillment, you are managing your inventory through your logistics partner, and not through vendors.
4. Hybrid Order Fulfillment
As the name would imply, hybrid order fulfillment is a mix between doing it yourself and outsourcing it to a logistics partner. If you need more flexibility with your order fulfillment process or if your company is undergoing sudden and rapid growth, hybrid order fulfillment might be the right method for you.
This method works best for companies that:
Offer customized items that need to be pre-assembled in-house
Sell expensive or large items that can't be stored in-house
Have slow movers ("C" products) items that are not sold frequently
The Order Fulfillment Process
From receiving your inventory to managing returned items, here is a step-by-step guide to the order fulfillment process.
1. Receiving
Receiving your inventory is the first step in the order fulfillment process.
In this step, you identify your inventory, typically with barcode readers. Next, you document your inventory with the help of a warehouse management system, before storing each item in its proper location.
Returned items typically go through the receiving process in a similar way.
According to the National Retail Federation, returned items accounted for estimated $428 billion in merchandise in 2020. These items are inspected and tested in this step to determine whether they should be stored in the inventory or should be sent to a store's clearance section instead.
Our Modula warehouse inventory management systems interface with almost all Enterprise Resource Planning (ERP) and Dealer Management Systems (DMS) systems to ensure the receiving process is quick and accurate.
2. Storing
After receiving your inventory, it's time for storage.
The storing process includes transporting your inventory to its allotted storage area, typically with the use of a forklift or conveyor.
Your frequently picked items should be stored in adequate volumes, positioned for quick access, using automated storage or flow racks. Items that are ordered less frequently have been traditionally stored in pallet racks or on shelving.
However, one of the biggest drawbacks to conventional shelving and racks is the inefficient use of horizontal space. These systems take up a very large footprint. Moreover, it is very time-consuming as the pickers have to walk from rack to rack to store and pick products. This results in a lot of wasted time and much lower productivity.
At Modula, our Vertical Lift Modules (VLMs) make the most of your warehouse space.
Our VLMs allow for large inventories to be both stored and quickly accessible with the goods automatically delivered to operators. From the smallest to the heaviest items, everything is presented to the picker in a single bay or window. This not only saves time and human energy but drastically reduces the risk of injury.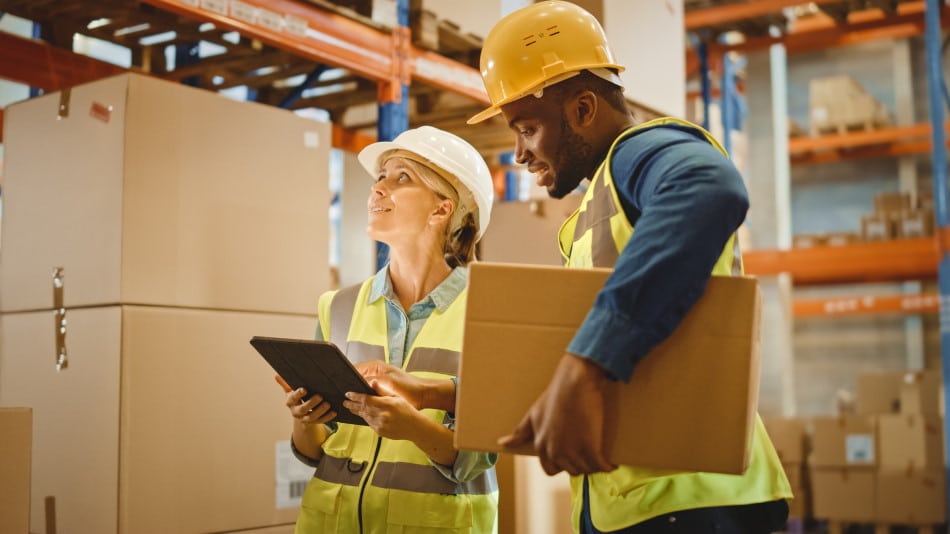 3. Picking
After you receive orders, it's time to pick your items.
While picking may seem like a simple task of retrieving an item from its designated storage area, different issues can arise during this process, from trouble finding an item to picking the wrong item or an incorrect quantity.
The solution? Automated warehouse picking solutions.
Our order picking solutions boost picking accuracy and reliability, helping to increase efficiency in your warehouse.
From the straightforward validation via barcode to a wide range of picking aids such as the laser pointer and led bar, these picking systems reduce picking errors and increase picking accuracy by up to 99%.
4. Sorting
The next step after picking is to group and sort your items into their designated orders.
For single item eCommerce, you can simply pick and pack the product, where picked items go directly into their individual shipping packages. For multi-item orders, products can be picked and placed into a designated tote as the order is being completed. They are kept together until the next phase of packing and dispatch.
5. Packing
Once you have sorted your items, it's time to pack your completed orders.
In this step, you pack orders and protect items with banding, bubble, or stretch wrap, attach labeling addresses, add delivery instructions, and weigh packages.
6. Shipping
Finally, it's time for the last step in the order fulfillment process: shipping.
Packages are first consolidated in the shipping area, delivered there with the use of a conveyor or trolleys or forklift, or even robots. They are then sorted by carrier type and destination, allocating each shipment to either a courier service, USPS, or a freight forwarder. Once orders ship, it is important to send out tracking updates regarding the shipping status and delivery dates.
What about returns and refunds?
When you experience a returned item, you may choose to have the product go through the order fulfillment process again, or have it processed for future sale by discount, or have it recycled if it's not in good condition.
6 Best Practices for Order Fulfillment
Now that you know how the order fulfillment process works, here are some of the best practices you should use to streamline your order fulfillment process.
Decrease Walking Time: Reduce walking time by storing fast-moving items close to each other.
Choose The Best Picking Strategy: Did you know that due to picking errors items purchased online are returned at a rate between 5% and 15%? Think of the picking process as the backbone of your order fulfillment process. Customer satisfaction relies heavily on this step. Instead of relying on manual picking, consider using automated solutions for your picking process to increase warehouse productivity and accuracy.
Implement Scan Verification: Streamline your operations with the help of data collection and automatic identification tools, such as barcode scanners, camera-based imaging and fixed-location radio frequency scanners to ensure instant and accurate verification.
Replenish Your Inventory: Frequently picked, fast-moving items and forward pick zones should have timely replenishment schedules to prevent out-of-stock items.
Keep Your Warehouse Organized: Help your employees find items faster with the use of organized racks and shelves, and by using totes and bins. Even better, install an automated system to maximize floor space while keeping your inventory safe and secure.
Create a Returns Management Process: Returned items may either be damaged, defective, incomplete or incorrect. Designate a specific area for returned items and have a quality control team to receive, inspect and test returned items.
Order Fulfillment & Processing Solutions at Modula
At Modula, our automated solutions ensure a fast and accurate order fulfillment process.
Regardless of the size of your operation, our solutions improve efficiency, picking accuracy and more importantly, warehouse safety.
Modula's vertical lift modules (VLMs) are fully automated vertical storage systems that take up a minimum footprint by taking advantage of high ceilings. Items can be stored up to 53 feet high in a safe and secure unit that automatically delivers them to an operator with a touch on the user-friendly Copilot controller or scan of a barcode.
This guarantees that the right part is delivered to the right person at the optimum ergonomic retrieval height.
To increase productivity and accuracy these automated storage solutions can be paired with our picking solutions.
Easy to set up and intuitive to operate, our picking solutions are perfect for enhancing your batch and multi-order processing. Our Modula Put to Light System is the perfect complement for our Put Cart and Put Station products.
Not only does our smart system speed up your throughput thanks to picking multiple orders simultaneously, but it also allows you to operate in batch or multi-order modes.
From minimizing picking errors and boosting labor efficiency to improving your inventory accuracy, you'll never go back to using shipping lists or picking tickets.
Our Put to Light System offers:
Improved accuracy thanks to the scan or touch light validation
Real-time inventory and order updates
Multiple order locations
Put-to-Light displays at each order location
Put-to-Light for order consolidation
Put-to-Light for batch picking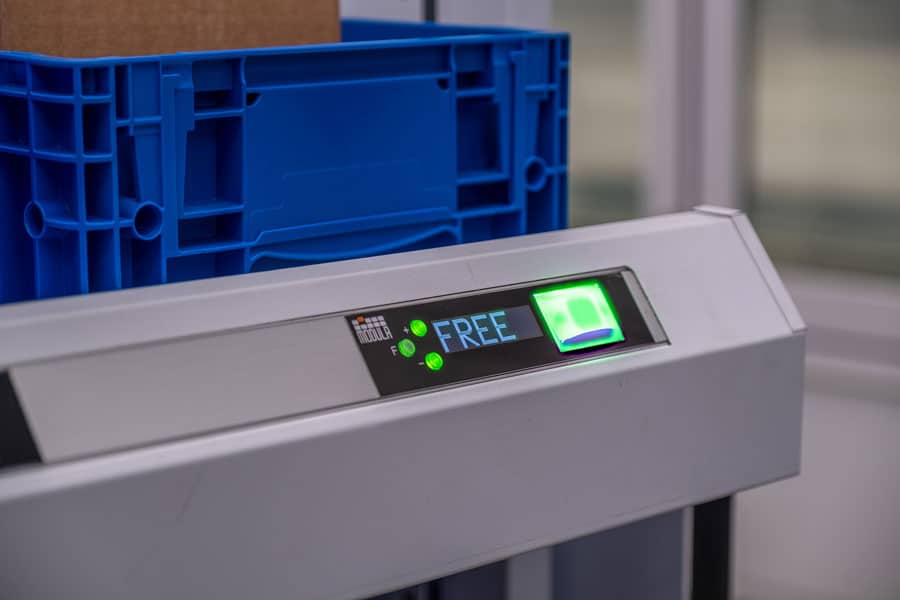 What about warehouses with low ceilings?
With our Modula Horizontal Carousel New Generation, we provide you with a new level of performance, reliability and safety for high-speed picking operations where ceiling height is limited.
Just like our VLMs, the horizontal carousel can be used in combination with our picking solutions to achieve even higher picking performance.
Our Modula Horizontal Carousel New Generation offers:
Picking rates up to 550 lines per hour for each employee
Up to 99% picking accuracy
Return on investment in as little as 6 months
Integration with WMS to enable automatic retrieval of orders
Optional aids such as barcode readers and put-to-light systems enabling fast, close to 100% error-free picking operations
Compact and high-density storage areas that allow you to store more items
Flexible and configurable storage for different item sizes and seasonal ordering peaks
Stronger framework for unmatched dependability that incorporates a solid 304 stainless steel design
Single or dual 3-horsepower drives that enable your Modula HC to move more inventory, faster
Modula Copilot that enables your Modula HC operators to quickly find and retrieve items
Automatic tracking of picking operations that records inventory levels in real time
Fast, automatic safety doors to protect operators from moving parts
Easy-to-reach emergency stop buttons
A safer worker environment by reducing physical strain and eliminating wasteful travel around the warehouse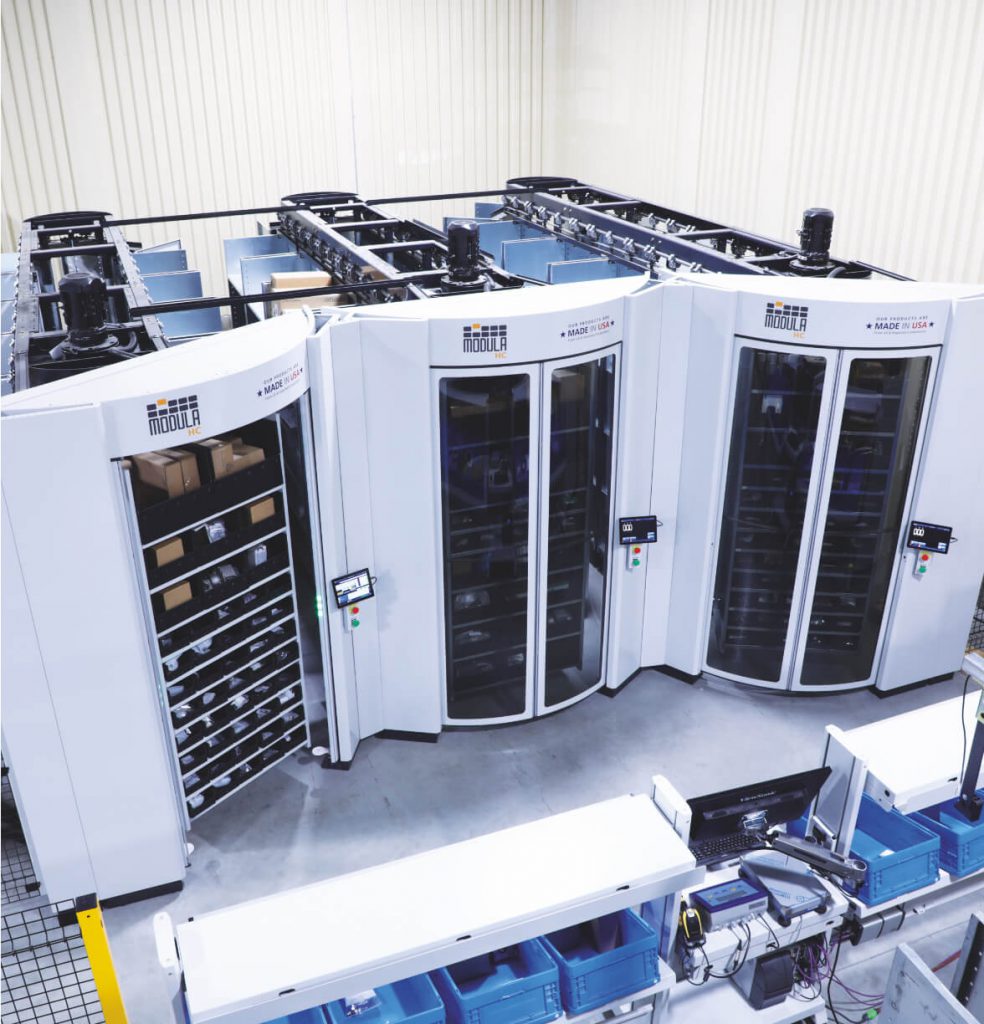 Key Takeaways on Order Fulfillment Processing
From minimizing picking errors and boosting labor efficiency to improving inventory accuracy, automated solutions play a key role in a streamlined order fulfillment process.
At Modula, our solutions allow you to meet and exceed your customer's expectations, increase their satisfaction and run an efficient operation, from start to finish.