Electronic Components Storage: Keep Your Electronic Parts Safe with Automated Storage Solutions 
From semiconductors and batteries to resistors and terminal blocks, properly storing your electronic components helps ensure that every part is kept safe from dirt, dust, temperature changes and mechanical stress.
We'll share all you need to know about electronic components storage, plus introduce our automated storage and retrieval solutions, vertical lift modules and automated temperature-controlled solutions — the ideal environment for warehouse items that are sensitive to heat and humidity.
What is Electronic Components Storage?
Electronic components storage is the process of keeping electronic components safe from temperature changes, humidity swings, moisture, and dust and debris.
From aviation to medical and healthcare industries, electronic parts have a wide range of applications.
Examples of electronic components include semiconductors, wires, inductors, and transistors.
Proper electronic components storage prevents your electronic goods from damages such as corrosion, which can lead to power disruption, intermittent connection, or product failure.
Challenges of Electronic Components Storage
Storing electronic components is increasingly challenging.
First, component lifecycles are constantly evolving due to the industry's rapid changes in design and material.
Next, companies are forced to purchase additional quantities of electronic components to ensure they have enough stock and guarantee that replacement parts are available. These band-aid solutions can create issues for long-term inventory storage.
Since electronic components are often small parts, they are also more likely to be stolen, misplaced, and overlooked due to their size.
Given these challenges, you need a storage system that can:
Efficiently find and retrieve your electronic components

Protect electronic components from damage and theft

Monitor inventory in real-time
Why is an Environment-Controlled Warehouse Vital for Electronic Components?
Like other components found in production, electronics contain delicate internal parts that are prone to deteriorate over time. However, some external elements can speed up the process.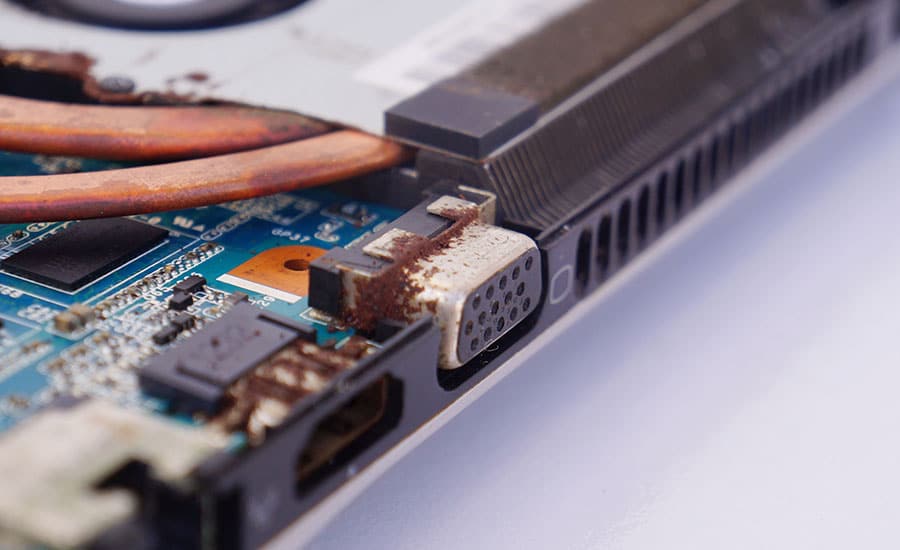 How to Store Electronic Components in a Warehouse
To keep your electronic components safe from humidity, temperature changes, and dust here's the best way to store electronic components in your warehouse.
1. Organize Electronic Components in Totes with Dividers
First, have your warehouse operators organize the electronic components, based on their dimensions, type, length of storage, and lifecycle.
To do this, your operators can utilize totes with dividers (plastic containers with compartments) to segregate and store small parts and electronic components, and ultimately, prevent mechanical stress due to impact.
Totes with dividers come in various dimensions, with the most common sizes including 40 x 48 inches for standard material handling and 45 x 48 inches for larger inventory.
While totes with dividers can be an efficient way to store electric components, it's important to note that they can't protect electronic parts against temperature and humidity damage.
2. Label the Totes with Dividers
Next, have your warehouse operators label the totes with dividers that house your electric components.
Labeling prevents confusion when it's time to retrieve the individual electronic parts later on.
In addition, wires and ports tend to look identical, so it's best to label each cord to know which wire goes where and which device it belongs to.
To label electronic components and keep them organized in your warehouse:
Utilize warehouse tote labels to identify each electronic component

Label the hardware related to each electronic component – for example, a transistor is related to a light switch

Write whether the electronic component should be handled with care on the label (circuits and capacitors, for example)

Include the assembly directions on the label to streamline the reassembling process
In addition to labeling your electronic components, monitoring your stock in real-time and preventing the accidental release of obsolete, expired or on-hold electronic parts are essential in efficient electronic components storage.
3. Store Electric Components in a Temperature-Controlled Area
Once your electronic components are labeled and organized, your warehouse operators can store the totes with dividers in a clean and temperature-controlled area.
If you have a temperature-controlled vertical lift module, this is where your VLM will come in handy. All they need to do is store the totes with dividers in your vertical lift module.
A temperature-controlled area is key in ensuring that your electrical components are safe from extreme heat and cold in the warehouse, which can affect the overall function of the electric component.
However, temperature control isn't enough to keep your electric components safe. Your temperature-controlled area must also minimize humidity.
At Modula, our Clean Rooms and Temperature-Controlled Environment solutions protect electronic components from contaminants and temperature variations, meeting industry standards and regulations.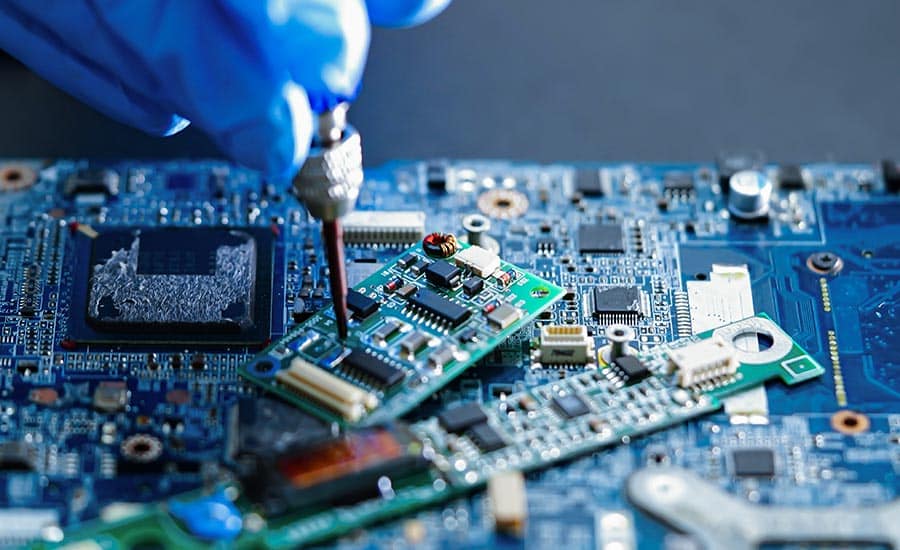 Electronic Component Storage Solutions at Modula
From controlled atmosphere storage systems to order picking solutions, our automated vertical lift modules and special applications help reinvent electronic components storage in your warehouse.
1. Modula Vertical Lift Modules 
For electronic components reels and surface-mounted device (SMD) rolls that don't require special environment conditions, count on our vertical lift modules to prevent dust buildup.
Modula's VLMs are fully enclosed with an automatic door to prevent dust accumulation.
The trays can be modified with special partitions and dividers to accommodate larger quantities of SMD reels and electronic component rolls.

In addition, our vertical lift modules can maximize your warehouse's current ceiling height to streamline your electronic components storage.
Warehouse operators don't need to reach high and low to get the inventory with the Modula VLM. Instead, electronic components are delivered to operators with a simple touch on the user-friendly Copilot controller or with the scan of a barcode. 
Choose from three models: 
Modula Lift: For warehouses that want to make use of their available ceiling height
Modula Slim: For warehouses with limited floor space
Get a closer look at our Modula Lift: 
Modula vertical lift modules allow you to:
Save 90% of your warehouse floor space by using a minimal footprint 

Improve inventory management with monitored and recorded picking operations 

Increase picking speeds to 300 lines per hour or more  

Reduce labor and operational costs  

Improve workplace safety by eliminating the need to reach high and low to pick products 

Obtain goods automatically thanks to the user-friendly Copilot controller 

2. Modula Warehouse Management System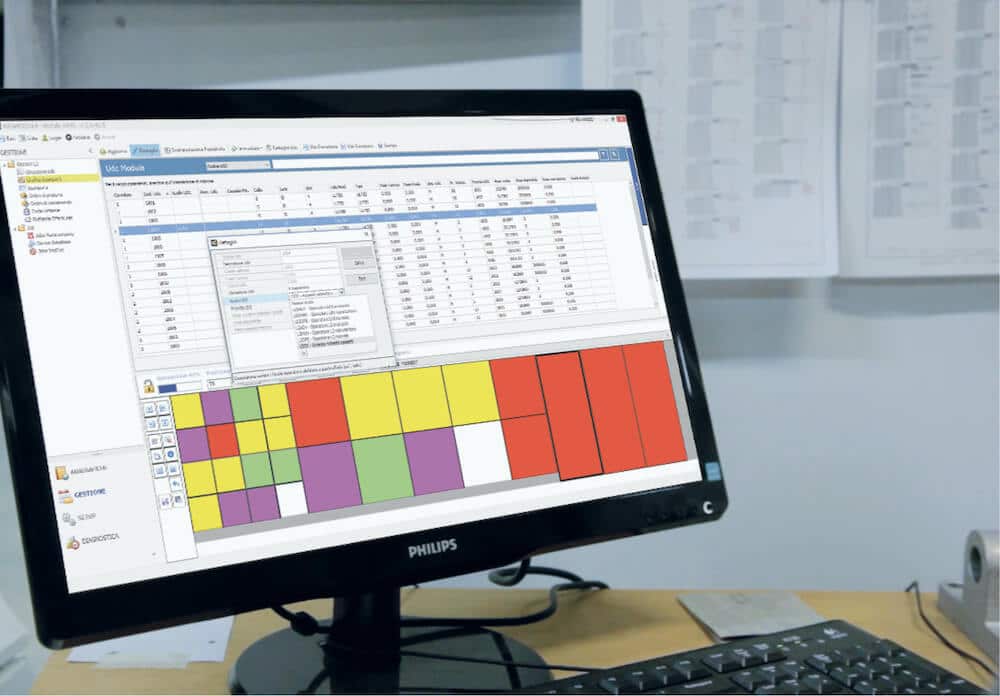 One of the most intuitive and advanced software solutions on the market, Modula WMS seamlessly interfaces with almost all DMS and ERP systems. Pair Modula's warehouse management system (WMS) with your vertical lift module to:
Prevent unauthorized access to electronic components thanks to next-level security with identity systems

Gain complete inventory visibility down to specific items and trays

Replenish inventory to prevent electronic components stock-out
3. Modula Climate Control
Meet Modula Climate Control, the vertical lift module (VLM) designed to control humidity and temperature, and prevent environmental inconsistencies caused by changing temperature variables.
Our temperature-controlled VLM manages humidity, temperature, and air movement within confined spaces to safely store your electronic components.
Climate Control protects your electronic components from oxidation and corrosion thanks to thermal insulation and a refrigeration system that maintains products at a fixed temperature and humidity.
Made of polyurethane foam panels, the thermal insulation surrounds the automated vertical storage system.
Your warehouse operator can safely access any area of the bay through the thermal break panel, equipped with windows that can open independently outwards.
Our Modula Climate Control solution allows you to: 
Map and control the temperature from +2°C to +25°C (+35 °F to +77°F)  

Map and control the humidity of ≥ 5% 

Access stored inventory

Apply next-level technology for all Modula lift modules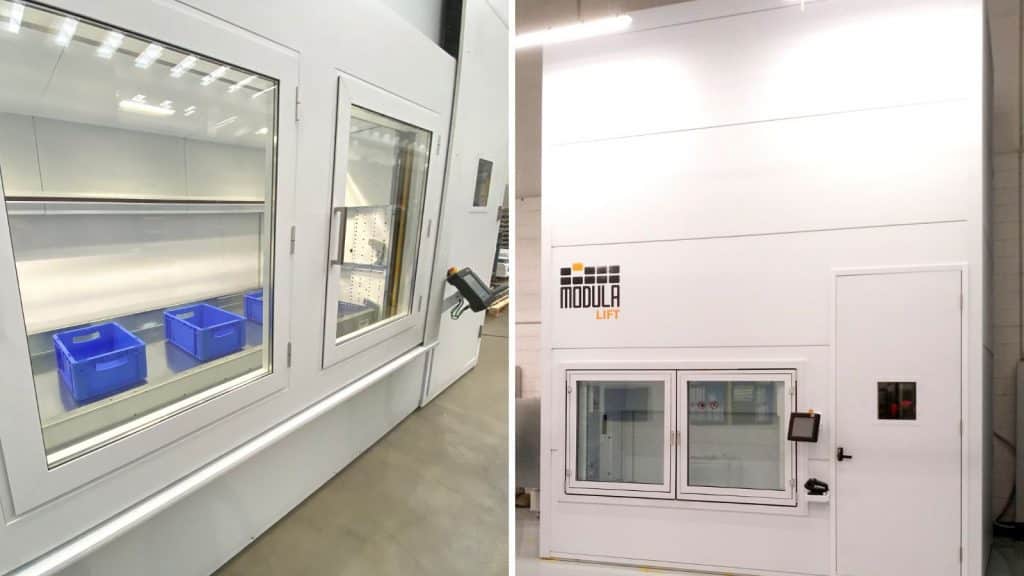 4. Modula Clean Room
Meet Modula Clean Room, the vertical lift module built to store inventory inside clean room storage conditions.
Ideal for electronic companies and warehouses that store electronic parts, Modula Clean Room protects electronic parts from contaminants such as dust particles, dirt and other debris.
From electronic components for semiconductor manufacturing to dust-sensitive cable wiring, the Modula Clean Room storage system meets class 7 and 8 requirements and complies with ISO 14644 standards.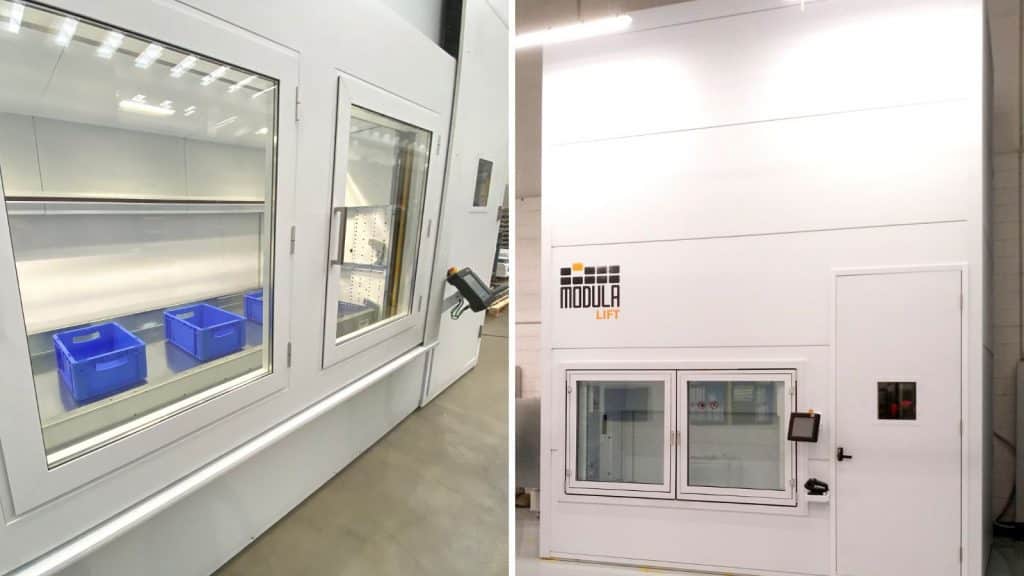 Our Modula Clean Room solution allows you to: 
Comply with ISO 14644-1 standard 

Ensure minimal air particles within your storage room

Get easy access through dual openings

Gain access to clean room classifications ranging from 6 to 8

Minimize exposure to contaminants, such as germs, dust, dirt and debris

Apply next-level technology to all Modula lift modules
5. Modula Warehouse Picking Order Solutions
Need help with accurate and efficient picking? Eliminate labor-intensive manual picking with our automated picking order solutions.
(Speaking of order picking, check out our guide on best order picking methods!)
Get a closer look at our picking order solutions:
Modula presents the new picking solutions to automate and speed up warehouse operations

Our Modula Warehouse Order Picking Solutions include:
Discover our Picking Solutions:
6. Customization Options for Electronic Components
Take your electronic component storage to the next level with our customization options.
ESD Protection: Protect your electronic components from electrostatic discharges
Electrified Tray: Built to supply electricity for stored goods such as rechargeable lamps, computers and radios, our electrified trays can power up to 10 trays using a 240V supply within a single Modula Lift

Electronic Parts Storage Solutions: A Look at Our Modula Case Studies
From ensuring electronic components are stored in a secure environment to maximizing available warehouse space, our automated storage solutions provide streamlined solutions for industrial and electrical companies.
Take a peek at how we've helped our clients automate and organize their electronic components storage.
1. Enercon Technologies
Enercon is a contract manufacturer of electronic instrumentation. They specialize in medical devices and industrial and military instrumentation.
The challenge:
The company faced slow retrievals, mispicks and inaccurate inventory tracking before they invested in automated storage solutions.
The company wanted to retrieve inventory more efficiently, streamline their storage space and protect their electronic parts from dust and debris.
The solution:
With the installation of six Modula VLMs, Enercon Technologies dramatically maximized their warehouse space and provided better protection for their fragile electrical components.
2. ON Semiconductor
ON Semiconductor is a Singapore-based semiconductor supplier that needed automated storage solutions for 20 billion electronic SKUs.
The challenge:
While they moved to a bigger facility (9,000 square meters, double their previous warehouse space) in 2011, they needed an automated solution that could take on millions of SKUs.
The solution:
ON Semiconductor installed three temperature-controlled Modula Lifts to store silicon wafers and integrated circuit chips, allowing them to keep their electronic components in tip top shape while keeping them organized.
Thanks to these modules, they were able to connect their Modula Lifts the Modula WMS software while utilizing the barcode reader to confirm picked orders.
At Modula, our automated electronic components storage solutions are built to manage and secure all kinds and sizes of inventory — including electronical components that are sensitive to humidity and fluctuations in temperate.
Reimagine your electronic components storage and utilize your warehouse available space with our automated solutions today!