Warehouse Inventory Management Best Practices, Methods & Solutions
From implementing warehouse management software to minimizing manual input through automated solutions, warehouse inventory management strategies can help improve productivity, cut costs, increase customer satisfaction, and more.
We'll share our warehouse inventory management best practices, from automation to floor plan organization, along with tried and tested methods to help streamline your warehouse operations, including our Modula automated warehouse inventory control solutions.
What Is Warehouse Inventory Management?
Warehouse inventory management is the process of receiving, tracking, auditing, and managing items in your warehouse for order fulfillment.
While warehouse management focuses on running an efficient warehouse as a whole, warehouse inventory management is specifically focused on inventory control.
In addition, you can manage your inventory with warehouse consolidation or the process of combining shipments in one logistics facility or consolidation warehouse.
Warehouse Inventory Management Objectives
Managing your inventory is about more than just tracking quantity.
A streamlined process for receiving, stocking, and shipping will improve productivity and cut time wasted on searching for products.
Stockouts and inaccurate records can lead to unhappy customers and lost revenue. Warehouse inventory management can help you keep accurate stock details, optimize the space in your warehouse, streamline your processes and ensure you're able to keep up with changing consumer demand.
Warehouse Inventory Management Methods
There are many different ways to streamline your inventory management, from ordering schedules to tracking techniques. Let's dive into eight of the top warehouse inventory control techniques to help improve your warehouse operations.
1. ABC Analysis
This warehouse inventory method breaks up your products into A, B, and C categories to pinpoint items that impact overall inventory costs. Your most valuable products are labeled Category A, your next most valuable products are labeled Category B, and Category C products are the least valuable, but are still needed to contribute to your overall profit.
2. Perpetual Inventory Management
This is a basic inventory control method that counts your inventory as soon as it arrives through the use of computerized point-of-sale systems and a business asset management software. It offers a detailed outlook of inventory changes that includes real-time reporting of in-stock inventory quantity and available products.
3. Economic Order Quantity
This method of inventory control relies on ordering only the amount of inventory you need to meet customer demands while reducing storage and holding costs. It provides a model for computing the applicable reorder quantity and timeline to ensure that your inventory is constantly replenished to avoid shortages.
4. Safety Stock Inventory
Safety stock inventory management is adding extra quantities of your items to prevent the risk of your item being out of stock. This technique can be used if your supplier is unable to deliver more of your items or if customer demand is predicted to increase or change.
5. Batch Tracking
Batch tracking is a quality control inventory management method that helps you track your inventory's expiration or track defective items back to their original batch.
6. Dropshipping
Dropshipping is a method in which you don't keep products in stock. Instead, you purchase your items from a third-party supplier, which will then be shipped to your customer. One of the biggest benefits of this method is that less capital is needed. So, if you want to launch an eCommerce start-up, you don't need to invest thousands of dollars for inventory.
7. FIFO and LIFO
These warehouse inventory control methods determine your inventory's costs. FIFO means First in, First out. The practice is selling your older inventory first, making way for newer items, keeping your inventory fresh. LIFO or Last-in, First-out, is the practice of selling your newer inventory first.
8. Just-in-time Inventory Management
You can implement this warehouse inventory control method by working closely with your suppliers so that your raw material orders arrive once production is scheduled. Just-in-time Inventory Management reduces your inventory costs by preventing dead stock or unsold inventory.
Warehouse Inventory Management Best Practices
From organizing your floor plan to making a switch to automated warehouse management systems, here are six best practices for warehouse inventory management and how they can benefit your business.
1. Minimize Manual Input
Manual input is prone to human error, even when you have set processes in place. You can avoid manual input by using barcodes, RFID scanners, and other automated solutions to manage the inventory in your warehouse.
At Modula, our solutions decrease handling errors by using cutting-edge technology that's easy to use and operate.
Through this technology, you can reduce human error, get real-time updates of your stock with our automated inventory tracking, and ultimately, improve overall performance.
2. Implement Cycle Counting
Manually counting every item in your inventory is time-consuming and can lead to human error. The answer? Cycle counting.
Cycle counting is counting your inventory items in sections, which enables you to evaluate inconsistencies. The cycle length will depend on your inventory's product group or type and warehouse zone or section.
For example, higher-valued items should be counted more frequently, such as fast-selling small appliances, instead of large-scale kitchen appliances.
While there are different ways to perform a cycle count, here's an example of a cycle counting process using ABC classification:
Classify your products. Group your products into A, B and C categories based on their contribution to your profit.
Plan your counts. Items in categories A and B need to be counted more frequently since they are the items that run out the quickest, while Category C items can be counted less frequently.
Review your ABC analysis annually. Adjust your count schedules and sequences when needed to keep up with changing consumer demand and move products from one category to the next.
3. Ensure Popular Products Are Easy To Reach
You can identify your best-selling products by tracking your orders or by performing an ABC analysis, the method which segments your products into the three A, B, and C categories of your warehouse inventory.
After distinguishing which items are popular, such as your Category A products, move your high-volume stock closer to the shipping and packing areas in your warehouse.
Not only are you making these items more convenient for easy access, but you will also minimize unnecessary labor time and trim downtime to fill orders. Of course, there's an even easier, no-fuss way of ensuring your products are easy to reach.
Our Modula Vertical Lift Modules (VLMs) and Horizontal Carousels offer automated solutions that allow for a large inventory of goods to be quickly accessible while being stored in a safe and secure environment.
With the power of automation and a touch of the user-friendly Copilot or barcode scan, your products will be automatically delivered to your operators.
4. Organize Your Floor Plan
While it is important for products in your warehouse to be stored correctly in their allotted space, it is equally crucial for your floor plan to be maximized to increase productivity and inventory accuracy, all while saving time and money.
Consider these key areas when planning your floor plan:
Create additional space for inward goods
Use clear signage and labels
Assign an area for damaged stock items
At Modula, our VLMs use minimal floor space by taking advantage of high ceilings. As a result, you don't need the largest warehouse to operate – you just need the smartest layout.
5. Streamline Your Picking Process
The picking process is one of the most important elements of your warehouse because it has a direct impact on customer satisfaction.
A recent report found that a quarter of consumers return between 5% and 15% of items bought online. Not only does the picking process require an accurate inventory to properly function but, it gives you the inventory control you need to streamline the customer-order process.
At Modula, we boost the accuracy of your warehouse operations accuracy by eliminating mispicks.
Thanks to our VLMs and Horizontal carousels, your employees don't have to go to the items: the items come to them with just a few taps on a screen.
Our Warehouse storage automation solutions will guide your operators to quickly and easily distinguish items that need to be replenished or picked, cutting time and cutting costs. 
6. Use Warehouse Management Software
A warehouse management system can provide support, remotely monitor your warehouse and collect real-time data from your automated storage and retrieval systems, regardless of the location.
Modula Cloud is a one-stop shop for your remote management, support, and analytics needs, whenever and wherever you need it.
Built-in and always running, our Modula Cloud platform captures all data in an easy-to-navigate online portal where you can securely monitor and manage your operations, from any device, anywhere.
Benefits include:
Remote monitoring of your advanced Modula storage systems
Real-time updates and alerts
Remote warehouse management
Remote support, diagnostics and resolution
Predictive warehouse maintenance
Apart from a management software, warehouse management tools include barcodes, scanners, barcode labels and RFID tags that offer real-time updates leading to effortless and accurate inventory data.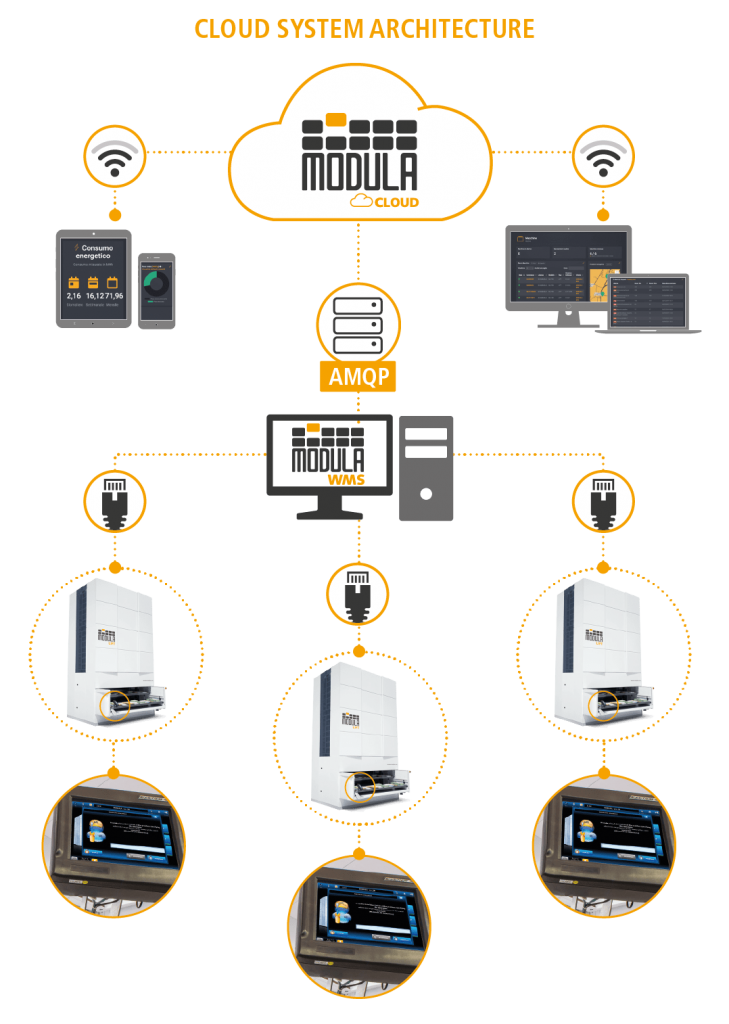 Automating Warehouse Inventory Management
At  Modula, we offer a range of advanced warehouse management, remote support, and analytics solutions that deliver.
Whether you're in the automotive, retail, transportation, or another industry entirely, we provide automated materials handling and complete inventory management solutions that can help you streamline your processes, increase productivity and cut costs.
Our Modula software integrations are proven and tested. Our commitment to our customers has paved the way for us to develop and deliver standard-setting integration options that bind today's warehouse operations with your ERP or DMS of choice.
At Modula, we offer two Warehouse Management System solutions:
Module WMS Base: Perfect for small or scalable warehouse footprints
Modula WMS Premium: End-to-end inventory and warehouse management solutions
When you purchase one of our Advanced Modula WMS solutions, you benefit from:
Complete inventory visibility and control
Exceptional picking and replenishment accuracy and efficiency
Unrivaled automation, substantially reducing cumbersome, time-consuming paper and manual processes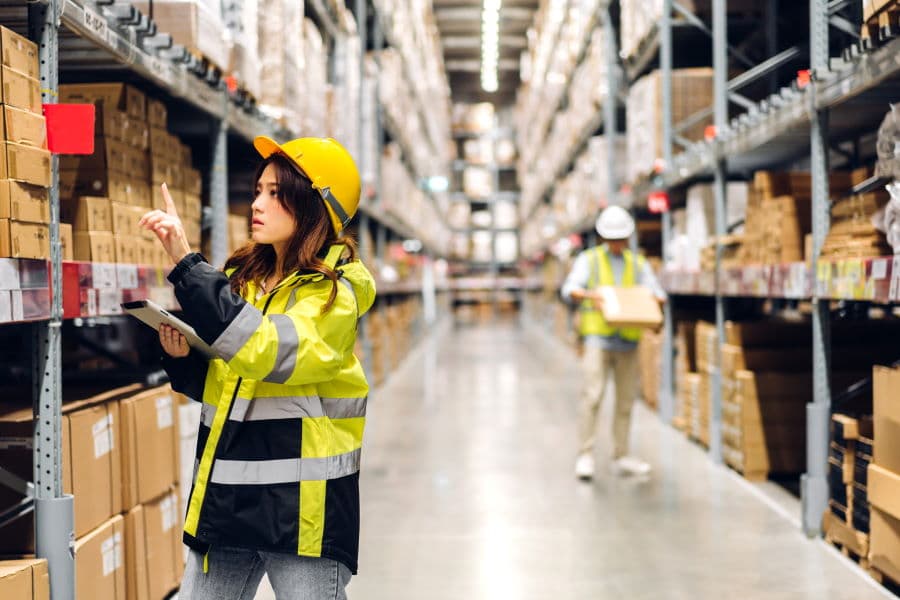 Warehouse Inventory Management Takeaways
Implementing warehouse inventory management strategies can help you run a more efficient warehouse by following best practices, such as organizing your floor plan, implementing cycle counting, and minimizing manual input.
Warehouse software solutions are one way to help eliminate human error, increase profitability and improve customer satisfaction through accuracy.
 At Modula, our wide range of advanced warehouse management solutions helps ensure that you get real-time data whenever and wherever you need it while meeting growing customer demands in a cost-effective and productive operation.