Could Vertical Storage Make Online Grocery Fulfillment More Efficient
Industry-leading smart storage manufacturer Modula was recently featured by media company Grocery Dive with an article about online grocery fulfillment.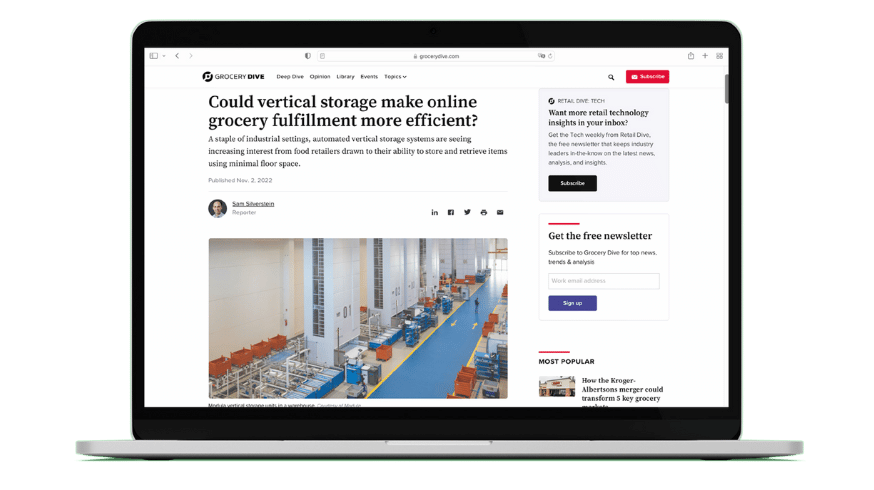 In this article, Grocery Dive shares how AS/RS (automated storage and retrieval systems) are seeing rising interest from food retailers, particularly for their ability to store and retrieve a high quantity of SKUs in a smaller footprint. With the increase in product demand, complicated by the need for fast and accurate delivery, companies in the grocery fulfillment industry are looking for a solution that allows them to handle multiplex orders, from fresh to dry goods.
Compared to the industry's more expensive and often cumbersome MFCs, Vertical Lift Modules (VLMs) are an elegant alternative that offers easy system integration with higher benefits. Grocery Drive takes a look at the pressing issues of grocery order fulfillment, and how vertical storage solutions are assisting retailers in storing more products without increasing warehouse space, while ensuring order accuracy and on-time deliveries.
Some of the key advantages discussed in this article include:
Allowing online grocery retailers to continually increase their SKUs by using ceiling height for denser storage options
Increased picking speed and accuracy to assist in order fulfillment and customer expectations
Tighter inventory control and quick ROI for a lower-cost alternative to MFCs
A modular and quick implementation which are highly adaptable to online grocery fulfillment centers of almost any size and layout
Read more in the Grocery Dive article: