Modula to Showcase Innovative Storage Solutions at Fabtech 2023 in Chicago
Event: Fabtech 2023
Location: McCormick Place, 2301 S King Dr, Chicago, Illinois 60616
Dates: September 11-14, 2023
Visit our team: Modula booth #A5713
About Fabtech 2023

Fabtech Show 2023, North America's premier event for the metal forming, fabricating, welding, and finishing industry, is set to return to McCormick Place in Chicago from September 11-14, 2023. With an impressive lineup of exhibitors, it serves as a catalyst for innovation, productivity, and business growth. Visitors and exhibitors will have the opportunity to discover new solutions to improve productivity, increase profits and bring new levels of productivity and efficiency to their manufacturing operation.
Modula's showcase at Fabtech 2023
At booth #A5713, Modula, a leading provider of automated storage and retrieval solutions, will captivate attendees with live demonstrations of their cutting-edge storage solutions, including the Modula Lift and Modula Horizontal Carousel. These automated storage and retrieval systems are specifically designed to address the challenges faced by manufacturers in an ever-evolving industry, helping them maintain peak performance and efficiency despite staffing shortages and supply chain disruptions.
The Modula Lift: Optimize productivity and enhance order fulfillment processes:
Modula Lift revolutionizes the storage landscape by offering a high-density solution that maximizes space utilization while streamlining operations. By storing items vertically and automatically delivering them to operators, the Modula Lift eliminates the need for manual labor, significantly reducing the risk of picking errors. With its intelligent design and advanced technology, this automated system optimizes productivity and enhances order fulfillment processes in manufacturing and distribution centers.
Unleashing Efficiency with the Horizontal Carousel:
Modula will also showcase the Modula Horizontal Carousel, an ideal solution for high-speed picking in environments with limited ceiling space. With its ergonomic and intuitive design, the carousel provides easy access to stored items, enabling swift and accurate order fulfillment. By minimizing search time and maximizing efficiency, this solution allows manufacturers to meet demanding customer expectations while improving overall productivity.

Fabtech Show is a prime opportunity for us to connect with industry professionals, share our latest innovations, and demonstrate how our automated solutions can help companies in metal forming, fabricating, welding, and finishing to be more productive and profitable. That's why we exhibit every year.

Valentina Cecchi, Marketing Director at Modula.
Modula sponsors the Fabtech Conference Automation Track 2023
In addition to the exhibition, Modula is proud to be a sponsor of the Automation track of events at Fabtech 2023. The conference program features over 150 targeted sessions, covering technical, operational, economic, and managerial aspects of the industry. Attendees will have the chance to gain practical solutions and learn from industry professionals who are shaping the future of automation. With valuable networking opportunities and access to thought leaders, Fabtech Show 2023 is a must-attend event for anyone involved in the metal forming, fabricating, welding, and finishing industry.
For more information visit the Conference program.
Join Modula at Fabtech Show 2023:
Modula's participation at Fabtech Show 2023 offers a unique opportunity for manufacturers to explore the latest advancements in automated storage and retrieval solutions. Don't miss the chance to visit booth #A5713 and experience live demonstrations of the Modula Lift and the horizontal carousel. Discover how Modula's innovative technology can optimize storage space, enhance efficiency, and contribute to increased profitability.
Mark your calendars for September 11-14, 2023, and Be sure to visit Modula's booth #A5713 at Fabtech Show 2023 and see our efficient storage solutions firsthand.
Fabtech 2023: Registration
We're happy to have you attend as our guest! Register here for your free expo pass

Experience the latest on automation and material handling, even if you're unable to attend the trade shows in person. You can check out our automated storage solutions by visiting our virtual booth from the comfort of your own desk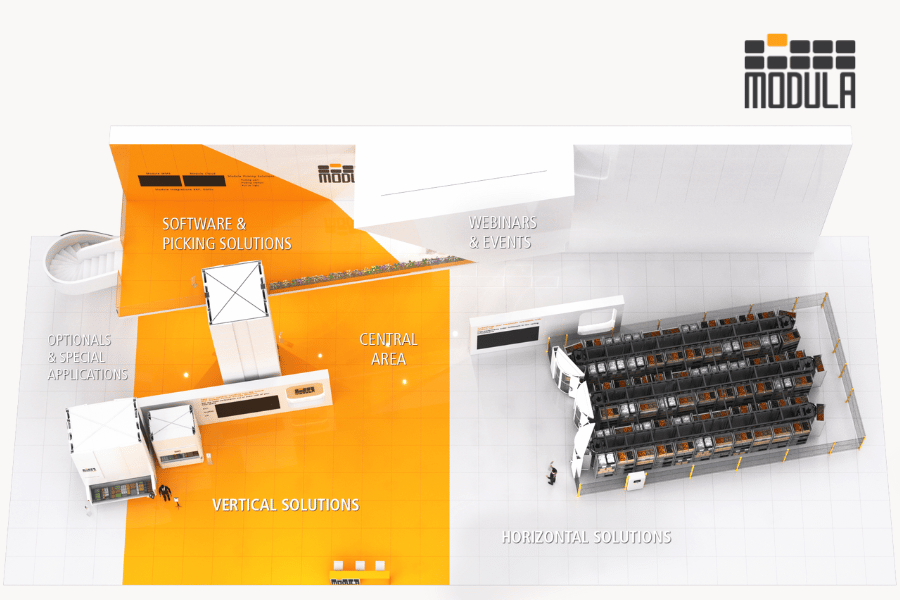 Stay informed about our upcoming events, news, and more. Learn more about automation and material handling. You can easily unsubscribe at any time using the links provided in every email.