What Is Warehouse Automation? Types, Benefits + Our Automated Solutions
The uptick in eCommerce demand and the need to store more items on-shore, thanks largely to the recent global pandemic, has made it more difficult for warehouses to meet consumer demands and fulfill operations.
To overcome these challenges, many businesses are looking for automation.
In this article, we'll share everything you need to know about warehouse automation, from different types to the many benefits you can reap by integrating these solutions into your warehouse operations.
What Is Warehouse Automation?
Warehouse automation uses robotics and automated storage and retrieval systems to automate the handling of inventory into, within, and out of the warehouse.
Automation helps businesses minimize labor-intensive duties such as manual data entry and repetitive physical work while increasing employee safety and operational productivity.
Types of Warehouse Automation
From automated storage and retrieval systems to autonomous mobile robots, here are eight types of warehouse solutions you can use to expedite your order fulfillment process while reducing manual tasks.
1. Goods-to-Person (G2P)
In this type of warehouse solution, goods are delivered directly to the warehouse operators, through the use of carousels, vertical lift modules, or conveyors.
It increases efficiency, throughput, and productivity while reducing warehouse congestion by bringing goods directly to employees, which eliminates search time.
2. Automated Storage and Retrieval Systems (AS/RS)
Automated storage and retrieval systems (AS/RS) are part of the good-to-person technology. These high-tech solutions, powered by computers and robots, are used in warehouses to store items in a specific area and retrieve them when needed.
AS/RS are supported by computers. They are integrated with a warehouse management system (WMS) or warehouse execution system (WES), to determine which order should be retrieved from the inventory.
This solution includes automated systems such as tote shuttles, mini-loaders, unit-loaders, horizontal carousels, vertical lift modules, and more.
At Modula, we offer both horizontal carousels and vertical lift modules. Our horizontal carousels consist of rotating bins with shelves (carriers) that go around a horizontal oval track, while our vertical lift modules include storage and retrieval trays.
3. Autonomous Mobile Robots (AMRs)
Autonomous mobile robots (AMRs) are sophisticated robots that use artificial intelligence and sensors to navigate their way throughout the warehouse independently.
AMRs transport goods, reduce walking time and increase employee safety.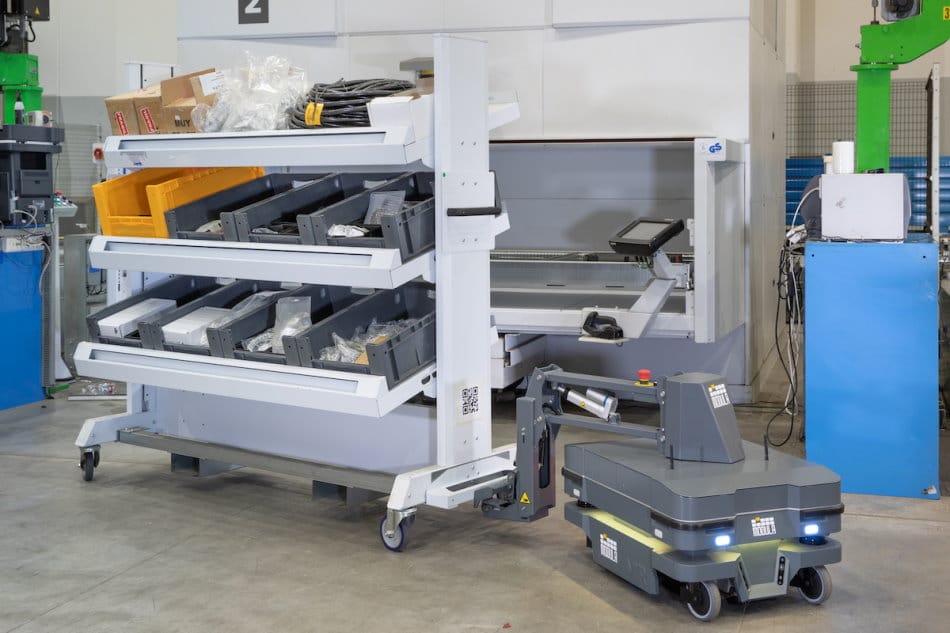 4. Automatic Guided Vehicles (AGVs)
Introduced in the 1950s, automatic guided vehicles (AGVs) are the predecessors of autonomous mobile robots.
AGVs are still used today, but unlike AMRs, they require guidance from warehouse operators and rely on wires and reflective markers to function.
AGVs can transport goods over long distances, but are limited to simple warehouse surroundings that don't have space constraints or traffic.
5. Pick-to-Light Systems
Pick-to-light systems are a type of order-fulfillment technology that uses colored LED lights to guide operators in the picking and sorting processes.
The system works by lighting up the shelves, enabling workers to determine the location of the items they need to pick. The LED screen at each lighted pick location also reveals how many items should be picked.
They operate in multi-order or batch modes to increase throughput by making it possible to pick multiple orders simultaneously.
This type of warehouse solution integrates mobile barcode scanning devices into digital light displays and gives direction to warehouse pickers on which items should be picked.
6. Put-to-Light Systems
Put-to-Light systems are "pick-to-light in reverse". They guide operators during the replenishment phase. The lights direct operators to the correct location to sort, or "put," items into.
Put to light systems are also used to assist picking, by breaking down larger quantities of goods into smaller, individual orders.
They are often used in combination with conveyors or other automated systems, such as mini-loads or AS/RS.

7. Voice Picking and Tasking
Pick-by-voice or voice picking uses mobile headsets and speech recognition to direct warehouse pickers to the location they should go to and explain which products they should pick.
This type of warehouse automation increases efficiency and safety by eliminating handheld devices and freeing employees' hands at work.
8. Automated Sortation Systems
Sortation is the process of identifying goods on a conveyor system and redirecting them to their designated warehouse locations using barcode scanners, radio frequency identification (RFID) and sensors.
Automated sortation systems include unit sorters, case sorters and pushers. This type of warehouse automation is used for receiving, picking and packing.
5 Benefits of Warehouse Automation
Warehouse automation is used to streamline different warehouse processes such as receiving, returns, picking, sorting and shipping.
From taking advantage of your existing warehouse space to increasing productivity, here are six key benefits you can look forward to when implementing automation.
1. Optimized Warehouse Space
According to a recent study, global retail eCommerce sales are expected to reach $7.4 trillion by 2025.
While moving into a bigger warehouse to store a larger inventory may be an option for some companies, investing in smart systems (think vertical lift modules) can free up as much as 90% of your warehouse space.
2. Increased Employee Safety
According to the National Safety Council, work injuries that required medical care cost an average of $42,000 per employee in 2019. Unsurprisingly, common warehouse accidents such as falls, trips and slips were ranked second for top workplace accidents.
Automated solutions help prevent employees from experiencing workplace injuries in several ways: they handle the heavy lifting, bring items directly to employees, and perform other tasks that may be hazardous for employees.
3. Better Inventory Control and Visibility
Manual inventory management is time consuming and prone to human error.
The solution to simplified and accurate counting? Warehouse automation.
Automated systems continuously update your POS software, which results in accurate inventory data. In addition to accurate counts, a warehouse management system provides inventory visibility down to a specific tray or item.
4. Increased Warehouse Throughput
A recent survey found that more than 40% of consumers in the U.S. expected their online packages to be delivered within two to three days, while 27% said that they hoped to receive their deliveries within the same day.
When you increase your warehouse throughput, you can increase customer retention by delivering accurate purchase items within their expected delivery time.
Our Modula horizontal carousels, for example, offer increased picking rates of up to 550 lines per hour, along with a picking accuracy of up to 99%.
5. Streamlined Picking Process
A recent report found that 25% of customers return between 5% and 15% of items they purchased online because they received the wrong item.
Mispicks are costly errors that occur when an employee picks the wrong item or quantity of items, fails to pack an item or mislabels an order.
With just a few taps on the screen, Modula's horizontal carousels and vertical lift modules deliver the correct items to employees.
Automated Warehouse Solutions at Modula
At Modula, we reimagine your warehouse operations through our automated solutions.
Our automated warehouse solutions:
Optimize your warehouse space
Perform high-speed and accurate order fulfillment
Increase picking accuracy to up to 99%
Need little to no supervision from warehouse operators
Vertical Lift Modules
With our vertical lift modules (VLMs), you can optimize your warehouse space using the ceiling height and ease operational efforts by delivering items to your employees at an ergonomic retrieval height.
Choose from our three vertical lift modules:
Modula Lift: Utilizes 9,050 square feet of traditional storage in only 150 square feet
Modula Slim: Requires only 32.29 square feet (3 square meters) of floor space
Modula OnePick: Fully-automated with no employee supervision needed
Horizontal Carousels
We've walked you through vertical solutions, but what if your warehouse has low ceilings?
Our Modula Horizontal Carousel New Generation (HC) is perfect for warehouses in which ceiling height is limited.
In addition to taking advantage of your warehouse width, our horizontal solution enables fast and accurate order fulfillment, thanks to:
A picking accuracy of up to 99%
Picking rates of up to 550 lines per hour for each worker
Single or dual three-horsepower drives to move more goods quickly
Warehouse Software Solutions
Modula offers an array of advanced remote support, warehouse management and analytics solutions.
Integrating advanced warehouse software with your automated solutions helps in tracking supplies and inventory, and improves your overall warehouse efficiency.
Modula Warehouse Management System
Built to operate automated storage solutions and retrieval systems, the Modula Warehouse management system (WMS) is the leading intuitive software solution that provides visibility into your entire inventory.
Our system offers advanced security features to prevent unauthorized access and warehouse location management through a graphical tool.
Modula Integrations (ERP and DMS)
Connect your warehouse management system to your enterprise resource planning system (ERP) to enable seamless inventory and order management.
Allow orders to travel automatically from the distributor management system (DMS) to your Modula WMS and receive timely updates when you connect your WMS to your DMS.
Modula Cloud
Redefine remote warehouse management and support with Modula Cloud.
Modula Cloud is a support, remote management, and analytics platform that gathers analytical data from your automated storage and retrieval systems, regardless of their location.
The easy-to-use online portal allows you to securely manage and monitor your warehouse operations from any device, no matter where you are in the world.
Modula Cloud offers:
Remote support, management and monitoring of your Modula storage systems
Real-time notifications and updates
24/7 remote control and supervision
Predictive maintenance, which allows you to monitor storage unit status in real time
Wrapping Up on Warehouse Automation
Warehouse automation provides a streamlined solution for warehouses to fulfill orders and meet consumer demands, despite the challenges the warehouse industry faces.
The most common types of automated solutions include automated storage and retrieval systems, autonomous mobile robots, and goods-to-person solutions.
The key benefits you can expect when implementing automation in your warehouse include:
Optimized warehouse space
Increased employee safety
Better inventory control and visibility
Increased warehouse throughput
Streamlined picking process
At Modula, our solutions range from horizontal and vertical carousels to order picking solutions and more. Further, streamline your warehouse operations and get the full experience when you combine your sorting and retrieval systems, warehouse management system, and picking aids such as the Put-to-Light system.