Modula & MiR Are Advancing Warehouse Automation with a Fully Automated Solution
This year, Modula has partnered with Mobile Industrial Robots (MiR) to offer a fully automated solution for materials handling in warehouses, production and distribution centers.
The solution integrates Modula's automated storage and picking systems with MiR's autonomous mobile robots (AMRs) to store, pick and move items within designated areas with or without human intervention.
As such, this integration offers a safe and flexible automation solution in any environment, by automating repetitive tasks, optimizing storage space and considerably improving efficiency and productivity.
Let's explore how Modula and MiR's integrated solution works, its benefits, and real-life applications.
5 Types of Picking & Handling Automation with Modula & MiR
The Modula x MiR solution is versatile, supporting different types of configurations. In doing so, it allows warehouses, production or distribution centers to easily integrate it into their systems.
Semi-automated picking of single items

Semi-automated picking with picking carts

Fully automated case picking

Fully automated picking of single items with anthropomorphic robots

Fully automated picking with pallets
Semi-Automated Picking with Modula & MiR
1. Semi-automated picking of single items
The seamless integration between Modula warehouse management software (WMS) and MiR software can optimize and orchestrate the work of robots and human pickers.
The WMS software communicates with the MiR's AMR. The AMR navigates to the Modula Vertical Lift Module (VLM) where the picking or replenishment operation is requested.
The operator picks the requested items from the VLM and places them into totes or bins on the MiR robot. Once the operation is completed, the AMR moves to the next picking zone.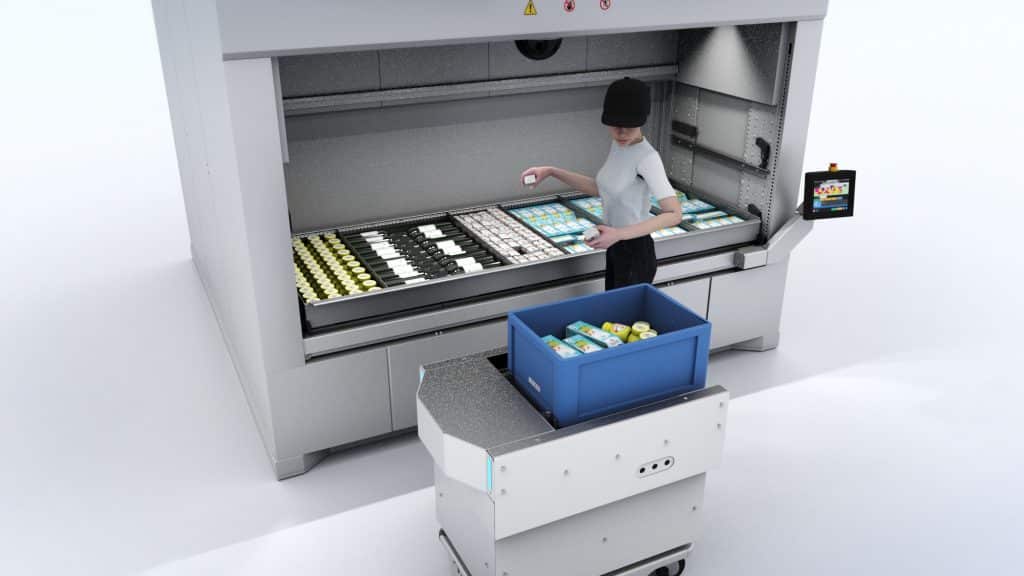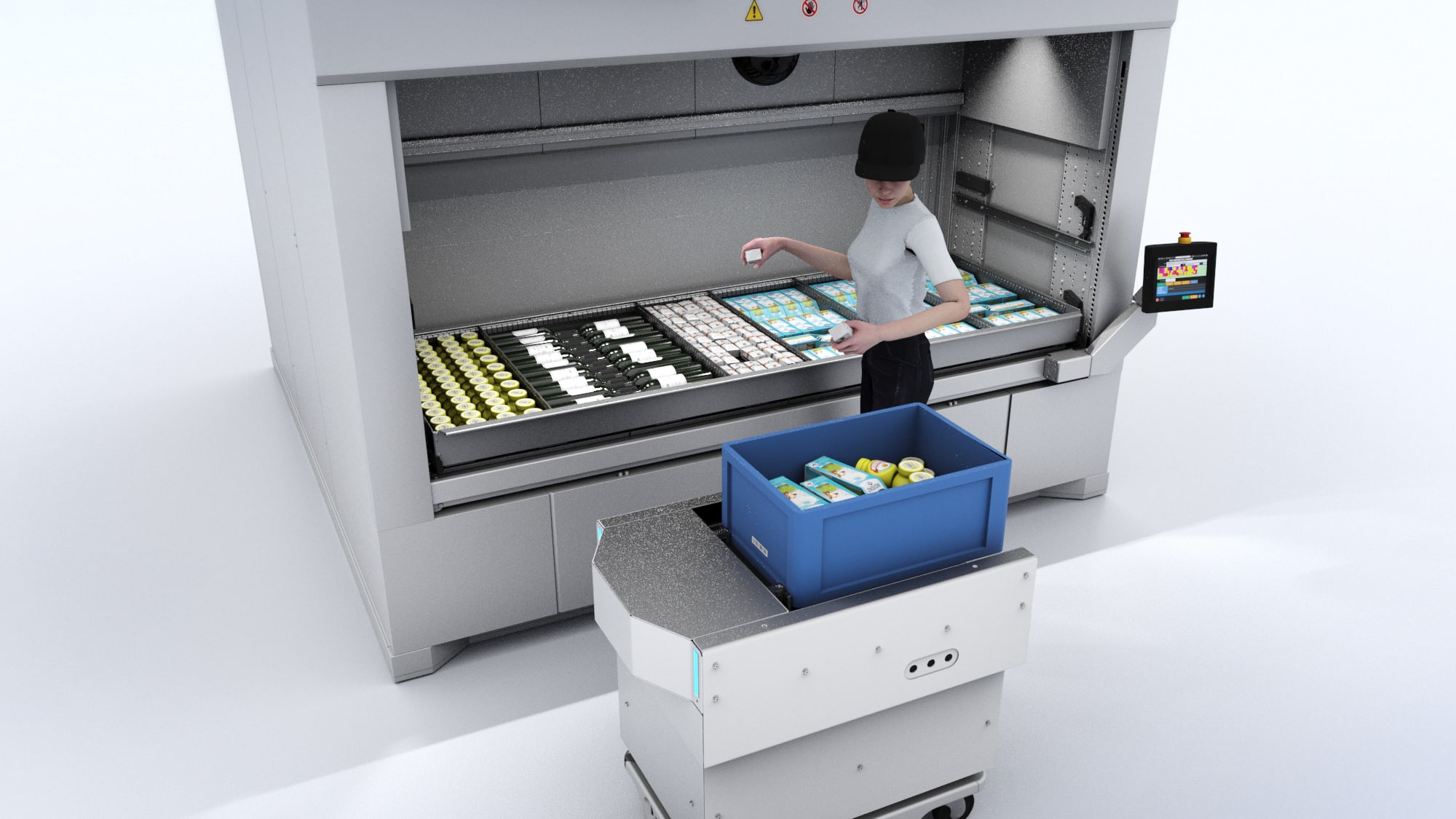 2. Semi-automated picking with picking carts
To fulfill multiple orders at the same time, businesses can integrate Modula and MiR into their system using a mobile put-to-light system, such as a picking cart.
In this setup, the operator picks multiple orders from a VLM and places them onto a picking station. Once the order is completed, the MiR robot hooks onto the picking cart and delivers it easily and safely to the next picking zone or consolidation area.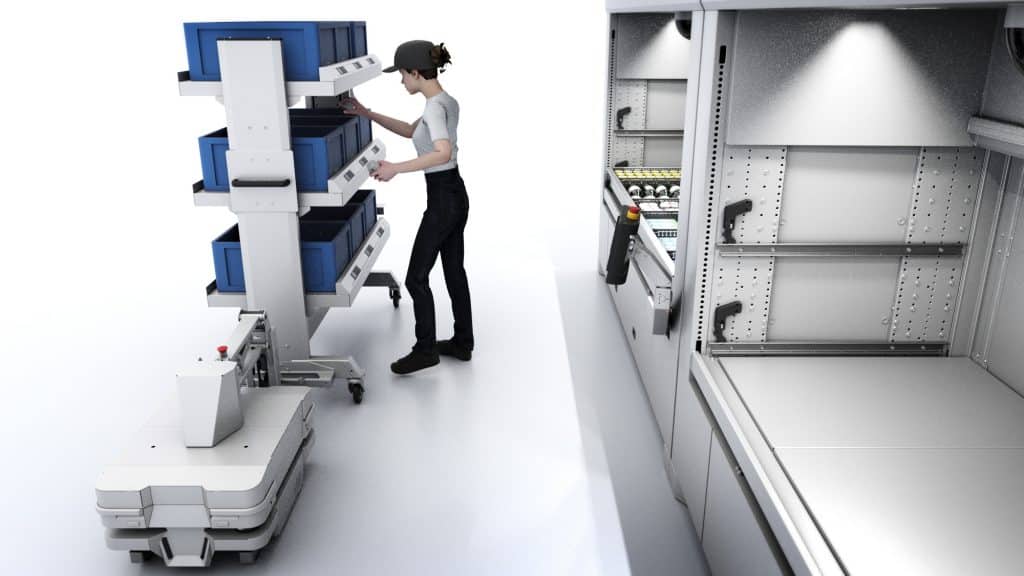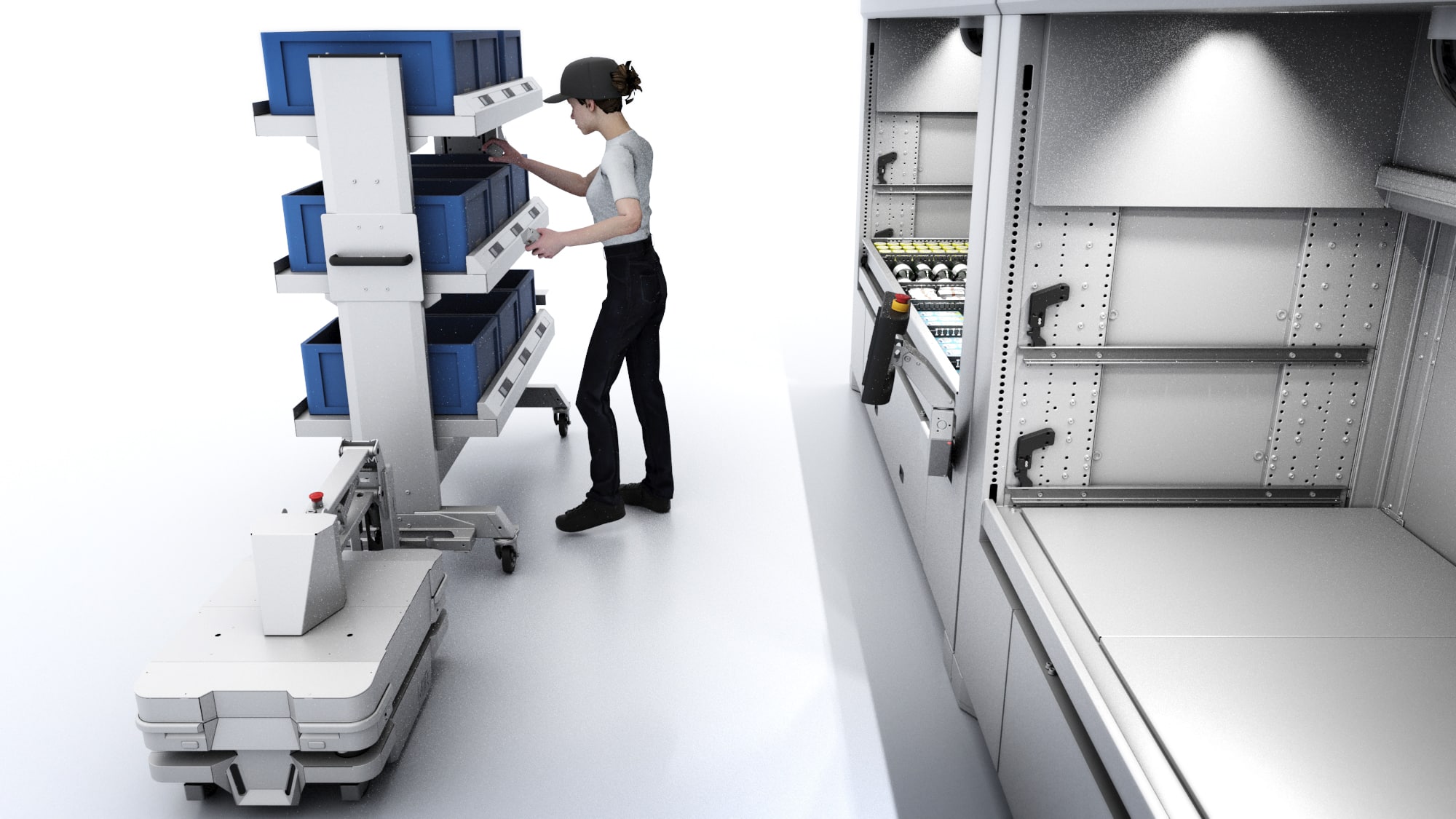 Combining Modula x MiR with human operators allows industries like e-commerce and eGrocery to scale up quickly and efficiently, while providing safe working environments for employees, significantly reducing human error and improving response times.
Fully Autonomous Picking & Handling with Modula & MiR
In fully automated configurations, Modula's storage solution and MiR robots carry out the process of picking, placing and handling of goods without human intervention. This setup can involve:
Robotic arm integration for each picking

Multi-item picking

Pallet picking
3. Fully automated solutions for case picking
Integrated with a customized top module, the MiR robot lifts, picks, and places totes, bins or – soon – pallets directly from or to the VLM's tray, facilitating picking and replenishment without human intervention.
The VLM is programmed to move the required tray into position as the MiR robot heads in its direction.
The robot arrives, docks by scanning the QR code in front of the bay, picks up or places the material, and confirms the end of the operation.
Using its map and sensors, the MiR robots then identify the shortest route possible and navigate their paths while avoiding both fixed and moving obstacles, to transport the requested items to their destination.
This fully autonomous system can support 24/7 operations, which businesses can leverage to achieve unprecedented levels of productivity.
The configuration has found its applications in warehouses that handle toxic, heavy or complex materials, warehouses with low lighting or other conditions that pose increased risks to employee safety, and warehouses looking for a 100% automated solution.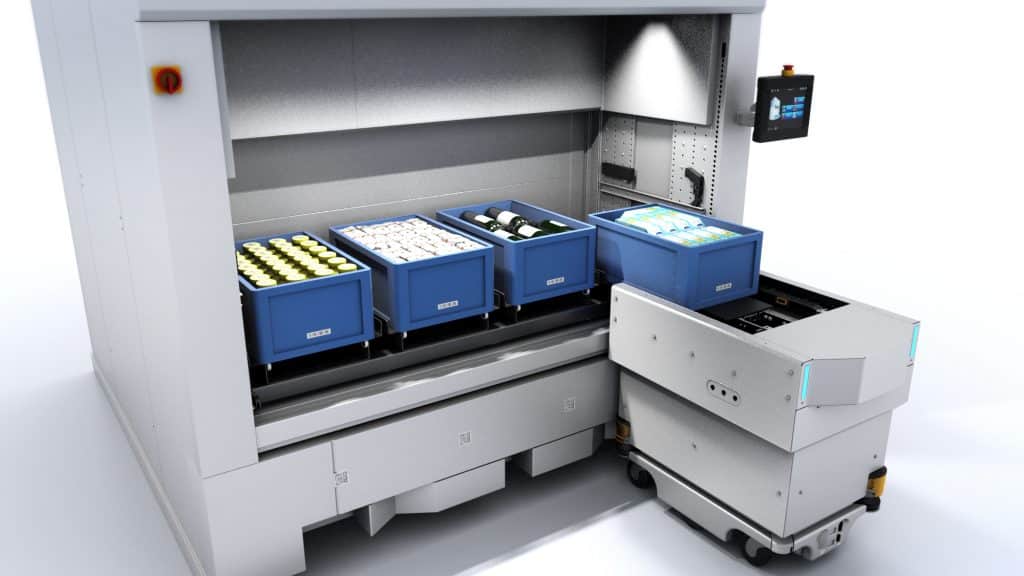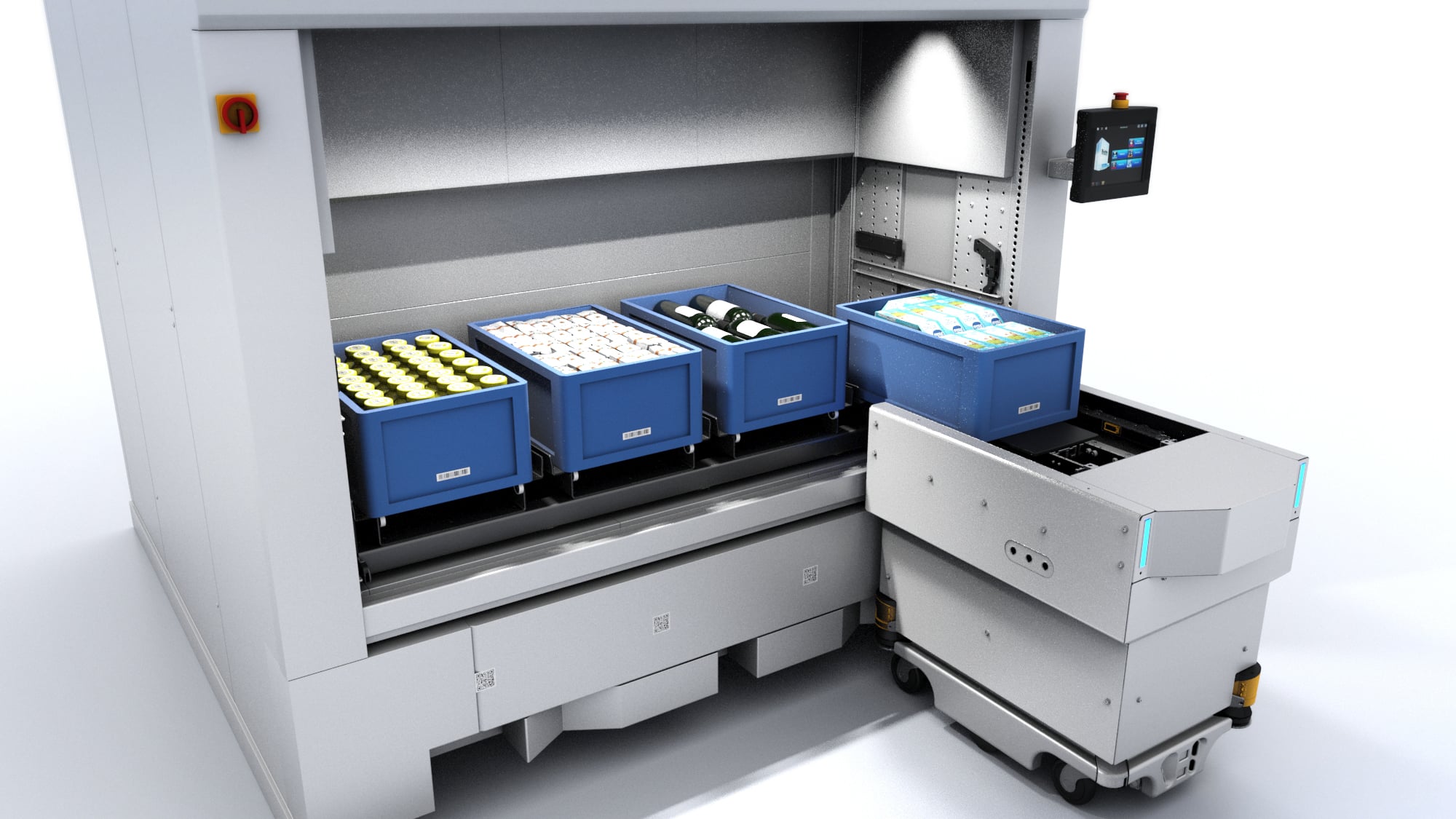 4. Fully Automated Solution with Anthropomorphic Robots
MiR robots can be equipped with an anthropomorphic cobot to automate the picking of single items from the Modula storage systems.
Once the robot arrives, it docks by scanning the QR code in front of the bay. Thanks to the robotic arm, the cobot picks the required item directly from the tray and places it into a tote or bin atop the MiR robot, and confirms the operation.
Once the picking is complete, the robot is ready to deliver the item to its destination.
This setup is recommended for single-item picking and handling that requires a certain level of precision, reach, and speed. Humanoid robots typically take over highly repetitive tasks, so your employees can focus on more valuable tasks.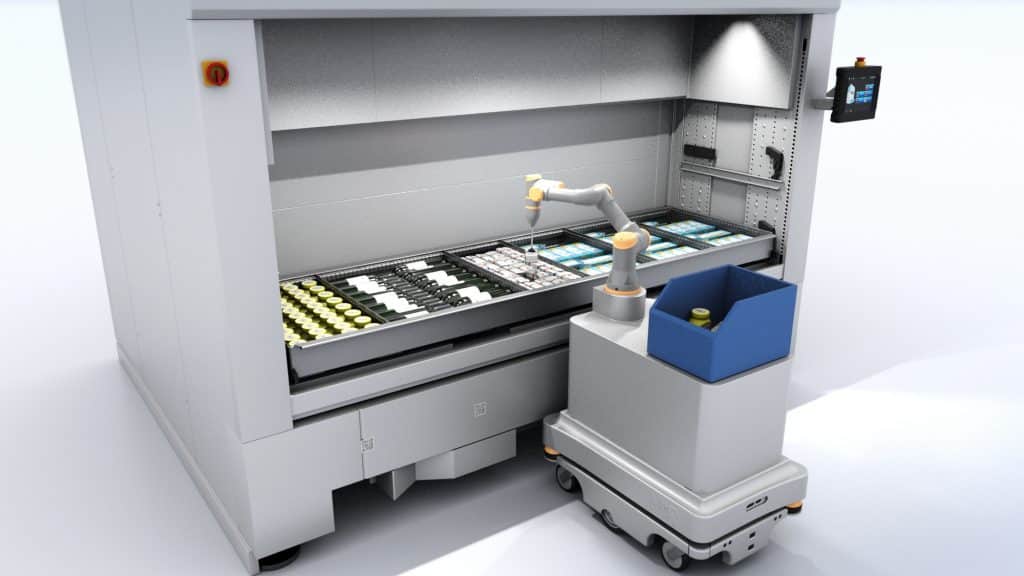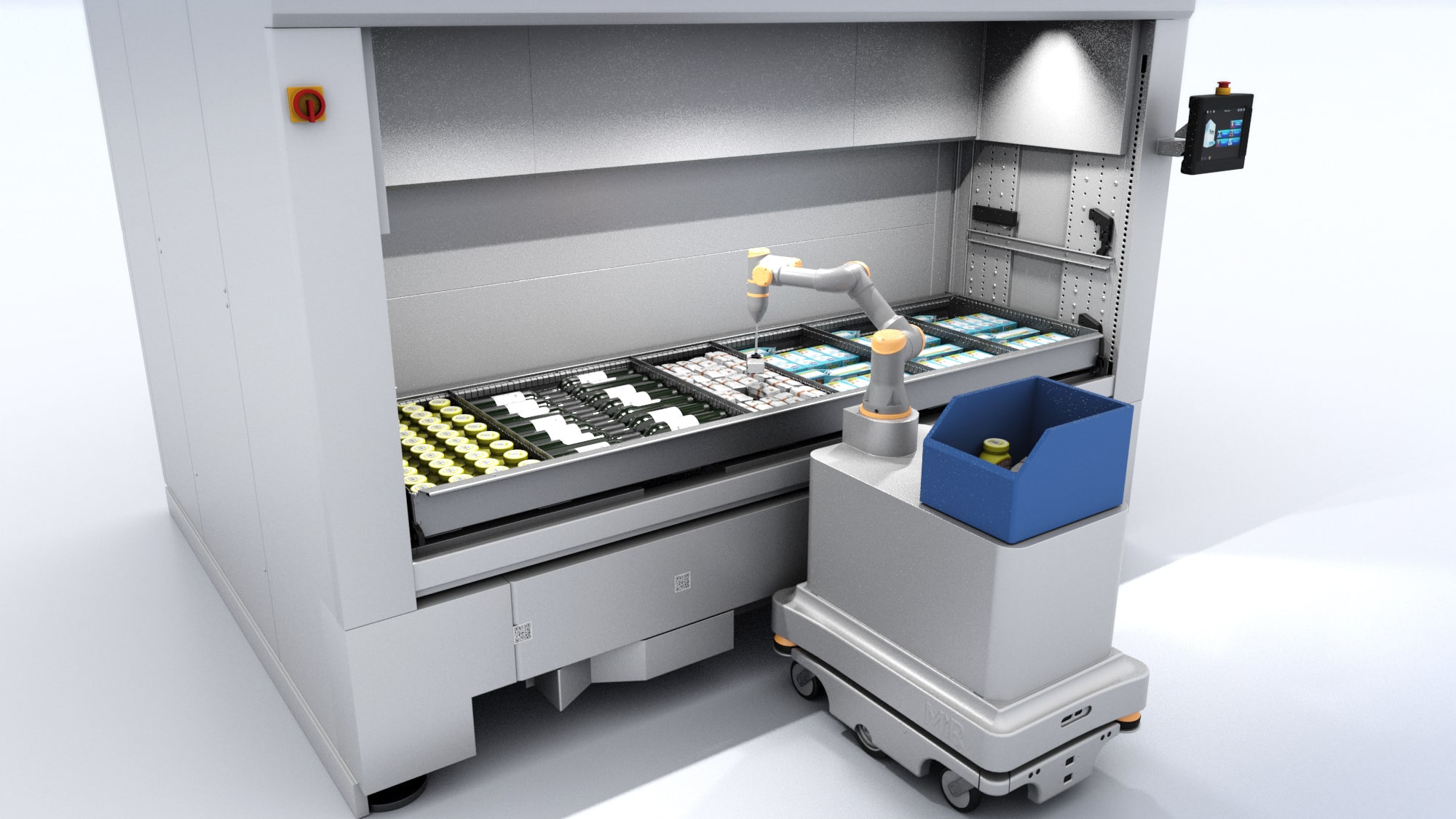 5. Automated Solution with Pallets
Modula is currently developing a new vertical lift module to store and handle pallets. The new VLM will also integrate with MiR to pick and transport large and heavy goods within a warehouse or distribution center.
This too is a fully automated solution where pallets are stored, picked, placed and moved to designated areas without human intervention.
Businesses that automate their heavy materials handling can increase on-site employee safety by reducing — if not eliminating — strains on employees' physical well-being.
How Can Automation Transform Your Warehouse & Logistics?
Any of Modula x MiR's configurations can provide almost immediate, visible, and measurable benefits. Warehouses are choosing to automate their storage, picking, and materials handling with us to improve:
Safety & ergonomics: Perhaps the most important benefit of all, delegating repetitive tasks as well as material handling in hazardous environments creates a much safer and more comfortable workplace. Automated systems allow operators to focus on more meaningful tasks.
Modularity & scalability: Modula and MiR solutions allow for a gradual transition towards fully automated systems, adapt to their host environment and can easily be reconfigured to capitalize on the changing business needs.
Quick installation: Modula and MiR require no structural modifications within existing spaces and systems. The integrated solution ensures a fast and cost-efficient implementation.
Productivity & accuracy: Whether fully or partially automated, Modula and MiR solution minimizes – if not eliminates – human error, expedites lead times, and fulfills more orders within the given timeframe, by taking over time-consuming and error-prone processes.
Flexibility: Operators can easily switch from manual to automated storage and picking without disrupting service. Automating picking and handling improves response times, especially during peak seasons when operators are unavailable, and can even facilitate 24/7 operations.
Native software integration: Modula's WMS integrates with MiR and other software within the automated configuration to allow systems to coordinate operations, exchange and record data, and optimize inventory management.
How A Manufacturer Transformed Their Operations with Modula x MiR's Solution
Amer SpA develops and designs AC and DC motors, gear motors, steering systems and drive systems for vehicles.
With ever-shifting changes in its production, Amer wanted to find an automated way to move parts from one section of the operation to another without requiring human intervention. By automating the process, they wanted to save time previously spent by human resources to pick and replenish goods as well as boost the accuracy of material handling.
Thanks to the implementation of a Modula Vertical Lift Module ML 75 and a MIR they accomplished their goal.
The Modula ML75 receives semi-finished goods from a MiR robot and stores them as long as needed – a few hours to a few days – before another MiR retrieves the goods and carries them to another part of the factory for completion of the work.
All operations are coordinated with the use of AMER SW supervisor, MiR fleet manager and Modula's warehouse management system (WMS) software.
"From the beginning, our goal was to have a totally automated storage system, that is, fully unmanned and able to dynamically integrate with the production and shipping processes. Modula was the best solution not only for its storage capacity but also for its handling potential."
Daniele Fontò, Amer Production Manager
Hear from Amer SpA's Production Manager Ing. Daniele Fonto:
Where to Experience Modula x MiR's Automated Solution
This September, participants in the Las Vegas Groceryshop 2022 event will have the opportunity to see firsthand how vertical automated storage solutions can seamlessly integrate with AMRs to optimize space, labor, and equipment while meeting customers' expectations.
From manual to completely automated fulfillment applications, these technologies can boost efficiency and productivity while offering the flexibility and scalability your operations need now and in the future.
Let's meet at GROCERYSHOP 2022 – Las Vegas – September 19-22, 2022
Is Your Business Ready for Warehouse Automation?
Modula has a global network of experts who work with clients of all sizes and across industries to:
Assess your storage and automation requirements

Provide consultation and recommend solutions

Design custom systems

Implement your solutions

Train you on how to make the most of your Modula solutions
Whether you are only considering warehouse automation or ready to take your first steps towards logistics optimization, our experts are here for you!