Automation in Production: Reimagining The Manufacturing Process in 2023
What's the ultimate solution to generating greater throughput, cutting costs, increasing efficiency, and managing inventory visibility in manufacturing? Automation.
Manufacturers around the globe are fully embracing the many benefits of automation in production. In fact, even chocolate manufacturer Hershey's turned to automation to streamline operations.
We'll share all you need to know about automation in production, including types and key benefits. Plus, we'll introduce you to our automated solutions at Modula, from vertical lift modules to warehouse management systems and beyond.
What Is Automation in Production? 
Automation in production, or automation in manufacturing, is the process of utilizing technology — for example, autonomous mobile robots — to manage and streamline the manufacturing process (converting raw materials, components or parts into finished goods).
Automated solutions include equipment such as warehouse management systems, sensors, robots and automated storage and retrieval systems.
These solutions allow you to automate tasks and processes, boost efficiency, improve inventory visibility, and cut operational costs, among other benefits.
Types of Automation in Production
There are three main categories of automation in production:

1. Fixed Automation
Fixed automation involves the use of specialized machinery and equipment that is designed to perform specific tasks in a production process.
It is called "fixed" because the machinery and equipment are fixed in place and cannot be easily adapted to perform different tasks.
The equipment used in fixed automation is designed for the high-volume production of identical products, where the manufacturing process is precisely controlled and repetitive.
Typically, fixed automation is used in mass production settings, such as in the automotive or electronics industries. Examples of fixed automation include conveyor belts, automated storage and retrieval systems, and palletizers.
2. Programmable Automation
Programmable automation refers to the machinery and equipment that can be programmed to perform a variety of tasks in the production process.
Unlike fixed automation, programmable automation is designed to be flexible and adapt to changing production requirements.
Examples of programmable automation include robotic arms, collaborative robots, and mobile robots.
3. Flexible Automation
Flexible automation is used in applications where the production process often undergoes rapid changes and is highly variable.
This type of automation allows manufacturers to quickly adapt to evolving market demands, product design changes, and other factors that affect production.
Examples of flexible automation include multi-purpose robotic and modular conveyor systems, which can be easily reconfigured to handle diverse or unique products.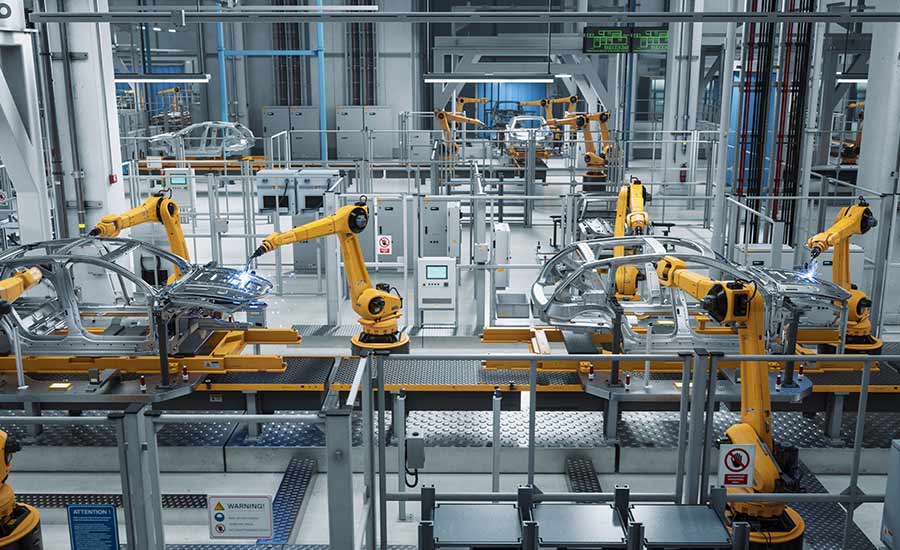 5 Benefits of Automation in Manufacturing
From cutting warehouse costs to preventing overstock, here are five ways that automation in production can benefit your warehouse operations.
Lower Costs
According to a 2019 industry report, the worldwide expenditure of warehousing companies is over $300 billion each year.
One solution to lowering these costs? Investing in automation.
With Modula solutions, the typical ROI period from a vertical lift module (VLM) or horizontal carousel (HC) ranges from just 6 to 18 months — making top-quality automated solutions an undoubtedly worthwhile investment
Increased Workplace Safety
A recent survey found that overexertion was the most disabling workplace accident in the United States in 2022, with falls and being struck by an object coming in second and third, respectively.
With the proper automated solutions, warehouse operators aren't required to reach high storage areas, lift heavy items or travel through narrow pathways, which can increase overall safety in the workplace.
In addition, automated systems can perform tasks that are dangerous or difficult for human employees.
Improved Efficiency
The 2022 McKinsey Global Industrial Robotics Survey found that automated systems and robotics are expected to make up 25% of industrial companies' capital expenditures in the next five years.
According to the survey, one of the main reasons manufacturers are choosing to adopt automation is to improve efficiency and quality.
Automation in manufacturing can help reduce the risk of mistakes and optimize the use of resources, enabling your workers to focus on higher-value tasks.
Automation in production can help your warehouse operators transport, locate, and pick the correct inventory, enabling them to be more productive with other tasks, such as quality assurance.
Greater Productivity
There are a lot of moving parts in the production process — many of which are time-consuming and prone to human error.
Automated solutions allow your warehouse operators to focus on the areas where they're needed most, and leave the repetitive, mundane or even dangerous tasks to machines. In turn, productivity skyrockets.
Better Inventory Control and Visibility
Maintaining complete visibility over your inventory means having an up-to-date understanding of the quantity and location of your raw materials, finished products, and work-in-progress items at all times.
This allows you to make informed decisions about production schedules, resource allocation, and inventory management, ensuring that your manufacturing processes run smoothly
Warehouse management systems give you full visibility and control of your inventory. You can prevent overstocking and stock shortages, minimize waste and downtime, and respond quickly to changing market conditions or production disruptions.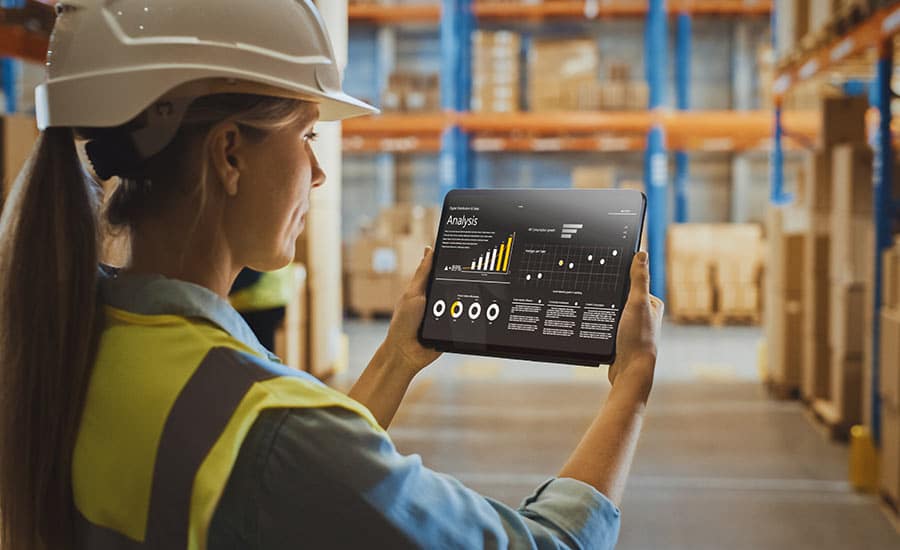 Modula Solutions for Automation in Production
From vertical storage solutions that keep your inventory safe to a warehouse management system that gives you complete inventory visibility, our automated solutions help reimagine your manufacturing process.
1. Modula Vertical Lift Modules
By utilizing vertical lift modules (VLMs) in production or manufacturing, you can maximize your storage capacity and increase efficiency. With VLMs, inventory can be kept in a single, secure location, freeing up valuable floor space for other operations.
The automated storage systems are designed with employee safety and ergonomics in mind, delivering goods directly to your operator's location and eliminating the need for them to reach high or low and travel throughout the warehouse.
These versatile storage solutions can be customized to fit a variety of different manufacturing areas and storage requirements, making them a suitable option for different operations.
Whether storing small items such as parts, tools, or raw materials, VLMs can be integrated with a company's existing inventory management systems to provide real-time visibility of stock levels and simplify the replenishment process.
Overall, implementing a VLM system can help streamline operations, improve worker safety and productivity, and drive significant cost savings for manufacturers.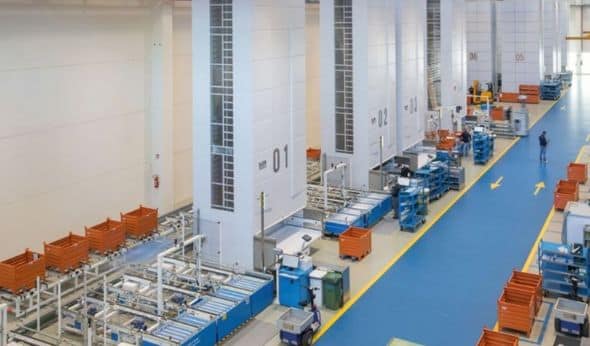 Modula vertical lift modules come in three models:
Modula Lift: Boost efficiency, picking speeds and accuracy by up to 90% with this fan-favorite vertical lift module.
Modula Slim: Leverage the same innovation as the Modula Lift, but in a more compact design, perfect for smaller warehouses.
Modula OnePick: Automate your warehouse completely. Ideal for fully automated and eCommerce warehouses.
Modula vertical lift modules:
Are quick to install and easy to use
Save up to 90% of floor space compared to the traditional storage system
Process complex orders in minimum time, even during peak seasons
Protect your inventory thanks to locking and validation features
Monitor employee log-ins and track picking operations, depending on the selected level of security
Offer a scalable design — organize trays for every product type or size
2. Modula Horizontal Carousels
Horizontal carousels allow you to optimize your storage space and improve efficiency within your manufacturing process.
These automated systems allow for organized and secure storage of medium to large items such as boxes, packages, and components.
Designed with user-friendliness in mind, horizontal carousels bring items to the operator, reducing the need for manual searching and retrieval, which in turn boosts productivity and reduces the risk of workplace injury.
Horizontal carousels can be tailored to fit the unique requirements of your manufacturing operation and can be integrated with your existing inventory management systems. This provides real-time visibility of your inventory, making it easier to track stock levels and manage the replenishment process.
Whether you need to store large or medium-sized items, horizontal carousels offer a versatile and efficient solution for your manufacturing operations.
Check out our horizontal carousel in action in the video below!
MODULA HC: the New Horizontal Carousel for Efficient Picking
The Modula Horizontal Carousel allows you to:
Leverage storage capacity in low-ceiling environments
Handle large quantities of inventory
Increase productivity by eliminating the need to travel across your warehouse
Boost picking rates of up to 550 lines per hour
Improve picking accuracy by up to 99% with the help of visual picking aids
Reduce physical strain by providing an ergonomic and safe working environment
Monitor and document all picking operations, and track stock levels in real-time to prevent stockouts
3. Modula Order Picking Solutions
Complement your storage solutions with Modula's Order Picking Solutions to increase productivity, boost picking accuracy and eliminate mispicks.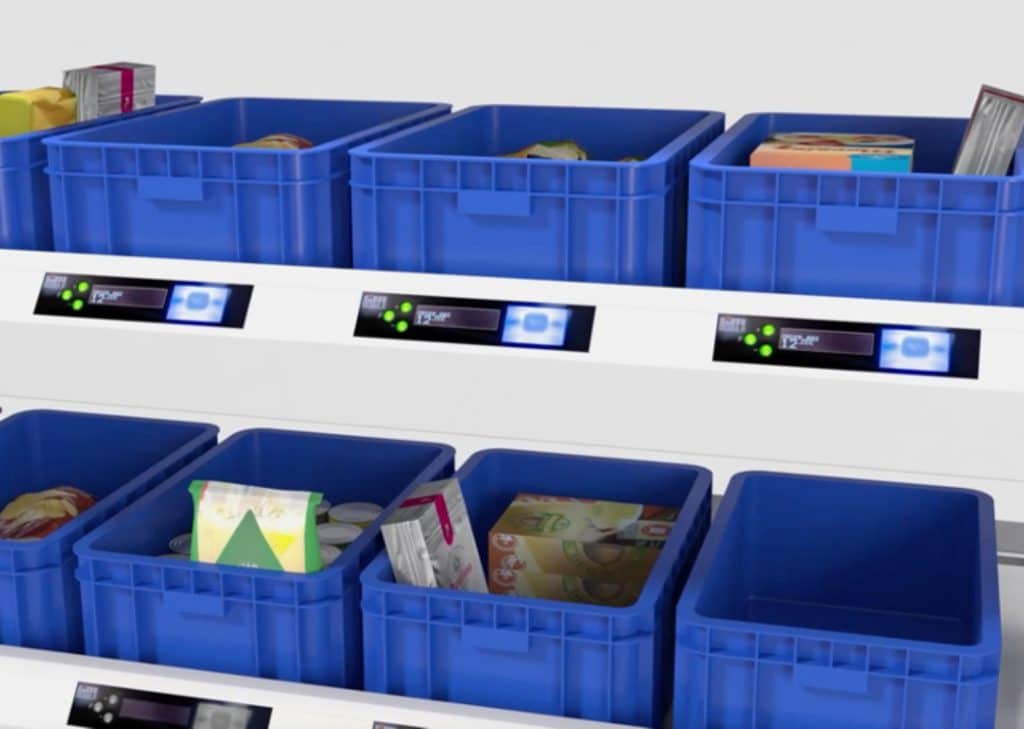 Modula Warehouse Picking Solutions include:
Our order picking solutions allow you to:
Boost picking speed by reducing the need for search items in the warehouse
Improve picking accuracy thanks to visual picking aids such as LED bars
Improve inventory management by getting a bird's eye view of your current and forecasted inventory
4. Warehouse Management System
Control activities in your warehouse and get complete visibility over your inventory and more with the Modula Warehouse Management System (WMS).
Whether you manage a traditional manufacturing facility or a fully automated warehouse, you can streamline your operations with a WMS.
Just integrate your WMS with your ERP or DMS of choice to streamline your receiving, picking and putting away processes.
Choose from two Warehouse Management System solutions:
Module WMS Base: Ideal for thriving or scalable warehouse footprints
Modula WMS Premium: End-to-end warehouse management and inventory solutions
Our Modula WMS solutions allow you to:
Manage your warehouse inventory with complete visibility

Accurately and efficiently pick and replenish your inventory

Reduce cumbersome paperwork and manual processes thanks to exceptional automation
Wrapping Up On Automation In Production
Automating your production process can bring multiple benefits to your warehouse operations, beyond just simplifying employee tasks.
With automation, you can reduce costs, enhance efficiency, and have full control and insight over your inventory.
At Modula, we help you reimagine your production process with our next-level automated solutions. Set your warehouse up for a profit in 2023 and beyond by embracing automation with Modula.