Modula to Attend the APTA TRANSform Expo 2023
Event: APTA TRANSform Conference
Location: Orange County Convention Center, Orlando FL
Dates: October 9th to 11th, 2023
Visit our team: Modula booth #1253
Modula is gearing up to showcase its innovative storage solutions at the highly anticipated APTA Expo 2023. Scheduled from October 9 to October 11, this premier event will take place at the Orange County Convention Center in Orlando, FL, providing a dynamic platform to address the distinct challenges faced by the public transportation sector.
The APTA Expo is a gathering of industry thought leaders, experts, and key players, providing a collaborative environment to explore advancements that can revolutionize the way public transportation operates.
With the public transportation landscape continually evolving, public transportation professionals are looking for efficient and adaptable solutions. As agencies strive to maintain streamlined operations while ensuring passenger safety and satisfaction, the pressure to optimize logistics and maintenance processes is more significant than ever.
Benefits of Modula Solutions for the Public Transportation Industry
Managing Growing Part Numbers:
As the number of parts required for maintaining and servicing both old and new public vehicles increases, space becomes a precious resource. Modula's automated storage and retrieval solutions (ASRS) address this challenge by providing a secure environment for storing a substantial inventory of goods. With quick accessibility and automated delivery to operators, the user-friendly copilot controller or barcode scan makes retrieval as simple as a touch, minimizing downtime and streamlining operations.
Navigating Ergonomic and Space Challenges:
In an industry where product sizes and weights vary significantly, managing an extensive range of items essential for maintenance can be daunting. From small components to large parts, the public transportation sector deals with it all. However, the diverse dimensions pose ergonomic and space-related challenges. This is where Modula's automated storage and retrieval solutions (ASRS) prove their worth.
By efficiently storing and organizing bulky and heavy parts, ASRS offer a practical solution to these issues. Ensuring optimal working conditions, these modules enable operators to pick and lift items at the ideal working height, ultimately enhancing both productivity and safety.
Enhanced Safety Measures:
Safety is paramount, especially when it comes to storage solutions for critical parts. Modula's ASRS are designed with safety in mind. Equipped with safety light barriers located in front of the access opening, the system halts all movements instantly when activated. Automatic doors also play an important role, closing automatically during operations to prevent access while the tray is in motion.
Additionally, the weight distribution system continuously monitors tray weight, ensuring balance during part addition and removal. An emergency stop button placed conveniently on the copilot's side further underscores the commitment to safety.
Quality Assurance and Cost Management:
The public transportation agency's need for top-notch quality assurance while keeping costs in check. Modula's automated storage and retrieval solutions offer a seamless blend of quality control and cost-effectiveness. By optimizing inventory management, reducing errors, and enhancing operational efficiency, Modula's solutions ensure that every investment leads to long-term gains.
Flexibility for Ever-Changing Needs:
Adaptability is key to staying ahead in the public transportation game. As industry requirements evolve and fleets change, having storage solutions that can keep up is crucial. This is where Modula's VLMs truly shine. Their modular design offers unparalleled flexibility, enabling height modifications to optimize ceiling space. Whether relocating or adjusting to new site requirements, the Modula VLM seamlessly adapts to ensure a perfect fit in evolving operations.

Why Visit Modula's Booth at APTA EXPO 2023?
At the Modula booth #1253, attendees will have the opportunity to experience firsthand the capabilities of the Modula Lift. This automated vertical storage system optimizes space utilization, streamlines picking and retrieval processes, and enhances overall productivity. With its innovative design and intuitive features, the Modula Lift offers a seamless integration into various industrial environments.
Throughout the APTA Expo, Modula's team of experts will be on hand to provide insights, answer questions, and showcase the unique advantages of the Modula Lift. Attendees can gain a deeper understanding of how this advanced solution can transform their warehousing and storage operations.
For more information about Modula at APTA TRANSform Expo 2023, please contact us to schedule a meeting
Experience the latest on automation and material handling, even if you're unable to attend the trade shows in person. You can check out our automated storage solutions by visiting our virtual booth from the comfort of your own desk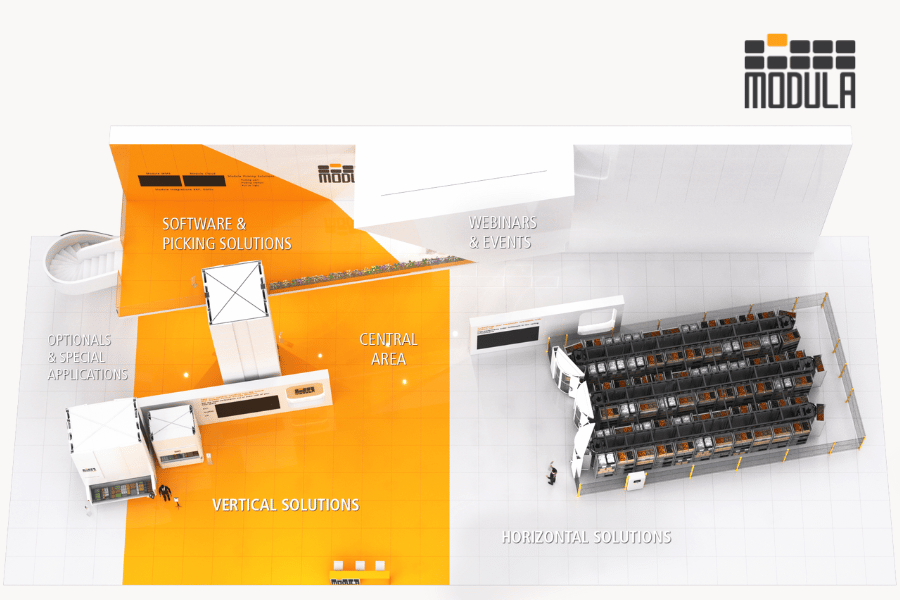 Stay informed about our upcoming events, news, and more. Learn more about automation and material handling. You can easily unsubscribe at any time using the links provided in every email.