Modula to feature its Made in the USA automated storage solutions at ProMatDX 2021
Join Modula at ProMatDX – a virtual gathering of manufacturing and supply chain professionals – happening on April 12-16 in a fully virtual format. This digital event experience will provide you critical access to the latest solutions for improving operational resiliency and agility and learn the latest trends and technologies to elevate your supply chain's performance.
Beginning March 13, registered attendees will get special pre-show access to the ProMatDX 2021 virtual platform to begin exploring the many exciting features ahead during the live show, including browsing the exhibitors' list, viewing show specials, and scheduling appointments with our team of experts before and during the live show.
Discover the key advantages of Modula's American-made automated storage and retrieval solutions for the supply chain industry
Modula is a leading manufacturer of automated storage solutions, designed to optimize space and improve picking and storage operations for any industrial sector or environment.
Our vertical lift modules maximize the storage potential of high-ceiling facilities, securing items in enclosed units up to 54 feet tall. Our horizontal carousels are ideal for low-ceiling environments and situations requiring maximum throughput. With both solutions, automated delivery dramatically increases productivity and saves operators from unnecessary bending, walking, and reaching for parts.
Our WMS software solutions provide a range of advanced warehouse management, remote support, and analytics solutions that help organizations optimize inventory management and readily integrate with ERP platforms.
Book a meeting with the Modula team at ProMatDX 2021. Find out how our automated storage and retrieval systems can optimize your warehouse inventory and boost your productivity.
Meet the Modula team at the Networking Session and chat with us live in our virtual booth. Find out how our made-in-the-USA automated storage solutions can transform your warehouse operations into an efficient and more profitable department.
Schedule a meeting with our team and view our Modula landing page by clicking this link.
If you haven`t registered yet to the ProMatDX 2021, get a free pass now!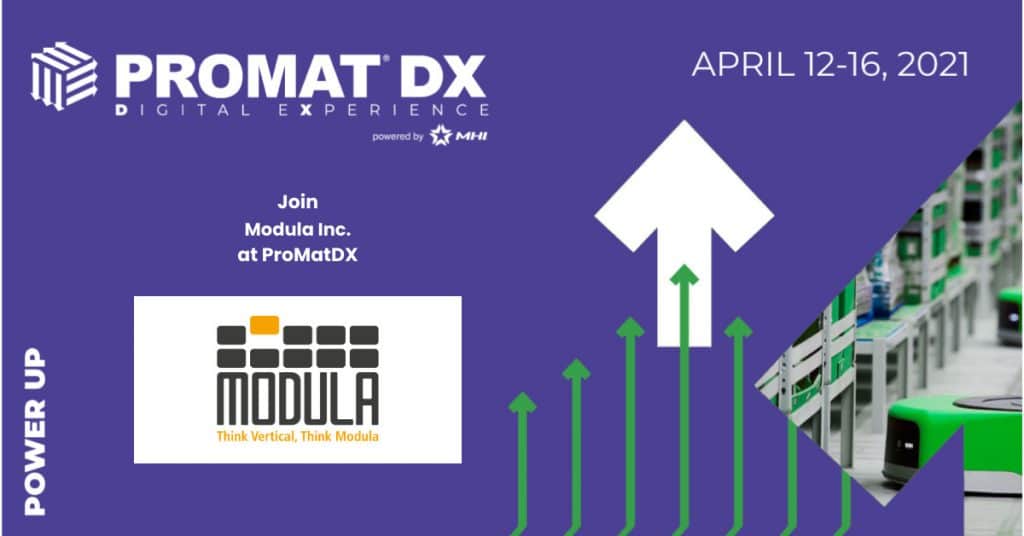 Know what to expect – Watch this video for more information on the virtual experience at ProMatDX 2021.