How warehouse automation, such as AS/RS, can help companies using BOPSIS as part of a multichannel marketing strategy
How warehouse automation, such as automated storage and retrieval systems (AS/RS), can help companies using BOPSIS as part of a multichannel marketing strategy
To stay competitive, retailers need to embrace a new way of buying that has become popular among consumers known as BOPIS: Buy Online and Pick Up in Store. You've probably seen this option yourself if you've done much online shopping of late. Rather than mailing you the product, companies let you retrieve your online purchase at one of their stores.
There are many reasons why consumers like BOPSIS: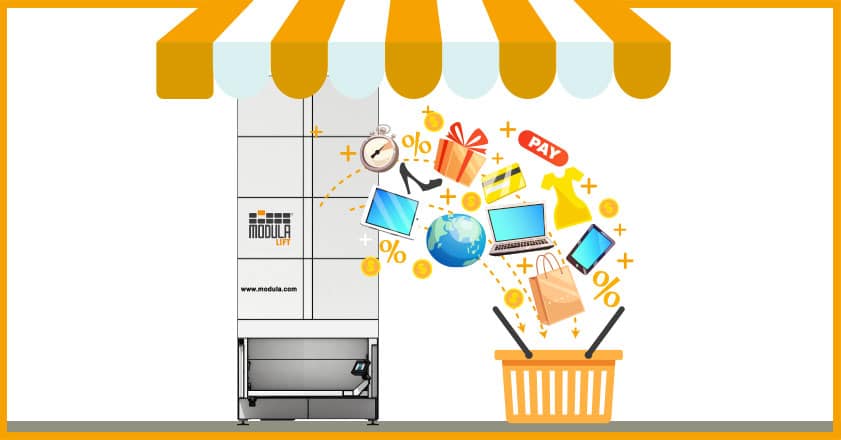 They can see and touch the product before taking it home
If it's not satisfactory, they can return it immediately
Picking it up in-store can save consumers shipping costs
It can be more convenient and secure to retrieve the item from a store rather than having it delivered to their residence
The numbers back up how popular BOPSIS has become. Research from Kibo Commerce found that BOPIS grew more than 500% during the pandemic. And McKinsey discovered that 56% of consumers intend to continue using BOPIS after the pandemic.
For some companies, however, this new method of delivery can be a challenge. It requires a new order and warehouse management system that will minimize space requirements, speed delivery, and enhance inventory management.
BOPIS as part of an omnichannel sales strategy
As e-commerce has become more common, so has omnichannel retail strategies in which companies integrate channels to enlarge the customer base and integrate the shopping experience. This has become essential for today's retailers to meet the expectations of consumers – or risk losing market share.
Micro-fulfillment: What it is and how it works
As more retailers expand their e-commerce activities, consumers expect to receive items they order in a day – or even a few hours. This has given rise to micro-fulfillment centers – small specialized centers able to procure and distribute products in response to orders placed online. Unlike a classic storage center, the typical micro-fulfillment center is about 1,800 square feet (550 square meters). They're located in urban areas to be close to consumers.
In addition, retailers need to respond to orders more quickly than in the past. Today, consumers have become accustomed to receiving products ordered online the following day, sometimes even on the same day. In these centers, the use of robotics and artificial intelligence makes it possible to assemble and prepare a shipment within minutes.
To make good on this promise of quick delivery, companies must decrease the lead time – the time between production and delivery. This requires effective management of the logistics chain.
All of these factors highlight the inadequacy of traditional shelving systems in a BOPSIS environment: They take up too much valuable space, are too slow to keep up with expectations of quick delivery, fail to track inventory automatically and are prone to picking errors.
In short, a different storage system is critical.
Warehouse automation for a BOPIS strategy: Vertical lift module advantages
A BOPIS strategy benefits both consumers and retailers. For many brick-and-mortar retailers, omnichannel solutions, including BOPSIS, is how they remain competitive in the e-commerce domain.
When offering a Buy Online and Pick Up in Store solution, companies must be prepared to increase the volume of products and pack them specifically to meet the demand from online customers. This is why it has become increasingly important to have advanced and automated systems for inventory and warehouse management. Having a real-time view of the warehouse situation is of the utmost importance.
Because urban areas charge a premium for square footage and often are tight on space, a vertical lift module such as the Modula Slim can fit the bill — either in the micro-fulfillment center or a store itself. VLMs can reduce space requirements dramatically — up to 90% less square footage needed than a traditional system. And installation is relatively quick: The Slim can be installed and ready to go in 48 hours.
In addition, Modula's VLMs offer the advantage of a warehouse management system (WMS) that connects them to a company's ERP to track inventory and the related handling operations, providing an overview of the warehouse situation whenever needed.

Because BOPSIS can dramatically increase the number of orders to be processed daily – doubling or even tripling previous levels – it's essential that picking operations are optimized. With automation, this is feasible for two primary reasons:
Lead times are reduced: By knowing the exact location of the goods, warehouse personnel no longer need to spend time checking on the goods' availability and walking back and forth retrieving them.
Warehouses avoid being out of stock: Because of their greater storage capacity than traditional systems, a VLM helps ensure that more goods are readily available. And used in conjunction with the WMS and company ERP, a company can prevent online customers from ordering out-of-stock products.
Since BOPIS orders are placed online while the products are picked up offline, companies must have an automated system that integrates online and offline activities and is able to keep track of every single item stored and any related event in real-time. That's the reality of BOPSIS.
A surprisingly short ROI for your vertical lift module
The good news is that a VLM such as the models offered by Modula pay for themselves quickly. The typical ROI for a Modula VLM is 18 months, thanks to the labor, space and accuracy gains these automated storage and retrieval systems offer.
It's a smart investment for retailers and a way to remain competitive in a shifting marketplace.
If you want to learn more, you can contact a product specialist by filling out a short form on our contact page.