E-Fulfillment becoming increasingly automated, small and urban
With automated storage and retrieval solutions, micro-fulfillment and nano-fulfillment centers help retailers keep pace with new online shopping demands
Among the many drastic business effects of the Covid-19 pandemic are the ways consumers are shopping and companies are responding. Lockdown measures have skewed purchasing habits and consumer behaviors toward alternatives to traditional store shopping. Now terms such as home delivery, buy-online-pick-up-in-store (BOPIS) and click-and-collect are shorthand for the new purchasing and delivery models.
It's a trend across the world. Take a look at the phenomenon called e-grocery in which buyers order online but either have their groceries delivered to their residences or pick them up from a nearby location:
in the U.S., the e-grocery sector increased sales by $30.86 billion over the previous year
in Italy, the e-food penetration rate more than doubled — from 6% in 2019 to 14.2% in 2020
in Britain, the major retailer Tesco saw its online grocery business jumped from 9% to 16% of total sales in the first quarter of 2020 alone.
The trend does not seem to be receding. In fact, the volume could have been even higher last year because consumer demand exceeded supply. With new purchasing habits established, operators in this sector now need to offer omnichannel sales and delivery options. This can be a serious operational challenge for both small and large companies. An e-commerce-oriented model forces significant changes in the delivery model.
Rather than items being shipped to a few stores where all the final deliveries are executed by the customers themselves, the digital variation means far more orders to manage and deliveries to coordinate. At the same time, customer expectations regarding digital orders are higher than ever: Delays and thin inventories are not well-tolerated.
Omnichannel logistics: an opportunity for retailers
What's become increasingly clear is that traditional methods for controlling the supply of goods are not working. Uncontrolled inventories, errors in order preparation, inadequate demand planning processes and lack of rapid responses to changing market conditions are some of the obvious problems. In the omnichannel era, all retailers need to invest significant resources in their supply chains, shifting to digital, prescriptive and autonomous modes of operating. In addition, warehouses must be increasingly automated to guarantee fast and accurate order fulfillment and inventory management..
Until just a few years ago, shopping was only possible in the physical store; with the introduction of e-commerce, the consumer has been offered the opportunity to choose whether to buy online or at the physical store or to opt for hybrid forms of purchasing. For example evaluating the product online and purchasing it at the store or vice versa. This forced retailers to adopt a multi-channel approach that should enable consumers to buy both online and offline, without interruptions in their purchasing process.
The promise of micro-fulfillment and nano-fulfillment centers
In the past, distribution centers were large and regional, storing massive numbers of SKUs. Increasingly, these are being abandoned in favor of smaller centers. One type is the micro-fulfillment center (MFC), suited for D2C or B2C commerce and located near large urban areas. Another is the nano-fulfillment center (NFC) – even smaller hubs within urban areas that are highly automated, often with plug-and-play solutions. The smaller centers carry a fraction of the SKUs of the large distribution centers and manage only 1,000 to 10,000 orders per day, but much more quickly than their traditional equivalent.
By bringing the product closer to the customer, these smaller fulfillment centers can make deliveries more quickly (even same day) and lower the costs of logistics. Both labor and space expenses can be trimmed due to the higher level of automation and smaller footprints they pose compared to the large distribution centers.
Besides these two, advantages of MFCs and NFCs include:
faster construction and installation times (an MFC or NFC can be operational within 4-8 weeks)
better management of last mile delivery (being closer to the final consumer);
ability to manage different purchase models, such as home delivery, in-store purchase, click and collect and BOPIS
direct connection between the retailer and customer without third parties potentially harming the customer experience.
Which automated solutions are most suited for MFCs or NFCs?
Automated storage and retrieval solutions for micro-fulfillment and nano-fulfillment centers
Modula's vertical lift modules are particularly suited for both MFCs and NFCs because they are able to take advantage of high ceilings to reduce the storage footprint size in these smaller facilities. Those facilities with low ceilings can use Modula's horizontal carousel storage systems.
These automated storage systems, when combined with picking solutions such as the new Picking Cart, Picking Station and Put to Light systems, can boost both productivity and accuracy in order preparation. These systems guide operators so they can move more quickly, dramatically increasing operational efficiency while all but eliminating picking errors. What's more, it's easy to integrate Modula automated storage systems into a warehouse. It typically takes only 8 to 10 weeks to go from ordering a Modula storage system to bringing it online, thanks to Modula's U.S. production facilities and quick installation.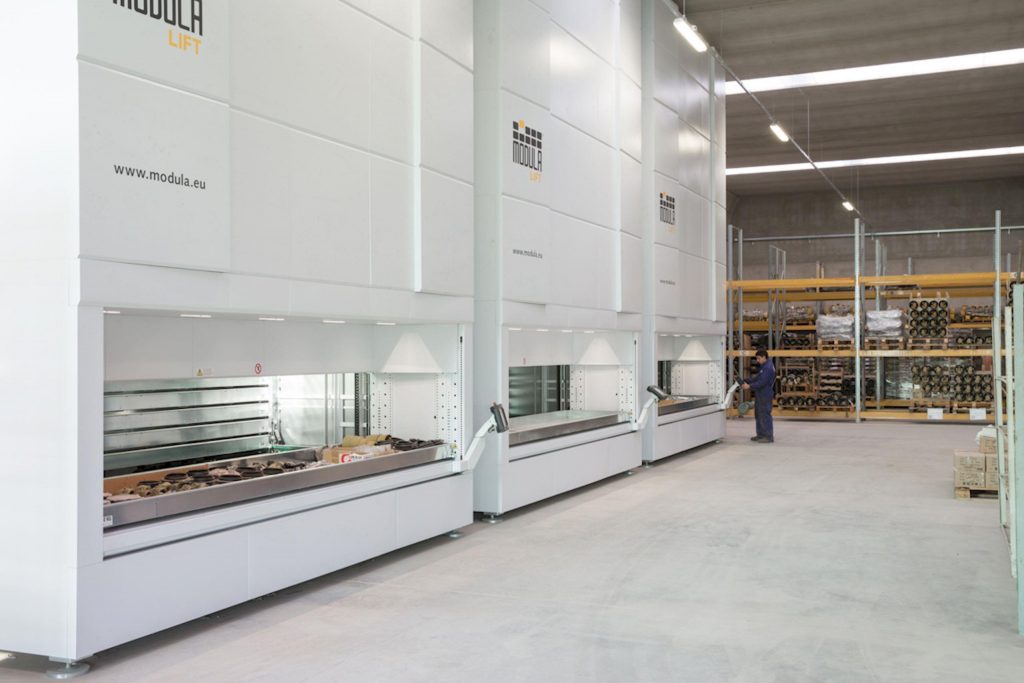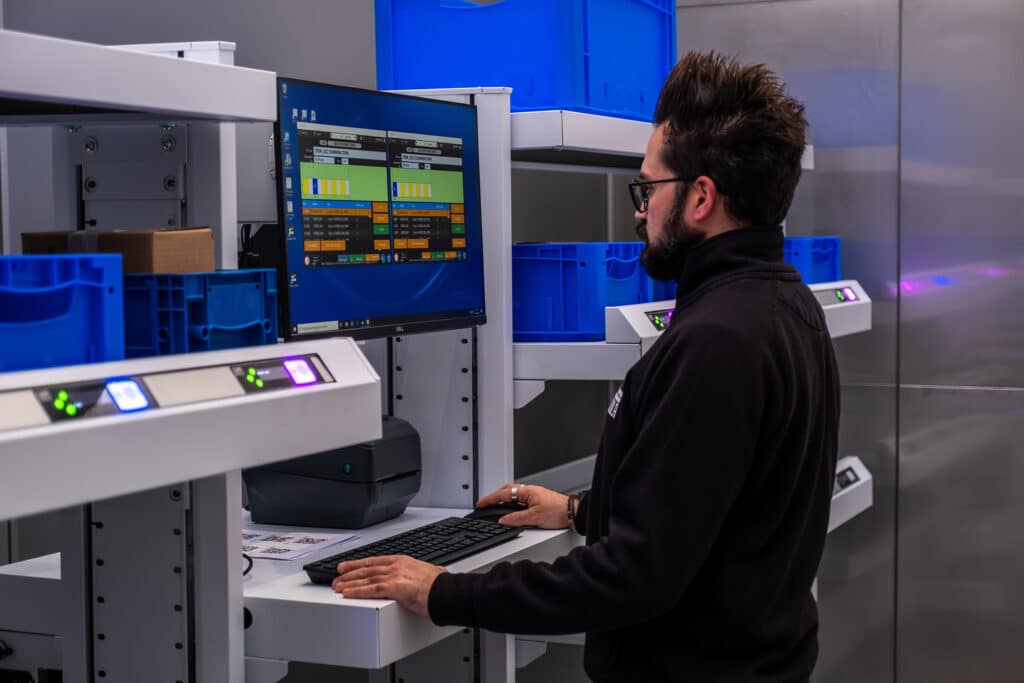 Modula automated vertical storage systems also are highly flexible. They can be relocated as needed, and because of their modular construction can be combined with additional storage systems at any time. On average, the gains in efficiency and accuracy from purchasing a Modula unit result in a return on investment in anywhere from 6 to 18 months.