Enhancing Warehouse Connectivity for Faster Fulfillment With Smart Factory Solutions
Manufacturers worldwide face considerable challenges as industries increasingly become more digitized and automated in the pursuit of Smart Factory Industry 4.0 operation.

According to a report by Market Research Future (MRFR), the global Smart Factory market is projected to reach a size of USD 138 billion by 2030, growing at a compound annual growth rate (CAGR) of 5.23%.

Despite the proliferation of robotics and machine/process interconnectivity, many aspects of manufacturing have only marginally embraced Industry 4.0 initiatives.
The fundamental aspect of the Smart Factory is the exchange of data between production and distribution processes, which communicate with each other using the Ethernet and the cloud-based Industrial Internet of Things (IIoT).
Essentially, this means that a much higher volume of data can be gathered from multiple processes and made available in a common format to allow for broader usage and analytics.
In cooperation with humans in synchronic time, cyber-machine/human integration enables an efficient and remote connection of processes and organization within the production and distribution environment.
The Need for Smart Factory Solutions
Supply chain executives in virtually every industry are faced with considerable challenges when balancing production runs, inventory volumes, and delivery schedules.
Operations managers are increasingly required to store more products in existing warehouses, to retrieve them faster for growing volumes of just-in-time orders, make more efficient use of labor, reduce energy consumption, and improve cost efficiency.
Consequently, manufacturers are more closely looking at their manufacturing and distribution models and how they can better balance their inventory against production and delivery. The optimum solution embraces Smart Factory connectivity.
In many facilities, intralogistics solutions are not integrated. Although many manufacturers are aware of the benefits of integrating their warehousing, picking, packing, and shipping processes, the complexity of integrating proprietary systems can be a major barrier. Companies are challenged with navigating solutions for issues like:
The absence of direct communication between equipment
Inadequate data capture
Lack of in-place troubleshooting
Tedious programming
Reduced visibility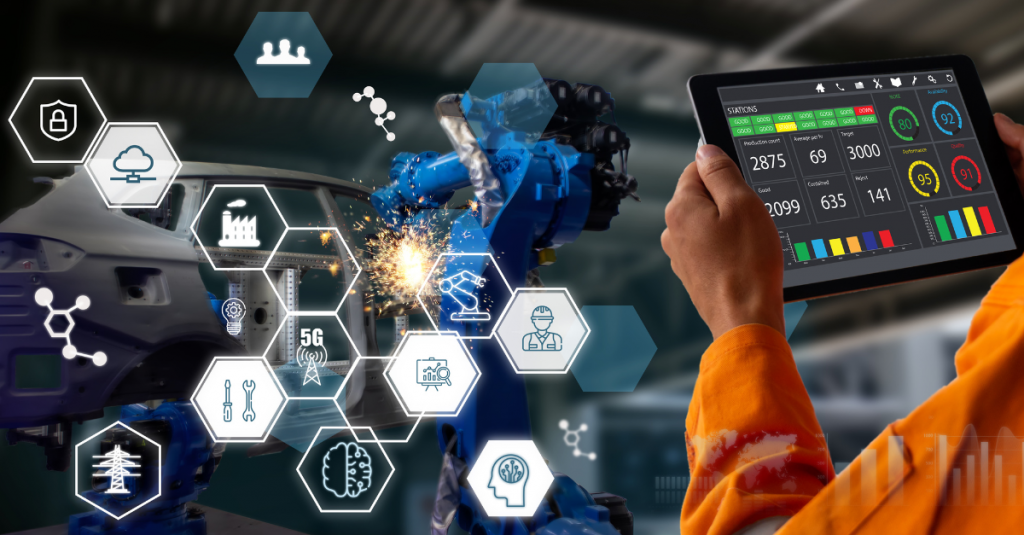 Small-Piece Storage and Fulfillment in the Smart Factory Warehouse
At the very core of today's Smart Factory warehouse is the automated storage, picking, and fulfillment of small-piece items and finished goods.
Whether it be storage of finished goods, replacement parts, retail e-commerce micro-fulfillment, tool cribs, or kitting for assembly, an automated storage and picking system for small-piece order fulfillment is vital.
Such a system is best exemplified in the use of vertical lift modules (VLMs) and horizontal carousels (HCs), which are capable of handling thousands of different SKUs, allowing small-piece inventory to be stored, picked and packed within a very small footprint, and with a very high level of speed and efficiency.
VLMs and HCs possess a unique capability to store inventory in a very compact space, which significantly reduces the size of conventional inventory storage by up to 90%. This enables facilities to save valuable floor space and concentrate operations in a smaller footprint closer to where they are needed. In turn, this allows them to optimize the flow of the operations and minimize or eliminate the need for off-site storage.
The modular, scalable design of VLMs and HCs allows them to function in both high-ceiling and low-ceiling environments and facilities with unusual configurations. These systems can easily expand or contract as needed to accommodate changes in SKU counts and throughput volumes. Storage of both ambient and temperature-controlled products between 35.6° F and 77° F is possible.
VLMs utilize the available room height from floor to ceiling, allowing for items to be stored up to 52 feet high on a very confined footprint, maximizing the use of vertical space within the facility. The HC is designed for use where ceiling height is limited.
The latest evolution of VLMs and HCs, however, has progressed beyond these capabilities by providing a level of integration and connectivity to support Smart Factory operation. Representatives of these automated storage and retrieval solutions are those systems manufactured by us at Modula.
Modula VLMs and HCs deliver a uniquely streamlined and simplified approach for automated small-piece storage and fulfillment in Smart Factory 4.0 distribution, as evidenced by two distinct capabilities:
By integrating items and inventory from both automated storage and static shelving via a smart, dedicated WMS platform, VLMs and HCs provide complete Ethernet connectivity with the plant WMS and house ERP. This enables real-time visibility and optimization of all small-piece storage, pick, and pack functions.
VLMs and HCs are IIoT cloud-enabled, permitting complete system diagnostics and analytics to ensure the VLMs and HCs continue to operate at peak performance, minimizing downtime for maintenance.
WMS Connectivity as a Smart Factory solution
For the management of these VLMs and HCs, a dedicated and more holistic warehouse management system (WMS) is the most ideal scenario, one that is focused exclusively on receiving, picking, and putting away products for small-piece fulfillment.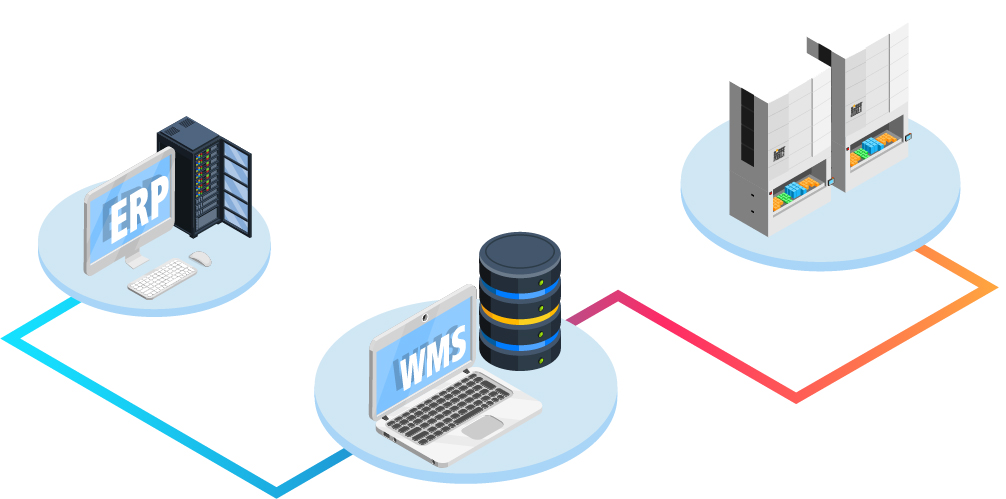 One such system is the Modula WMS — a complete inventory management software designed to operate VLMs and HCs, and seamlessly integrate with traditional manual warehouse inventory in static racking.
A key feature is that the WMS is designed to integrate in real-time with the facility's host WMS via Ethernet, ensuring that the host WMS knows the location of every item to be picked or refilled. The VLM and HC's WMS interfaces with virtually all WMS, DMS, MRP, and ERP platforms, making processes such as receiving, picking, and putting away products faster and more accurate. The VLM and HC WMS permits the host WMS to monitor the VLM and HC units directly.
Each VLM and HC is equipped with a color touchscreen console Copilot, connected to Modula WMS via Ethernet, which makes it easy to operate and request specific items or execute orders.

Graphical visualization of the tray layout shows the operator clearly where their desired item is in the VLM or HC. The Copilot also displays all requested information relating to picking or refilling operations, such as item code, quantity, and item notes.
A dedicated and connected WMS for small-piece inventory storage and picking with VLMs and HCs provides inherent benefits for real-time visibility of inventory and management of picking and packing operations.
Some of the benefits include:
Elimination of Manual Input
Manual input is prone to human error, even when set processes are in place. Manual input can be avoided by using barcodes and other automated and integrated solutions with VLMs and HCs to manage the small-piece inventory in the WMS.
Many manufacturing and warehouse operations utilize sophisticated MHE and WMS but still maintain thousands of SKUs with shelving, drawers, and tool cribs, which are manually stored and picked. Not all WMS are designed to provide easy integration, status monitoring, management, and reporting of items held in non-automated storage.
A dedicated WMS for small-piece inventory storage and picking with VLMs and HCs has the capacity to integrate inventory from static shelving digitally with the VLMs and HCs, and make this data accessible via Ethernet to the host WMS and ERP.
An insight-driven dashboard can be tailored to meet each user's specific needs and preferences. Personalized views include the ability to filter and sort data, customize the layout of information, set up alerts and create custom reports. This personalization feature lets managers gain real-time visibility into key performance metrics and make data-driven decisions to optimize their warehouse operations.
Track and Trace Unique IDs
The need to track unique IDs throughout the supply chain is a rapidly emerging requirement for manufacturers, retailers, and distributors. Especially for those with high-value smaller-item products. Track and trace refers to a set of digital tracking tools that are used to ensure both regulators and companies can verify the authenticity, identity, and location of a specific product.
Most warehouse management systems (WMS) lack the necessary functionality to handle the specific identification requirements for track and trace, especially for pharmaceutical products. However, the latest Vertical Lift Module (VLM) and Horizontal Carousel (HC) WMS do offer this capability. These systems are well-suited for digitally managing inventory that requires track and trace capabilities. They can also seamlessly share the relevant data with the host WMS and management through Ethernet connectivity
Fast Installation and Connectivity
Unlike many WMS that require considerable time to install, the latest WMS, such as the Modula WMS, allows for a rapid installation process. It comes with a standard set of interfaces for connection with the company's ERP, like SAP, Baan, Oracle, Microsoft Dynamics NAV, Epicor and others.
Modula provides blueprints for the creation of standard interfaces with protocols such as ASCII, ODBC, XML, and REST API (Webservices). The focus is on quick and secure integration and connectivity with existing systems to enable seamless order and inventory management between the host WMS and company ERP via Ethernet.

Cloud-based Remote Reporting as a Smart Factory Solution
A unique capability of the latest VLMs and HCs is real-time system performance and metrics reporting via IIoT cloud connectivity. This is clearly emphasized in Modula Cloud, a remote analytics and reporting platform that collects statistical data from each automated storage and retrieval unit, no matter where it is located.
Modula Cloud collects and analyzes data from each VLM and HC unit, then automatically transfers the information to a user's secure cloud platform. With advanced user authentication, users can access the data ― for an individual VLM or HC, or multiple units at various locations — on the user's portal, which is accessible from any device and location.
An interactive map allows the user to view where the VLM or HC is operating, and with a simple click on the map, the user can access real-time performance reports for each individual unit.
Reporting and capabilities of Modula Cloud include the following:
Modula Cloud tracks the information and activities coming from the warehouses ― even on multiple systems and in various cities and countries — so that the data of each individual VLM or HC is available. This data covers the total number of missions, the number of missions per day or per period, tray saturation, throughput cycles, and warehouse status online/offline.
Users have access to detailed reports on how efficiently a machine's trays are being used and the status of the trays —whether they are out of balance and need items to be reallocated, for example. Operators can see how many cycles have been run and how much energy has been consumed, on top of other relevant data.
Operators will know immediately if a machine is running properly, if it is offline, or if it is experiencing a problem that needs to be addressed.
Using software, algorithms and information gathered from IIoT sensors, the VLMs and HCs can self-report on their servicing needs. This capability analyzes data from each VLM or HC unit to create optimum maintenance schedules and assess when interventions are needed.
The remote monitoring shows critical information through custom dashboards, alarms, and predictive notifications. This information can be used to automatically generate work orders associated with maintenance activities.
Data Accessibility and Security
Data on VLM and HC performance and metrics is collected and uploaded to the cloud through a communication protocol. It is accessible to authorized users through unique usernames and passwords.
To keep the information secure, Modula Cloud was developed entirely with Microsoft technology and is hosted on the Microsoft Azure cloud platform. As one of the leading public cloud providers, Microsoft equips its cloud with all the latest safety certifications for information management, as well as cryptography systems for authentication and data exchange.
The only prerequisite for the client on the IT side is a stable and continuous Internet connection from the Modula Server PC workstation.
Essentially, this cloud-based diagnostic and reporting system provides complete real-time visibility into every aspect of the VLM's or HC's operation.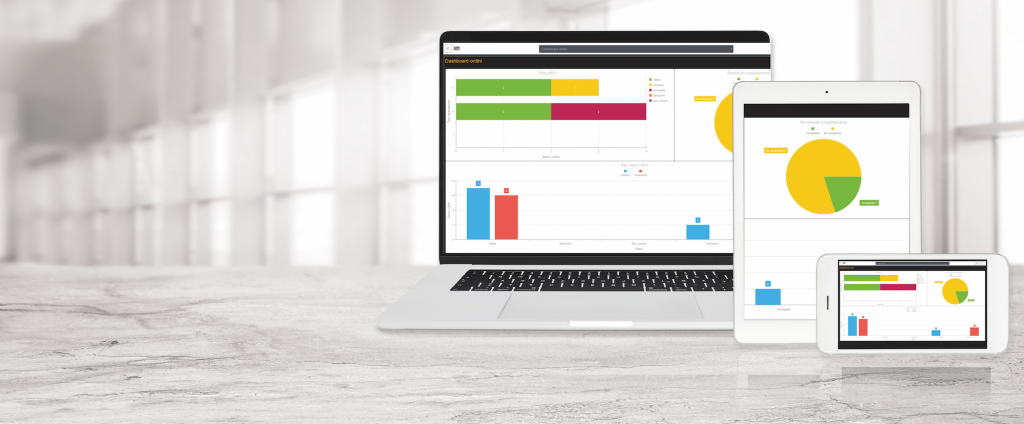 Embracing Industry 4.0 and Smart Factory Solutions
Attaining the highest level of production efficiency is the aim of implementing a Smart Factory initiative.
To achieve this, manufacturers need to develop individually tailored and complete intralogistics solutions that provide both security and flexibility to lead them smoothly into their digital future.
A critical component is leveraging interconnected automation solutions across multiple distribution processes, which is necessary to enable a more seamless production flow. Fundamental to this evolution is the use of integrated VLMs and HCs for automated small-piece fulfillment.