Modula WMS: Why you need more than an ERP system
How a warehouse management software brings out the best in your automated storage
Today's businesses rely on their information systems to fulfill orders with the speed and accuracy their customers demand. Delays and returns not only are costly, but they can also erode consumer confidence and lead to a drop in market share over time.
As organizations have grown and become more complex over the past few decades, information technology has had to evolve to keep track of ever-growing databases of information and multiple input sources. Enterprise Resource Planning (ERP) systems have been the solution for many of these issues. Some companies have assumed that a good ERP is all they need to ensure they're tracking the flow of their materials. But there are limits.
The emergence of warehouse management software
While an ERP can give an organization a holistic view of what's happening, it can't zoom in on the operational details of a warehouse or factory – when an item was picked or replaced, how many units remain of a given part, where items are located, etc. That is what led to the next stage in the evolution: the development of the warehouse management system (WMS).
Difference Between WMS and ERP Software
ERP software is an all-in-one solution designed to coordinate all information and material flows upstream. It encompasses administrative functions, warehouse management, human resources, quality control, and project management.
On the other hand, a Warehouse Management System (WMS) is a powerful tool specifically designed to effectively manage and track inventory movements within a warehouse. It provides comprehensive insights into the entire inventory lifecycle, from receiving and put-away to picking, packing, and shipping.
What sets the WMS apart from an ERP is its real-time intelligence, enabling optimal inventory movement and enhanced decision-making.
With the WMS, users can generate detailed reports based on historical data and trends, guiding the optimal placement of items for efficient put-away. The system strategically allocates products to specific locations based on bin and shelf utilization, streamlining warehouse workflows. This allows real-time tracking and mapping of goods stored and handled across the entire supply chain.
Key functionalities of the WMS include:
Defining stocking and non-stocking locations, ensuring accurate inventory counts while distinguishing available products from those already allocated to orders.
Prioritizing and rating stocking locations to improve the efficiency of the picking process.
Tracking product movements precisely, from shelves to carts and designated stations, enhancing visibility and control.
Facilitating cross-docking, allowing seamless receiving and shipping of products without intermediate storage.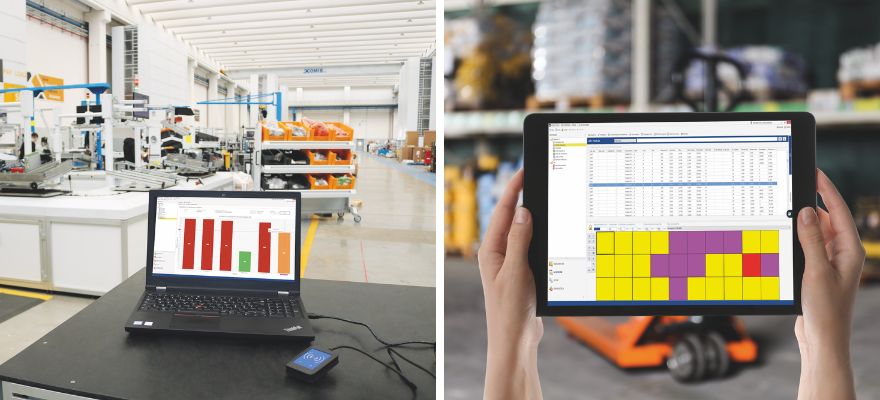 So, which system does a company pick when it wants to keep tabs on its processes and maintain an efficient warehouse?
The answer is that you use both, and connect them to your automated storage systems. By integrating a Warehouse Management System with your existing ERP, along with automated equipment such as the Modula Lift VLM, and conventional storage and retrieval methods, like shelving and manual picking, you create a comprehensive and highly efficient solution for your warehouse management needs."
Automated storage systems are the body for your ERP/WMS brains.
There's one other critical piece in this information-flow model: a storage machine that can keep pace with the requirements of moving materials quickly and efficiently. It's fine to keep track of data with an ERP and WMS. But if they're being deployed in a traditional warehouse, productivity will be constrained. There's only so much speed that can be expected from manually retrieving materials from shelves scattered across a large warehouse.
That's where Modula vertical lift modules (VLMs) and horizontal carousels come in. These highly automated machines can boost productivity dramatically. From 50 or so parts picked per hour per person to as much as 300 parts per hour. VLMs are also particularly helpful in reducing the floor space required in a warehouse. Companies can reduce warehouse floor space as much as 90% by consolidating static shelving into a VLM.
In addition, this combination provides better control of:
Stock management

Rotation rates

Routes and flow optimization

Operator management
All of Modula's storage systems can be equipped with the Modula WMS. Therefore every action performed with the machine is instantly recorded. This information in turn can be easily shared with your ERP. Because the Modula system has been designed to integrate with a wide variety of ERPs, there's no need to hire someone to create customized software to link the WMS to your ERP. That's a tremendous cost-saving because such customized solutions can be very expensive.
Leverage Modula Warehouse management software to enhance your automated storage
Good warehouse inventory software optimizes order management and picking activities. As a result, companies can speed up order execution for both picking and replenishment with complete item traceability. Designed with the user in mind, the software will be intuitive and easy to use, even for less experienced operators. Here are some examples of software solutions by Modula that will benefit your warehouse operations. 
Modula WMS – An effective way to manage your picking operations
Modula WMS was designed expressly to operate automated storage equipment such as the Modula Lift VLM, as well as conventional storage methods such as shelving and manual picking.
The system offers real-time monitoring and control of your warehouse operations through an easy-to-use PC interface. This makes it one of the most intuitive and advanced software solutions on the market.
Setting up the Modula WMS is really easy.
All you need is a PC to serve as the warehouse server, and a few additional PCs to provide your staff with access to the system. Should your operations expand, adding more PCs to accommodate the growth is a simple process.
Once the WMS is installed, it seamlessly interfaces with almost all DMS and ERP systems. This makes administration, invoicing, production orders, customer orders, and picking operations easier and more productive.
Thanks to this smooth connection, the overall warehouse processes become more accurate, precise, and efficient.
Modula Copilot – A simple and intuitive interface
Every Modula VLM can be equipped with the easy-to-use Modula Copilot. The 10.5" touchscreen with a color display makes it simple for operators to operate the VLM and request specific items. Graphical visualization of the tray layout shows the operator clearly where their desired item is in the VLM. The Copilot also displays all information relating to picking or refilling operations, such as item code, quantity, and item notes.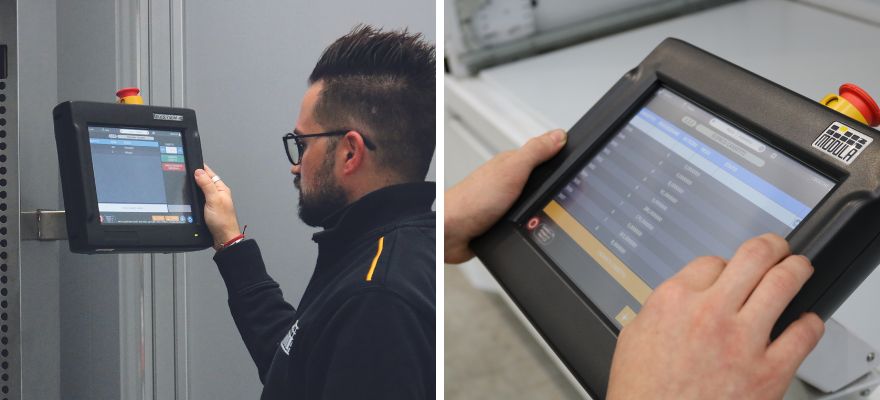 Warehouse management software: What our customers are saying
The Modula WMS system, along with our Copilot console for retrieving materials, are user-friendly. For those buying Modula storage units, the Modula WMS has been a no-brainer.
Take the experience of Global O-Ring and Seal LLC, a Texas-based distributor of rings and seals for a wide range of products.
"In this market space, we compete by delivering better service to our customers," says Jeff Korkowski, vice president of sales and marketing for Global O-Ring. "The benefit of the Modula system has been the ability to deliver the right product quickly. I also love the fact that we've got the Modula warehouse inventory software connected to our ERP system. So there's this seamless transfer of an order from a customer to the operations team. And that can make all the difference in the world for our customers."