Modula Slim: The most compact VLM in the market
Slim is the perfect choice for warehouses with limited floor space that need flexible storage options. Slim uses the same advanced storage technology as our Lift model – boosting productivity, accuracy and inventory management – but in a much smaller footprint. It's perfect for storing a wide array of materials and products, including containers, (boxes, bins, cartons, cases), small items, spare parts, coils, bottles, loose material, and more.
All the benefits of a VLM in the footprint of a vertical carousel
Double the load capacity: Slim has twice the load capacity of typical vertical carousels (55,115 lbs vs. 27,557 lbs, or 25,000 kg vs. 12,500 kg)
The smallest of footprints: The most compact VLM in the industry, Slim requires only 32.29 square feet (3 square meters) of floor space. Available in three widths: 66.33, 89.96 and 113.58 inches
Optimize storage density: Make use of all the available space in your VLM, thanks to dynamic tray height storage. Slim calculates the best way of arranging trays and eliminates all wasted space between them
Low energy consumption: With a choice of a three-phase (480V) or single-phase (220V) power supply, Slim consumes less than 1.2kW/h
Quick to install, easy to learn
Intuitive controls: Your operators will benefit from an intuitive touchscreen interface and picking aids, all integrated into the design
Easy to learn design: In just a few days, your staff will be up to speed and taking advantage of Slim's many benefits
Ready to run in 48 hours: Slim is built on a pre-assembled base module that ships quickly and can be installed in your facility in 48 hours. It's also easy to bring online and connect with your company's existing inventory management systems
Ergonomic design that operators love
Enhances operator efficiency and comfort: Delivers materials to operators quickly and at proper height
Unmatched picking accuracy: Enhanced by available alphanumeric LED bars and automated pointing lasers
Modula Slim customization options
A range of customization options are available for the Modula Slim to customize it for different operations. Your Modula dealer can help you determine which accessories are best for your situation.
Productivity
enhancements
Boost your Slim with end-to-end inventory and warehouse management
Modula provides a range of advanced warehouse management and remote support and analytics systems with automated materials handling and complete inventory management, seamlessly integrated with our customer's choice of ERP or DMS.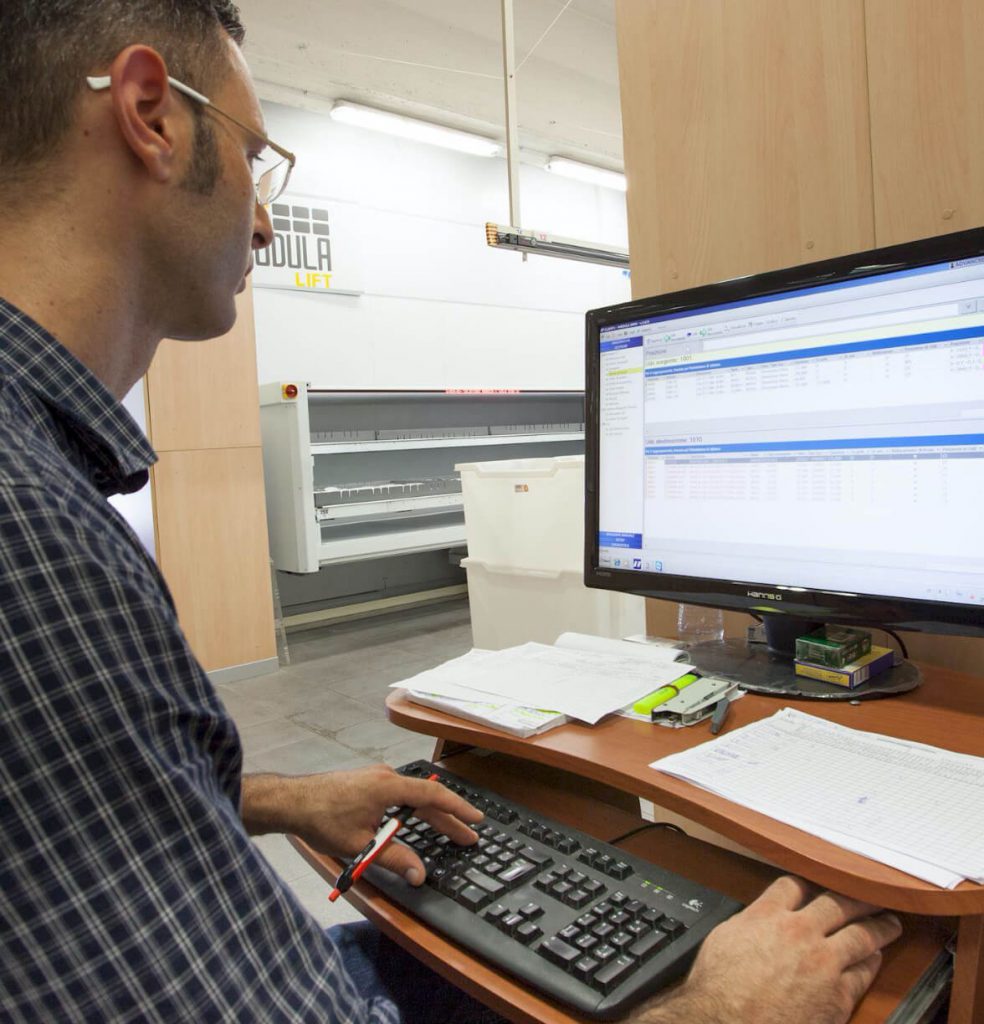 Modula WMS Base
Ideal for small or growing warehouse footprints,
free for life with any Modula unit purchase.
Modula WMS Premium
An advanced, end-to-end inventory and warehouse management solution for larger operations.
Modula Slim technical highlights
---
Unit heights
7'11"–22'12" (2,400–7,000 mm)
Unit height increment
3.94" (100 mm)
Tray storage pitch
1" (25 mm)
Tray widths
51, 75 or 98"
(1,300, 1,900 or 2,500 mm)
Tray depths
16.73" (425 mm) for all models
Maximum tray load capacity
771.68 lbs (350 kg) for all models
Unit footprint
66.33, 89.96, or 113.58" W X 65.90" D (1,650 or 2,050 mm W x 2,376 mm D)
Subaru of New England revs up its parts distribution with Modula VLMs
Case Summary
Subaru of New England was moving into a new, larger facility and wanted to update its storage system to address problems of inefficiency, wasted floor space, and ergonomic risks to its workers. By installing nine Modula vertical lift modules, the distributor greatly enhanced throughput, ensuring orders are fulfilled promptly and accurately while reducing floor-space requirements and enhancing conditions for its workers.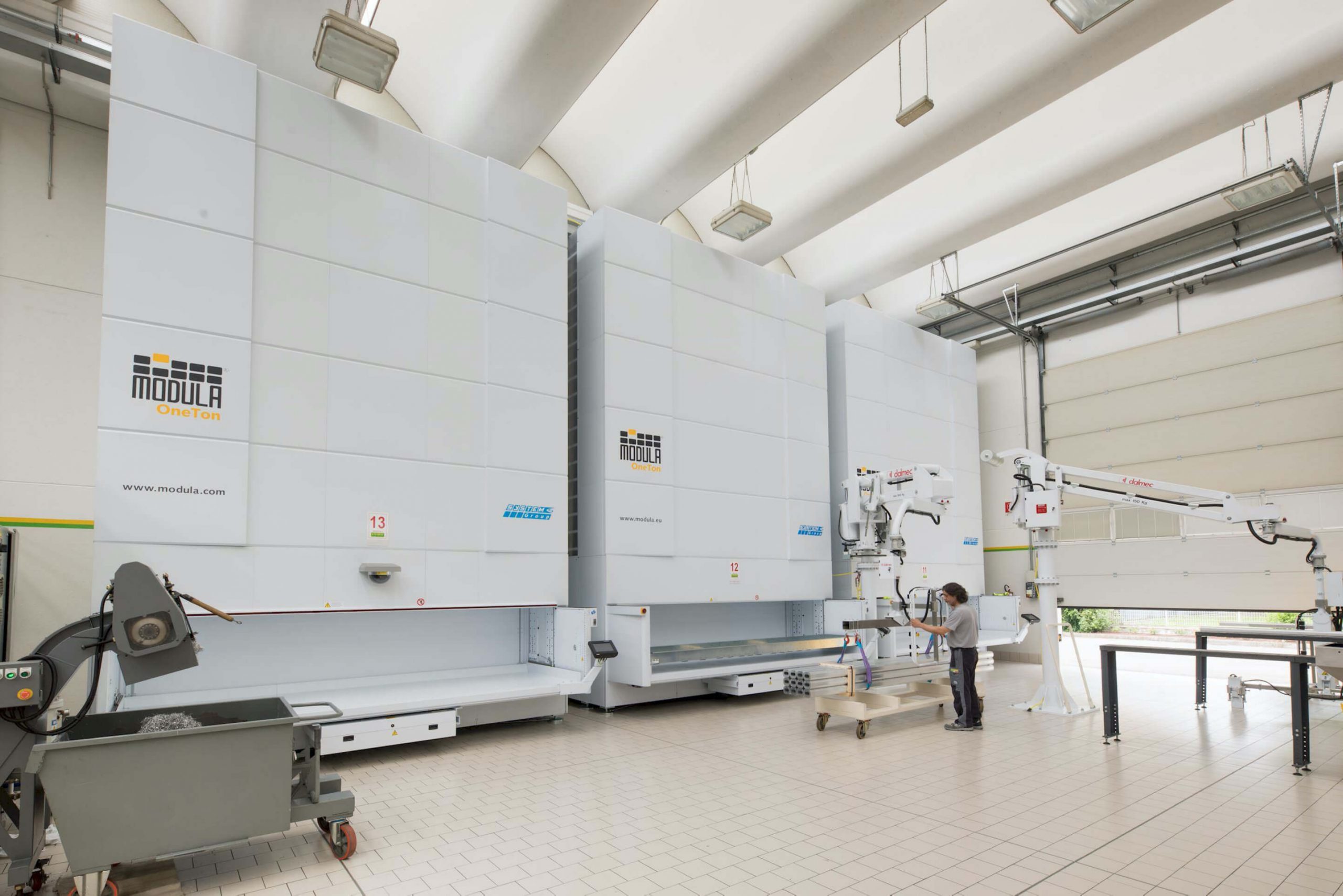 Want to improve the performance of your picking and storage operation?
Maximize the performance of every inch of your floor space with Modula Vertical Lift Modules.