Modula Lift:
Our most popular
vertical lift module
Available in a wide range of sizes and capacities, Modula
Lift is the ideal storage solution for industrial products,
components and spare parts for all possible environments
and industries. With a throughput of up to 130 trays per
hour and a tray payload capacity of up to 2,200 lbs, it's a workhorse of a machine. Like all our VLMs, the Lift can
dramatically reduce your space requirements (up to 90%)
while increasing the speed, efficiency, and accuracy of
your picking operations.
As much as 9,050 square feet of traditional storage in only 150 square feet
Recover space: By taking advantage of high ceilings, you can dramatically reduce space dedicated to storage.
Maximum payload for every tray width: Robust Modula trays are designed to accommodate heavy loads without strain.
Internal or external bay: Internal bays are best for limited floor space applications. External bays allow for fast pick rates, as well as picking aids such as cranes or mechanical manipulators.
Single or dual delivery: Single delivery is suitable for situations with less stringent throughput requirements or quick picking time. Dual delivery reduces wait time for the next tray, enhancing productivity especially when done in conjunction with an external bay.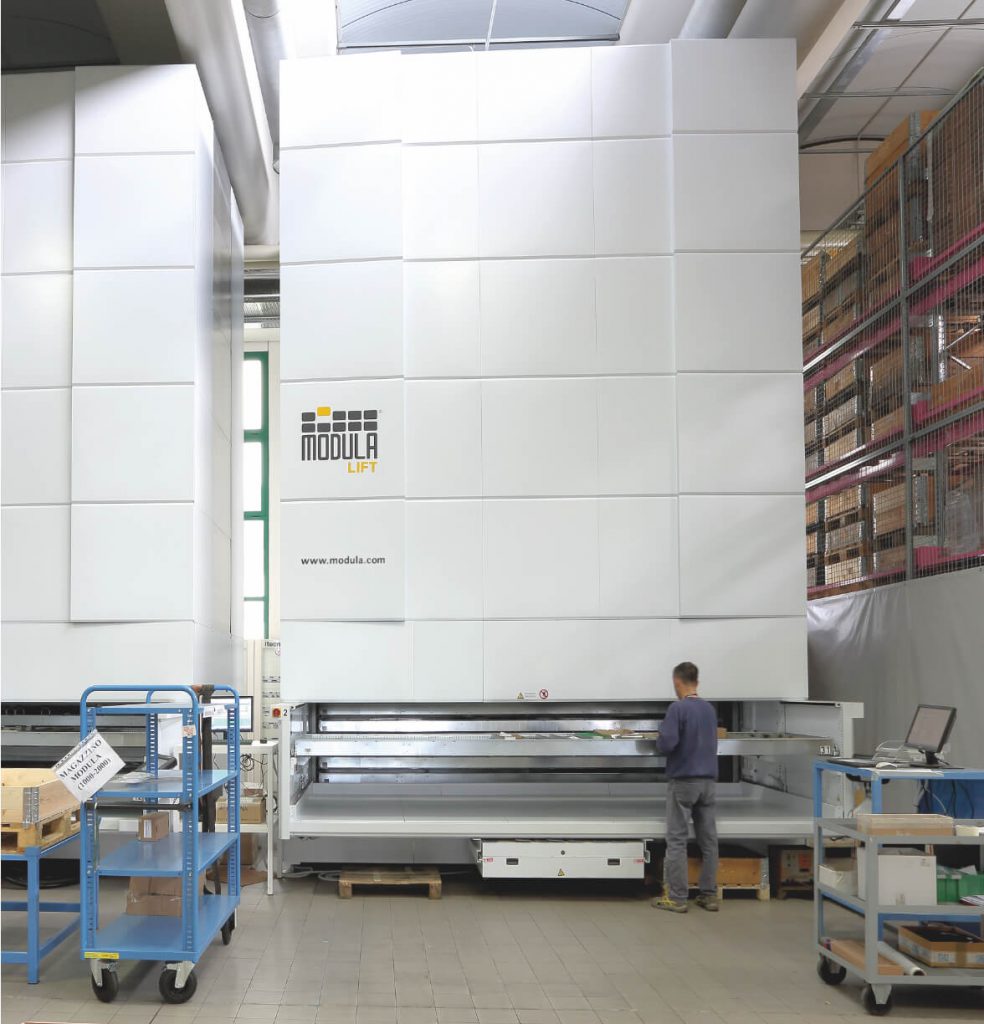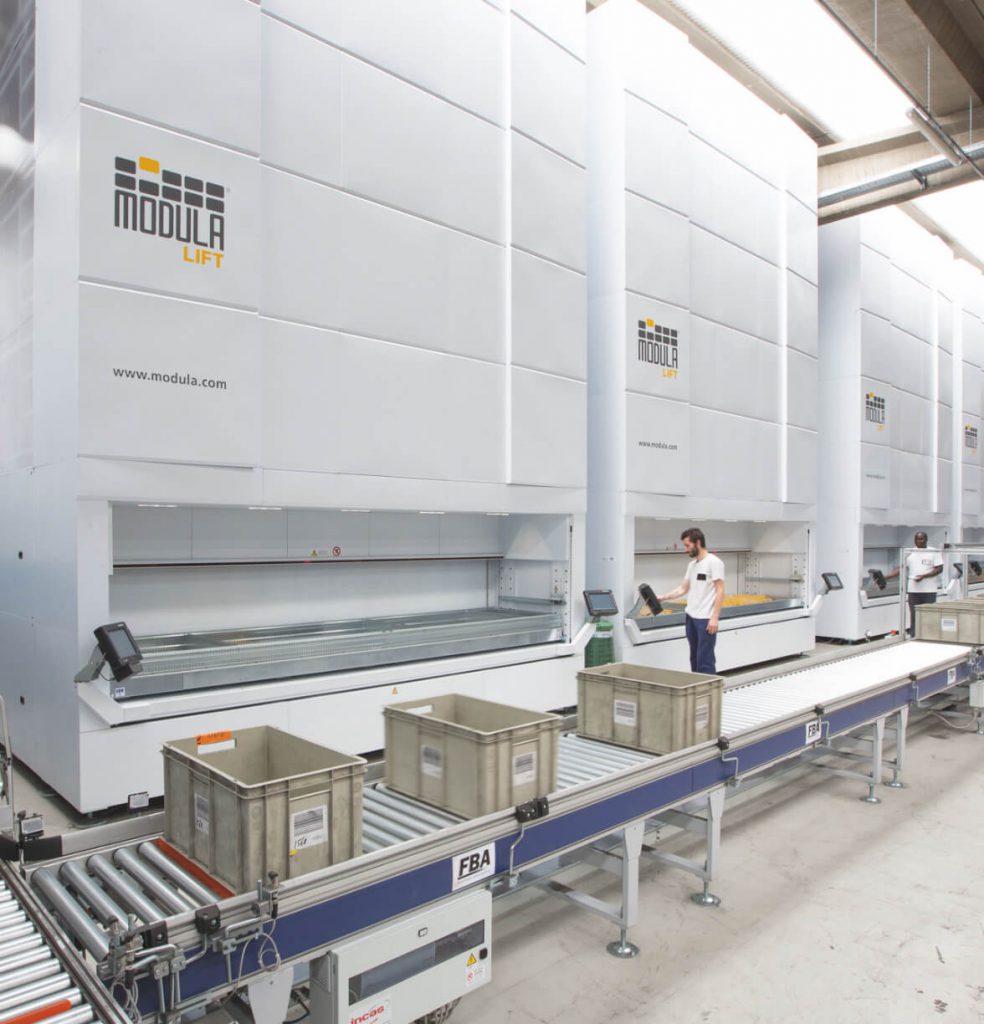 Picking speeds of 300 lines per hour – or more
Increased productivity and accuracy: With simple visual picking aids, operators can quickly and easily identify the items needed to be picked or replenished.
Boost inventory management: All picking operations are monitored and documented to offer full order traceability and monitor stock levels in real time.
Increased security and a clean environment for your product: Items are stored in a fully enclosed system which prevents goods from being damaged or exposed to dust. Access can be restricted to designated employees.
Coordinate with the rest of the organization: The Modula Warehouse Management System (WMS) exchanges information with your company's ERP (SAP, Oracle, Microsoft, etc.), MRP, or other applications.
Ergonomic and efficient working environment
Reduce the risk of injuries: By eliminating the stress and strain of reaching high and low, Modula VLMs help employees stay safe on the job.
Improve efficiency and save time: Workers aren't scrambling around a huge warehouse trying to locate items – they just retrieve what they need from a small number of VLM stations.
Ease operational effort with the Copilot console: The console simplifies materials management, both in retrieving and replenishing items.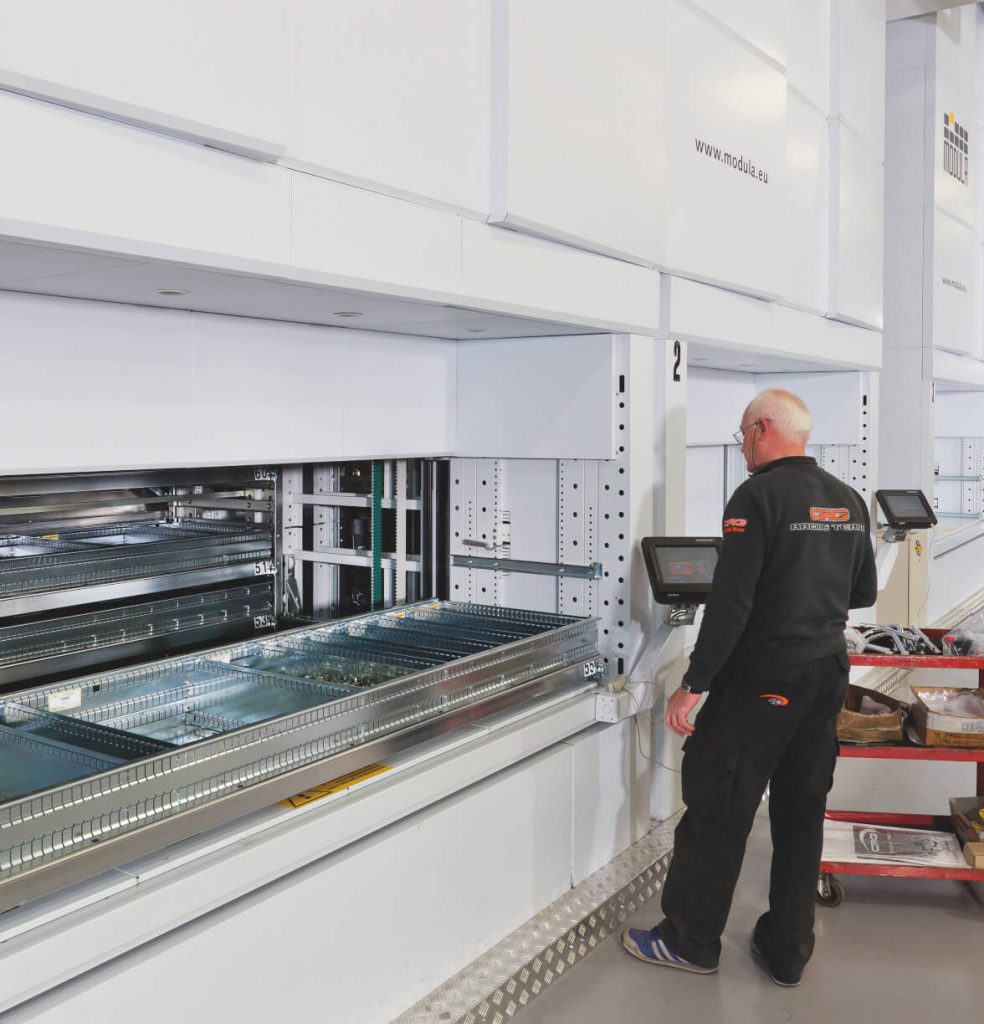 Modula Lift customization options
A range of customization options are available for the Modula Lift to tailor it for different operations. Your Modula dealer can help you determine which accessories are best for your situation.
Productivity
enhancements
Boost your Lift with end-to-end inventory and warehouse management
Modula provides a range of advanced warehouse management and remote support and analytics systems with automated
materials handling and complete inventory management, seamlessly integrated with our customer's choice of ERP or DMS.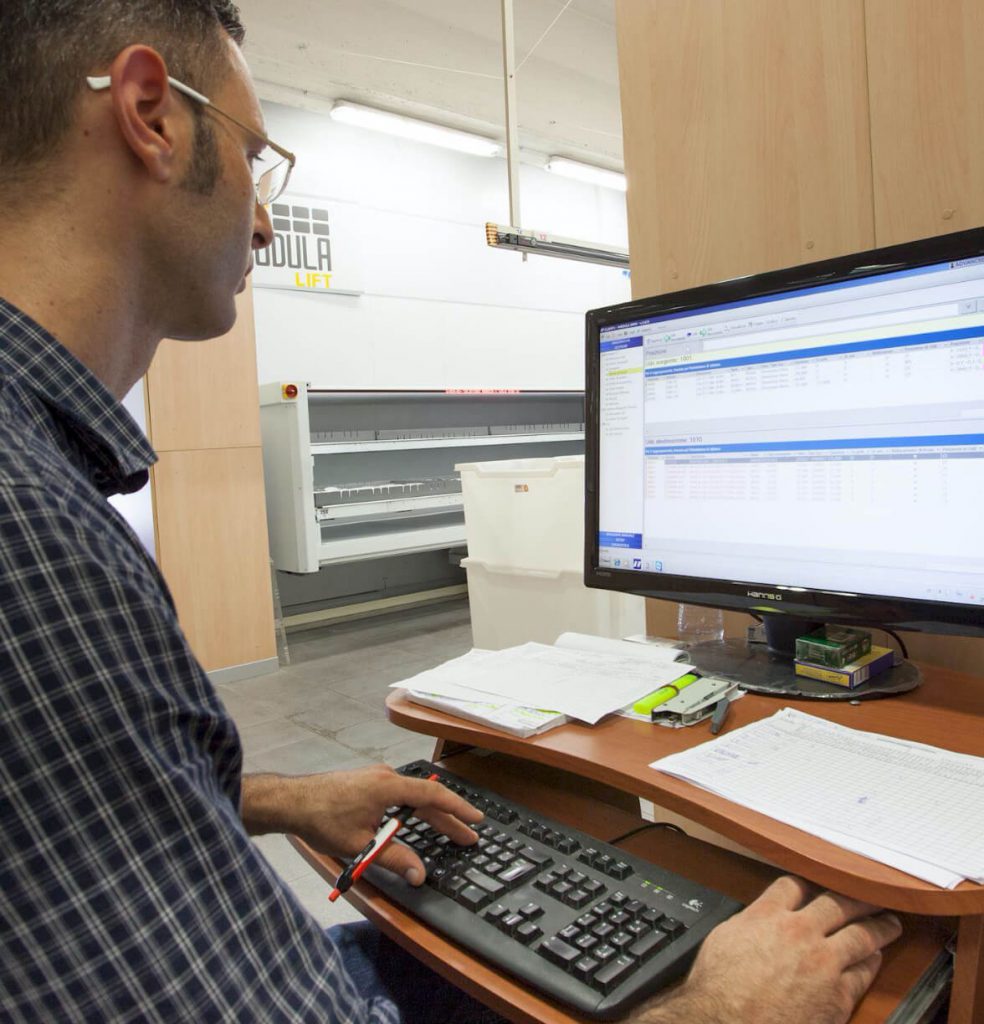 Modula WMS Base
Ideal for small or growing warehouse footprints,
free for life with any Modula unit purchase.
Modula WMS Premium
An advanced, end-to-end inventory and warehouse management solution for larger operations.
Modula Lift Technical Highlights
---
Unit heights
10'10"–52'10" (3,300–16,100 mm)
Unit height increment
7.87" (200 mm)
Tray storage pitch
1" (25mm)
Tray widths

59, 75, 98, 122 or 161"
(1,500, 1,900, 2,500, 3,100 or 4,100 mm)
Tray depths
25.75" & 33.74" (654 mm & 857 mm)
Net tray payload capacities
551, 1,102, 1,653 and 2,182 lbs
(250, 500, 750 and 990 kg)
Gross total payload
77,000–200,000 lbs
(35,000–90,000 kg)
Subaru of New England revs up its parts distribution with Modula VLMs
Case Summary
Subaru of New England was moving into a new, larger facility and wanted to update its storage system to address problems of inefficiency, wasted floor space, and ergonomic risks to its workers. By installing nine Modula vertical lift modules, the distributor greatly enhanced throughput, ensuring orders are fulfilled promptly and accurately while reducing floor-space requirements and enhancing conditions for its workers.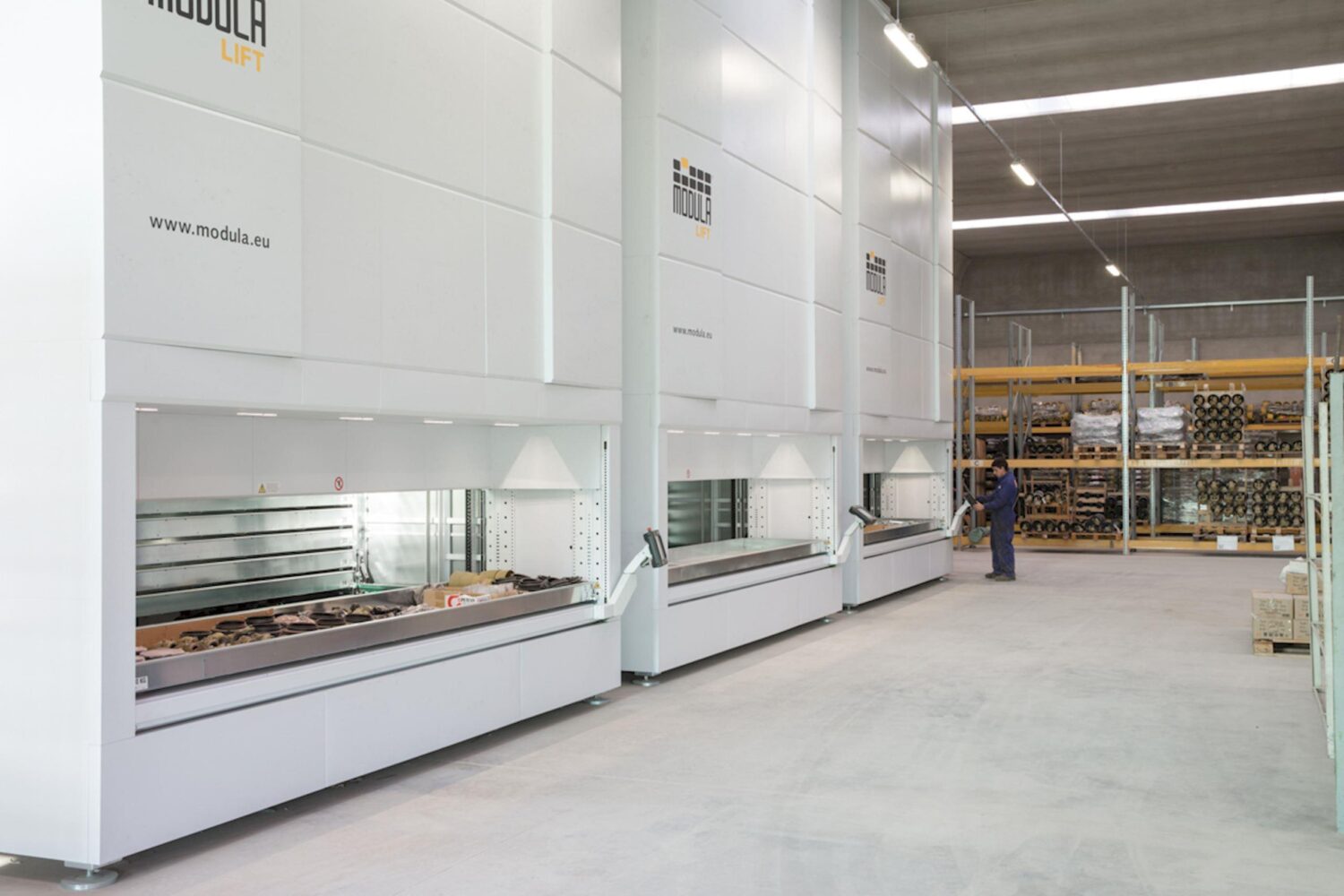 Want to improve the performance of your picking and storage operation?
Maximize the performance of every inch of your floor space with Modula Vertical Lift Modules.