Modula to showcase its Automated Solutions at ProMat 2023
Event: ProMat 2023
Location: McCormick Place, Chicago, IL
Dates: March 20 – 23, 2023
Visit our team: Booth #S1926 (see floor plan)
We are excited to announce that our company will be exhibiting at ProMat Show 2023, taking place on March 20-23 in Chicago, Illinois.
ProMat Show is one of the leading trade shows for the manufacturing and supply chain industries, bringing together the latest solutions and technologies to help companies optimize their operations and increase efficiency. As a leading provider of vertical lift modules, horizontal carousels, and advanced order-picking systems, we are thrilled to have the opportunity to showcase our complete automated solutions at this premier event and connect with industry professionals from around the world.
At our exhibit, visitors will have the opportunity to witness how our vertical lift module seamlessly integrates with an autonomous mobile robot (AMR) to provide a fully automated order fulfillment solution. These technologies, which can range from manual to fully automated applications, can significantly improve efficiency, and productivity, and reduce labor and costs.
Our solution, designed for modular and rapid implementation, is highly adaptable to warehouses and distribution centers of various sizes and layouts. As a result, it enables gradual automation, giving businesses the flexibility to transform their processes at their own pace.
Additionally, we will demonstrate how our advanced order-picking system, featuring a picking station that enables picking from both the vertical lift module and horizontal carousel, can enhance order-picking precision and speed.
Our team of experts will be on hand to answer any questions and provide demonstrations of our products and services.
In addition to exhibiting, we will also participate in several educational sessions and networking events throughout the show, providing attendees with even more opportunities to learn from industry leaders and connect with their peers.
Meet Modula at ProMat 2023
We look forward to seeing you at ProMat Show 2023 and invite you to visit our booth to learn more about how our complete automated solutions can benefit your business.
ProMat 2023 at McCormick Place
March 20-23rd, Booth #S1926 
Attend ProMat 2023 as our guest:
We're happy to have you attend as our guest! Register here for your free expo pass:
Experience the latest on automation and material handling, even if you're unable to attend the trade shows in person. You can check out our automated storage solutions by visiting our virtual booth from the comfort of your own desk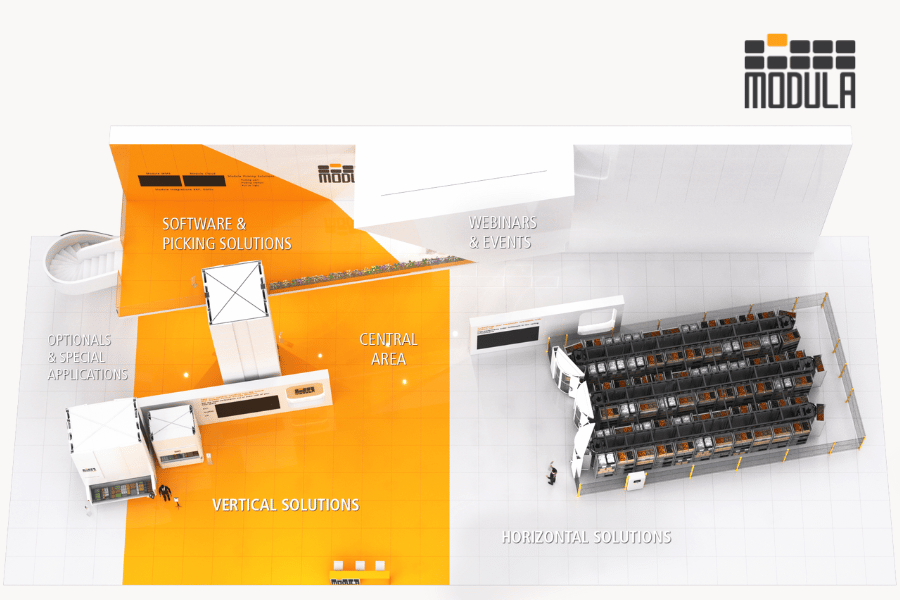 Stay informed about our upcoming events, news, and more. Learn more about automation and material handling. You can easily unsubscribe at any time using the links provided in every email.