Modula VLM Technology Supports The Aerospace & Defense Evolving Supply Chain Production System: AS9145
Modula VLM Technology supports key facets of Aerospace & Defense operations
The International Aerospace Quality Group (IAQG) established AS9145 standard for the aviation, space, and defense industry in 2016 to provide a framework for suppliers to meet vigorous production and regulatory demands by using a series of best practices.
While AS9145 was established several years ago, aerospace and defense customers have recently started to mandate that their suppliers become AS9145 compliant for new product development or existing product changes. Modula Vertical Lift Module (VLM) technology supports several key facets of AS9145's two main components: Advanced Product Quality Planning (APQP) and Production Part Approval Process (PPAP). The APQP process framework was originally developed by AIAG (Automotive Industry Action Group) in the late 1980s.
Manufacturers must prepare ahead of production to design quality systems that will help them build high-quality and reliable products.
APQP is a process that is implemented during the product development lifecycle to facilitate transparent communication and feedback throughout the supply chain. APQP begins with conceptual product needs and extends through product definition, production planning, product and process validation (i.e., PPAP), product use, and post-delivery service. This process allows suppliers to detect errors early on, incorporate customer feedback, and deliver high-quality products. There are four phases of APQP that are developed ahead of production
1. Planning – identifying project scope with consideration of time, budget, quality, and technical requirements.
2. Product Design & Development – designing products in accordance with requirements.
3. Process Design & Development – designing manufacturing processes in accordance with identified requirements and risks.
4. Product & Process Validation – verifying the ability of the processes to produce products at a given rate in conformance with the quality requirements.
One more phase covers the rest of the product lifecycle:
5. On-Going Production, Use & Post-Delivery Service Production – reduce variation with regular control checks, continuous improvement, and lessons learned to ensure ongoing customer satisfaction.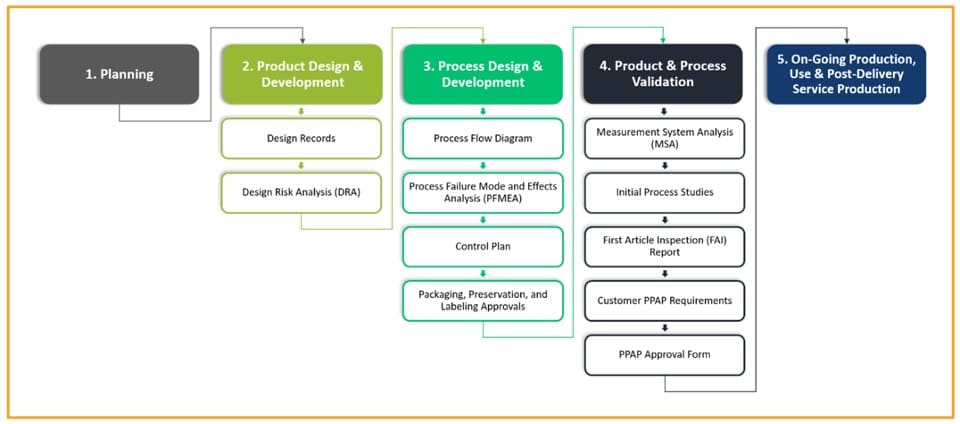 APQP is a process that involves all the company supply chain, as the quality of components and services provided by suppliers directly determines the quality of the end product. So, all the suppliers have to adopt the same quality planning and building approach, to create a consistent and effective chain of processes and practices, all contributing to the same quality goal.
A relevant role in the APQP framework is played by the PPAP, which covers the preparation of the production launch and the assurance of its readiness, through the readiness of all the involved components. All suppliers have to follow a structured process to measure and stabilize the quality of their components, and there are specific ways to document the component quality and the process stability to the OEM.
To accomplish this overall set of tasks, the adoption of common methodologies is fundamental and so is the use of robust and advanced technologies, as enablers of new levels of performance and efficiency.
Modula automated vertical storage solutions can help OEMs and their suppliers in several key activities throughout the product and process development collaboration:
a) Modula allows for perfectly storing, organizing, and retrieving:
In the first part of the APQP, in particular, during Product and Process Design and Development Verification, Modula allows for perfectly storing, organizing, and retrieving:
Prototype components at various stages of development and proven reliability;

Molds, tooling, and material samples; and

Component approved samples

All these materials may belong to different projects, or to different phases of a big project. They must be kept isolated, protected, and easily accessible. The VLM technology allows to store them in the same vertical warehouse, but logically mapped and separated, dematerializing the management of their physical availability. The operator digitally interacts with the company information systems and the VLM brings in front of her or him the tray that can accept the part to store or contains the component to pick. All picking and replenishment operations are monitored and documented to offer full traceability of the orders and monitor stock levels in real-time.
b) Vertical Lift Modules boosts storage and retrieval for essential parts
B. PPAP is the last step in the APQP process. PPAP demonstrates if a supplier can replicate the production of parts with consistency to a customer's standards. In the second half of the APQP, in particular, during PPAP and product launch, Modula VLM boosts supplier's ability to store and retrieve materials and parts they use to produce components for OEM customers, in such a way to implement and give evidence of tight inventory control, an essential element of the process quality control. Error prevention in material management and handling is key to design, plan, and assure product quality. The PPAP process specifically requires very accurate management of first production samples; they have to be very carefully identified, documented, and controlled in type and quantity. Because they are used to validate the end product manufacturing and assembly process, in its early phase. Moreover, they are used to validate products against customer requirements defined at the beginning of the APQP. Suppliers must prove their process is high quality, stable, and fully controlled, including their supply chain management. They don't have only to show good quality product samples, to be approved for production supply. Because their process quality and stability is what assures that all their products, over time, will comply with specifications. Precision, stability, and error prevention are the key. Therefore, the adoption of VLM technology assures that both OEM and supplier:
Can safely store all samples and first batch of parts approved for production, available to be inspected and audited, including samples of sub-parts and raw materials used to manufacture the parts; and

Have also implemented a highly automated and integrated inventory control, which proofs capability of delivering quality products when needed, in the right quantity, and with a tight inventory cost control.
Modula Warehouse Management Software improves inventory control and security
Modula technology is a fully integrated combination of hardware and proprietary software. Modula Warehouse Management Software (WMS) provides additional benefits in achieving AS9145 requirements. Modula WMS allows for the identification of all parts and their specific storage location within a VLM. Only validated and authorized users may access those parts creating a complete audit of all transactions with date/time, users, part, quantity, and any number of additional attributes including lot and serial numbers.

Modula WMS also has integrated visual aids in guiding an operator to the proper location within a storage tray to the appropriate item compartment. Further validation can take place by requiring a valid bar code scan of an item before a transaction can be completed during storage or withdrawal of any part.
Modula systems in place by suppliers to companies requiring adherence to APQP and PPAP processes will benefit from the reporting functionality that allows transparency in items picked and delivered to their customer base. Items that are designated flyable vs. non-flyable can also be recognized in the WMS by secondary attributes assigned to them.
This hardware and software ecosystem help to ensure that you are meeting your goals for a successful APQP framework and PPAP process.
Modula VLM Key Benefits
The key concept is that VLM technology completely displaces conventional ways of managing parts and inventory, like the APQP wants to set a quantum leap in planning and designing product quality, not just trying to correct quality issues after they show up. The new paradigm is to plan for proper management and control of internal processes and of the industrial partners. Prevent weaknesses and issues, proactively plan and invest upfront on:
digitalization of warehouse information

enabling data connection and exchange through company systems

highly accurate real-time management of part inventory

automation of parts-operator interactions

minimization of waste (parts movements) and maximization of energy efficiency

operator safety, including social distancing and workplace cleanliness

goods protection and security
As more and more aviation, space, and defense customers adopt AS9145, Modula VLM industry 4.0 automated and smart inventory management solutions will help suppliers rapidly meet the stringent requirements and improve their manufacturing and inventory management processes.