Automated Storage Systems for the Pharmaceutical Sector
New solutions for keeping pharmaceutical supply-chain protections intact while boosting speed, efficiency and control.
The pharmaceutical industry is constantly evolving, and the storage logistics to support it are evolving as well. As with so many other sectors, the traditional method of storing items on shelves and retrieving them manually is quickly becoming outdated. Speed and efficiency are required to keep pace with the market, along with issues specific to pharmaceuticals. Let's take a closer look to see how these changes might affect you and your pharmaceutical operations.
Major trends in the pharmaceutical sector
The effect of online sales has been particularly strong in recent years and is likely to continue. According to a report published recently by Global Market Insights, the global online pharmaceutical market reached $60.7 billion dollars in 2019. In addition, it is expected to reach $149.4 billion by 2026". The compound annual growth rate for the 2020-2026 period is expected to be 14.3%, according to the report.
Another report, this one from Grand View Logistics, highlights the effects of Covid-19 on the pharmaceutical logistics market. Of note is the growth of cold chain logistics, which is expected to grow significantly alongside non-cold chain logistics. The requirement for temperature-controlled storage of Covid-19 vaccines is one of the factors driving this increase. Also mentioned in the Grand View report are regulatory requirements for generic drug use whenever possible.
These trends and other factors come into play in warehouse and storage logistics for the pharmaceutical industry in several ways, including:
the need for storage space and adequate preservation conditions for medications (bulky products, fragile products, refrigerated products, narcotics)
the increasing variety of pharmaceutical drugs and medications, as well as para pharmaceutical items, on the market
ever-tighter order fulfillment timeframes
the ongoing requirement of accurate picking to avoid the harm of wrongful dispensations
the danger of drugs and medications being removed from storage by unauthorized people
overall supply-chain management to assure proper inventory
Each of these is obviously important. Although addressing them all might seem an overwhelming challenge, technical advantages have made it possible to do so in a cost-efficient manner, as we'll explain.
Logistical needs in the pharmaceutical sector
As with most industries, the pharmaceutical and medical supply chain needs to optimize their use of storage space. However, they typically can't do so at the expense of the storage environment. Given the nature of pharmaceutical items, the storage often needs to control the ambient temperature, the humidity, or even the quantity of particles in the air (cleanrooms).
Modula's vertical lift modules are known for their tremendous space-saving ability. As a matter of fact, they can reduce the required square feet in a facility by up to 90 percent. Lately, Modula has added VLMs and other products that address these other concerns:
➞ Modula Climate Control
Modula Climate Control is a variation on the Modula Lift that provides controlled temperature and humidity, allowing the continuation of cold chain logistics and protecting the store material from deterioration. It can ensure that drugs and medications are stored in a temperature range between 36°F and 7° F, plus or minus 2° F (2°C and +25°C, plus or minus 1°C). Moreover, it controls relative humidity values to not exceed 5%.
➞ Modula Dry And Modula Clean Room
Separately, Modula Dry is a new Modula addition to the automated storage solutions that keeps the relative humidity below 5%. The Modula Clean Room storage system allows pharmaceutical and medical operations to keep stored materials (medications as well as sterile instruments, for example) free of contamination. It is designed to limit the generation of dust and particulates by the storage system during its operation as well as limit the deposits of dust and particulates already present in the cleanroom that may enter the storage unit. This new storage system is compliant with the ISO 14644 standard and meets class 7 and 8 requirements.
In addition, Modula automated storage solutions greatly enhance overall productivity with quicker retrieval than manual methods while ensuring near-perfect picking accuracy and better ergonomics for workers.
Additional options for saving space while maximizing storage
Pharmacies often must store significant quantities of materials in a small space, and the Modula Slim is an effective automated storage system for that application.
The most compact VLM in the industry, the Slim requires only 32.29 square feet (3 square meters) of floor space. It's available in three widths — 66.33, 89.96, and 113.58 inches – and can be as little as 7'10" (2.4 meters) or as tall as 22'11" (7 meters). Despite those small measurements, the storage system can hold as much as 55,115 lbs (25,000 kg).
It is perfect for the tightest and most confined spaces, such as compartments or under-stair space. Modula Slim is also perfect for storing goods of varying shapes and sizes – from loose items to containers such as boxes, bottles, diapers, and creams.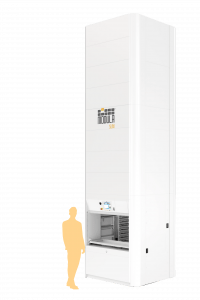 Automatically integrating storage systems with corporate databases
In the pharmaceutical sector, efficiency and precision must be continuously maintained at top levels. The Modula Slim and all Modula VLMs enhance inventory control, speed up picking operations, and reduce picking errors, thanks to their integration with the Modula WMS solution. Thanks to the optional user authentication readers, Modula VLMs can be configured to limit access to the enclosed storage systems

This automated system enhances the processing within the storage unit itself, but it also can be integrated with any company ERP. In fact, Modula has made more than 10,000 successful such installations across various industrial sectors. The integration coordinates and enhances operational and logistical processes as a whole, acquiring logistical data, improving product mapping, and ensuring efficient SKU management.
What's more, Modula Cloud allows remote management of storage systems, with predictive maintenance to ensure continuous operations.
Advantages of Modula storage systems for the pharmaceutical sector
The new line of automatic vertical storage solutions, including the Modula Climate Control, Modula Clean Room, and Modula Dry systems, together with the standard Modula Lift and the compact Modula Slim, represent the best of Modula's technology and innovation. These translate into valuable advantages for pharmaceutical and medical operations:
Reduced footprint, maximizing storage density
optimized picking times in order preparation
tracking of all picking operations, identifying who conducted them, and monitoring every single access
fast and ergonomic access to items
inventory always under control and up to date
temperature and humidity control for the proper preservation of certain types of products, also including the prevention of condensation
modularity and flexibility for the storage of goods in different sizes and shapes
remote monitoring of the storage system
high-performance and quality standards as always.
Modula develops and designs modular and flexible automated vertical and horizontal storage systems, capable of guaranteeing adequate solutions for the management of logistics in any context of use.