Modula Horizontal Carousel New Generation
High-performance order fulfillment in low ceiling environments
The Modula Horizontal Carousel New Generation (HC) brings a new level of performance, reliability and safety to high-speed picking operations where ceiling height is limited. The Modula HC is equipped with a digital Copilot that makes item retrieval fast and easy, and integrates with the Modula WMS and visual picking aids to maximize productivity and accuracy.
Turbocharge your warehouse operations
Picking rates up to 550 lines per hour for each worker
Picking accuracy up to 99%
Return on investment in as little as 6 months
Integration with WMS enables automatic retrieval of orders
Optional aids such as barcode readers and put-to-light systems enable fast, nearly error-free picking operations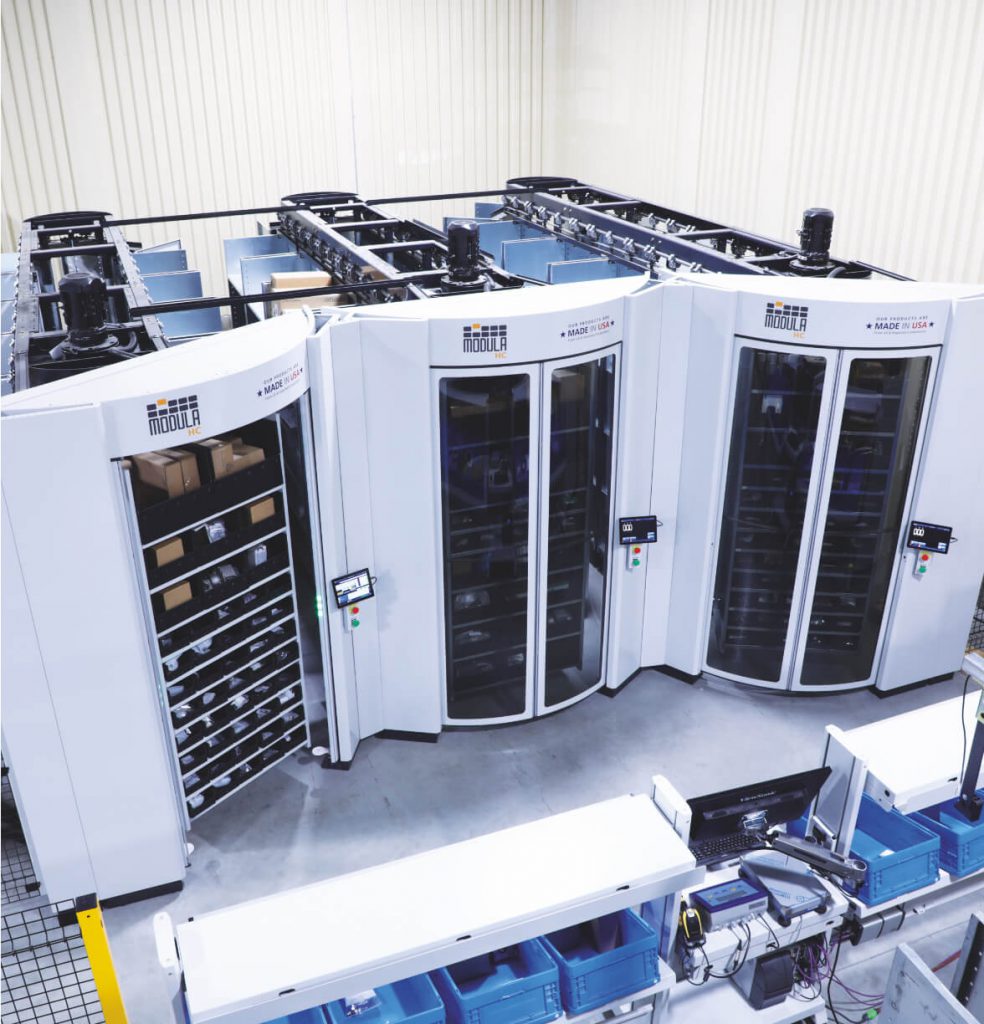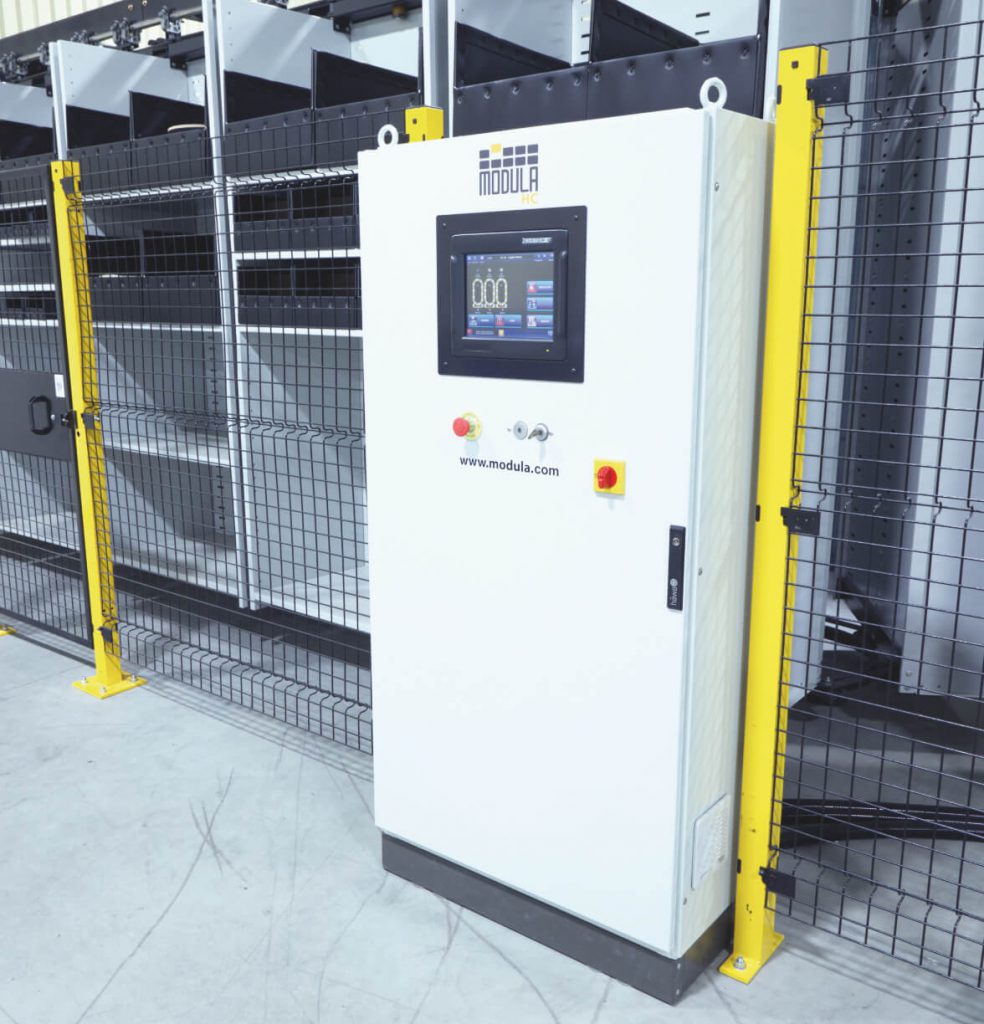 Engineered for best-in-class performance and flexibility
Compact, high-density storage areas allow companies to store more items
Flexible, configurable storage for different item sizes and seasonal ordering peaks
Stronger framework for unmatched dependability incorporates solid 304 stainless steel design
Single or dual 3-horsepower drives enable your Modula HC to move more inventory
Easy, fast and safe for operators
Modula Copilot enables your Modula HC operators to quickly find and retrieve items
Automatic tracking of picking operations records inventory levels in real time
Fast, automatic safety doors protect operators from moving parts
Easy-to-reach emergency stop buttons enable quick machine stoppage
Provide the safest worker environment by guarding against hazards, reducing physical strain, and eliminating wasteful travel around the warehouse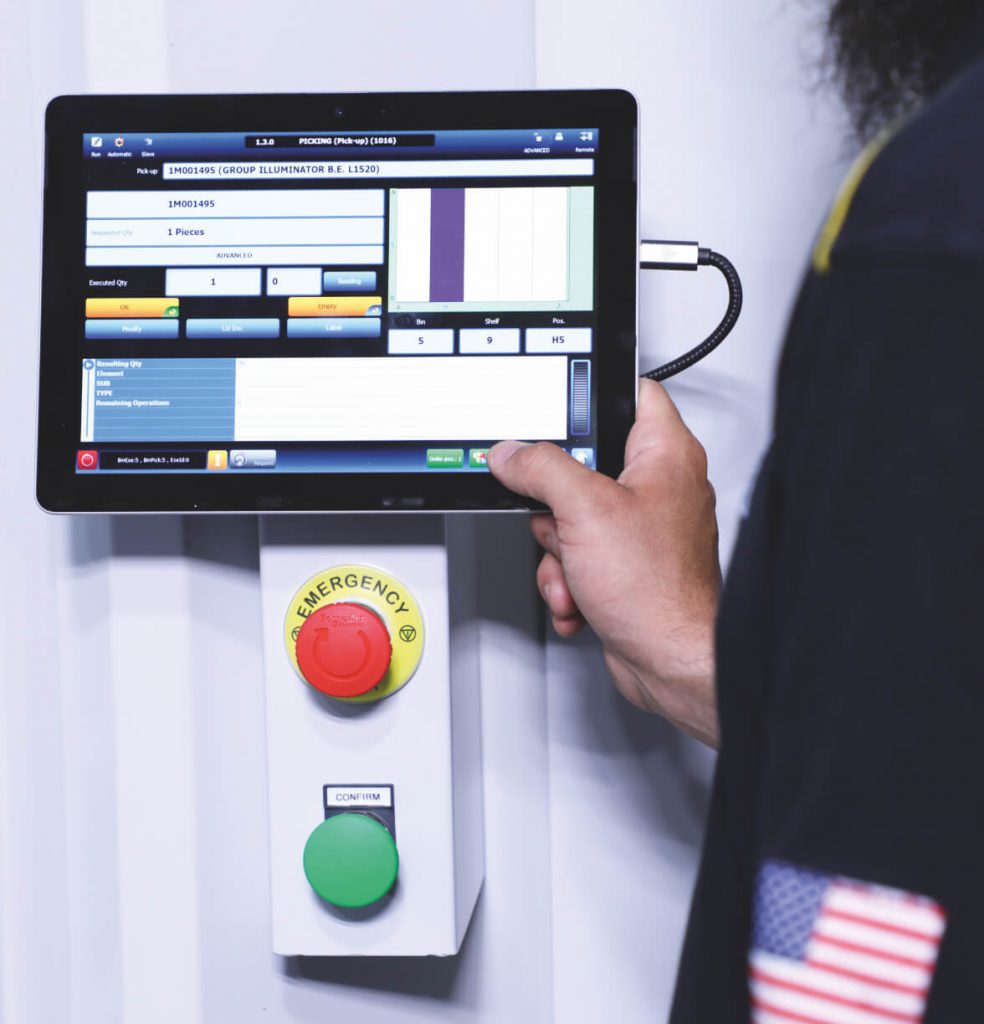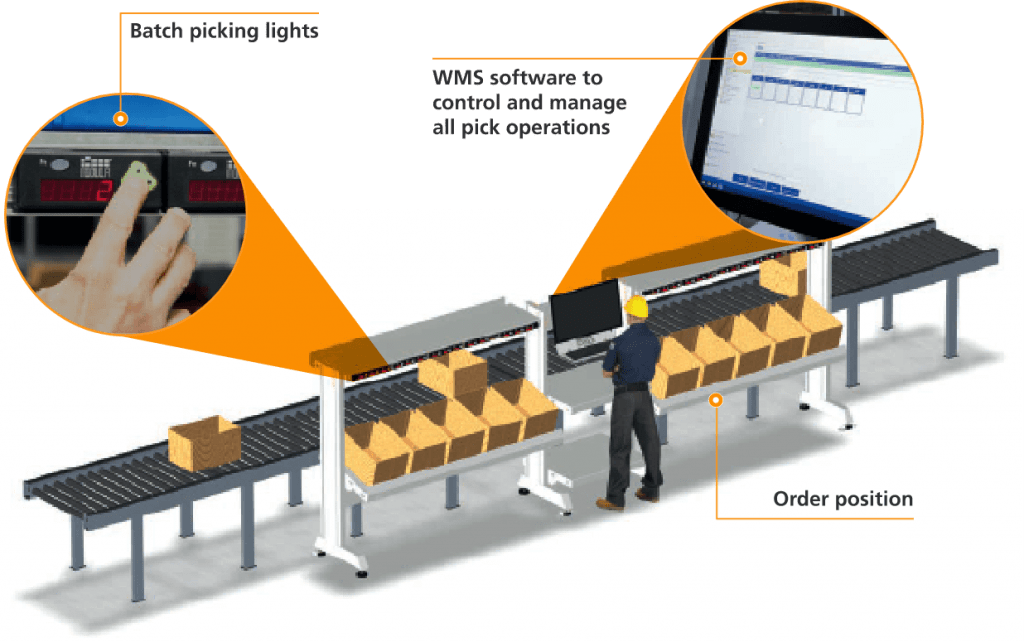 Even higher throughput with batch picking
Multiple Modula horizontal carousels can be combined to achieve even higher picking performance. In this configuration, operators use Modula WMS to create a batch of orders that will be filled all at once.
Operators select the total quantity of each SKU for all orders, and picking aids such as batch picking lights direct the operator to select and place the correct items in the correct orders. Operators only visit each SKU location once during each batch, increasing accuracy, reducing picking times and increasing productivity by as much as 65%.
Modula Horizontal Carousel New Generation customization options
A range of customization options are available for the Modula Horizontal industrial Carousel to tailor it for different operations. Your Modula dealer can help you determine which accessories are best for your situation.
Productivity
enhancements
Boost your Horizontal Carousel with end-to-end inventory and warehouse management
Modula provides a range of advanced warehouse management and remote support and analytics systems with automated materials handling and complete inventory management, seamlessly integrated with our customer's choice of ERP or DMS.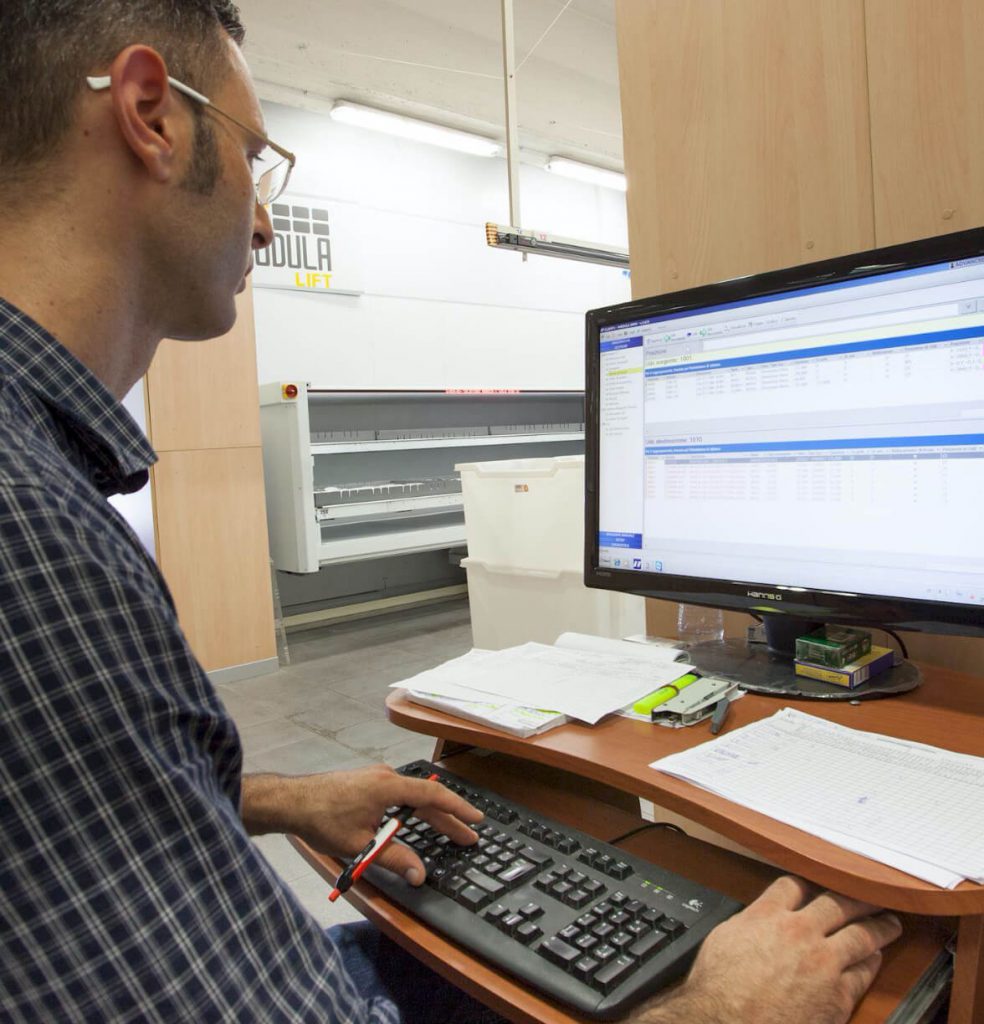 Modula WMS Base
Ideal for small or growing warehouse footprints,
free for life with any Modula unit purchase.
Modula WMS Premium
An advanced, end-to-end inventory and warehouse management solution for larger operations.
Modula Horizontal Carousel technical highlights
---
Bin width
24" or 36" (609.6 mm or 914.4 mm)
Bin depth
18" or 24" (457.2 mm or 609.6 mm)
Bin height
84" or 96" (2,133.6 mm or 2,438.4 mm)
Adjustable shelf spacing:
2" (50.8 mm)
Maximum capacity per bin
1,200 lbs (544.3 kg)
Maximum capacity per shelf
250 lbs (113.4 kg)
Maximum load capacity
Single drive: 40,000 lbs (18,143.7 kg)
Dual drive: 80,000 lbs (36,287.4 kg)
What is the ROI on a horizontal carousel or VLM?
Implementing a horizontal carousel warehouse or a vertical lift module into your operation is an investment that can create an effective ROI in as little as six months. This is due to the improved floor space utilization, reduced labor costs, increased picking accuracy, and better inventory control.
How many horizontal machines can be used for one operator?
In times of low throughput, a single operator can operate multiple pods. However, traditionally a single operator would operate a pod of carousels. A pod would be sized to meet the storage capacity and the throughput requirements of the business. Carousel pods of two, three, and four carousels can be handled by a single operator.
How does the picking process work with horizontal carousels in pods?
To speed picking times, horizontal carousels are often used in an integrated workstation called a "pod." Software and pick-to-light technology allows the carousels to work in conjunction with each other. As the worker picks from one horizontal carousel in the pod, the other carousel is pre-positioning the next pick. This minimizes worker downtime and increases throughput. Moreover, horizontal carousels arranged in pods offer great flexibility. With a simple software adjustment, the pods can be easily reconfigured to meet seasonal peak order times. A pod of four horizontal carousels can operate as one pod with one operator.
Does a horizontal carousel have imbalance issues similar to those on a vertical carousel?
No. Each bin/carrier is independently supported on the Modula Horizontal Carousel and the operation is not affected whether a bin is at its maximum weight or empty. It is recommended to avoid loading the unit to its 1,200 pound (544 kg) maximum capacity regularly because this will cause premature wear.
For which applications is the horizontal carousel a better choice than a vertical lift module?
The biggest factor is the ceiling height in your facility. Choose a horizontal carousel if your ceiling is below 10 feet. For higher ceilings, a vertical lift module is a better choice. But there are other key factors to keep into consideration such as the size and weight of the parts being handled as well as the business cycle and fulfillment requirements.
How does a horizontal carousel compare to a VLM in pick speeds?
Pick speeds vary highly, depending on the distribution of material within the storage system, the line item per order density, and any self-imposed process times, like bagging, tagging, or weigh counting items. Both systems can pick 130-550 items picks per hour if configured to do so. Again, ceiling height should be the main consideration, together with other logistical and operational aspects.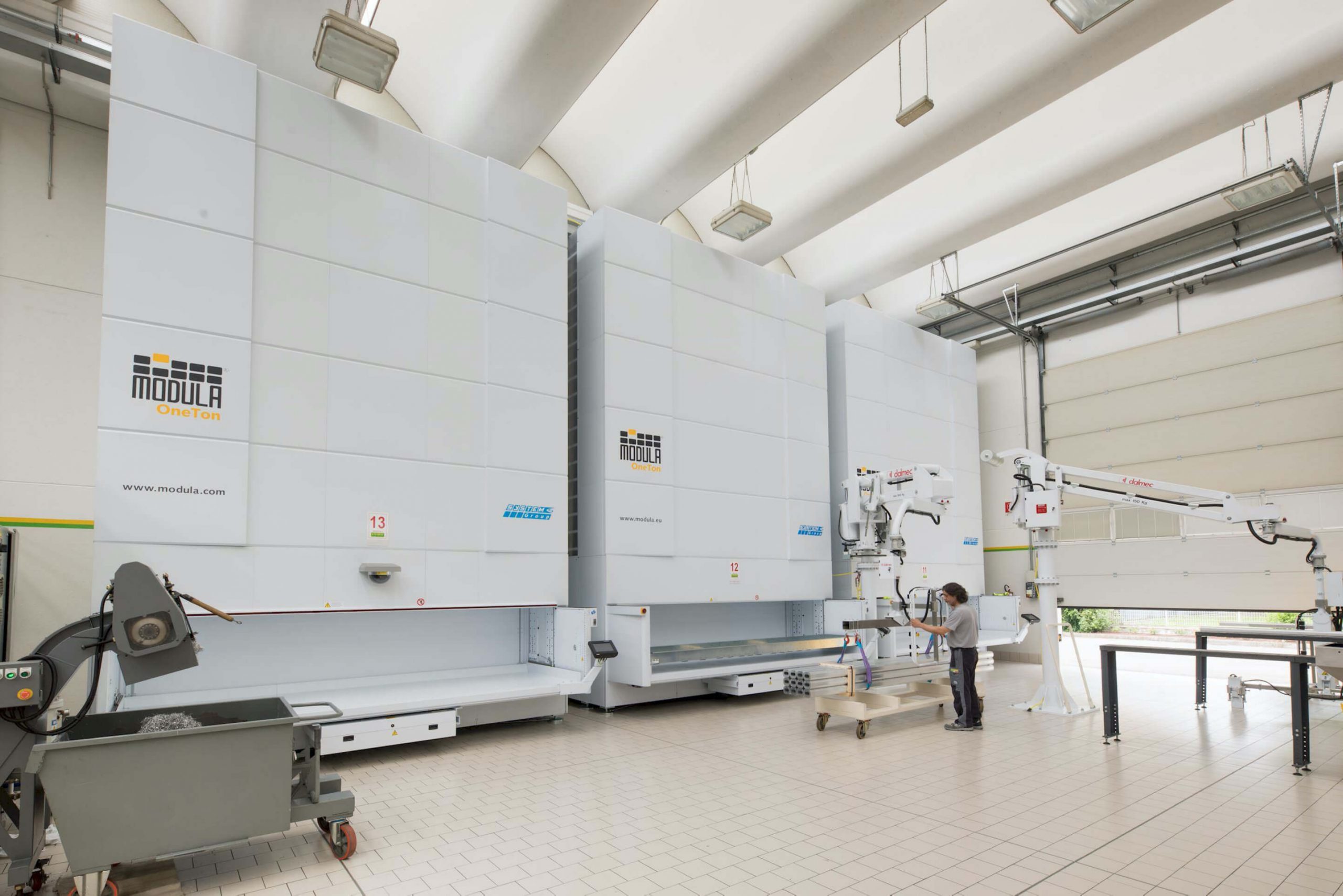 Want to improve the performance of your picking and storage operation?
Maximize the performance of your operations with the high-throughput Modula Horizontal Carousel.