How Can Vertical Storage Solutions Be A Valuable Aid For Businesses Today
1. SOCIAL DISTANCING & FEWER SURFACES TO CLEAN
Today's new safety standards and protocols regarding worker safety in warehouses and factories mean organizations need to reevaluate how they operate their facilities. A Modula Vertical Lift Module (VLM) allows a worker to stand at the machine and retrieve all the parts needed without walking around the warehouse floor and passing other workers. The minimum width of the VLM's bay is more than five feet, making it easy to adhere to six-foot minimum distances between workers, even when several Modula units are installed next to each other.
Because the operator picks directly from the VLM's bay, few people touch the materials and the machine. All of the inventory is condensed in a small footprint, and carts and forklifts aren't required. Therefore, the number of high-touch surfaces to clean and disinfect is largely reduced.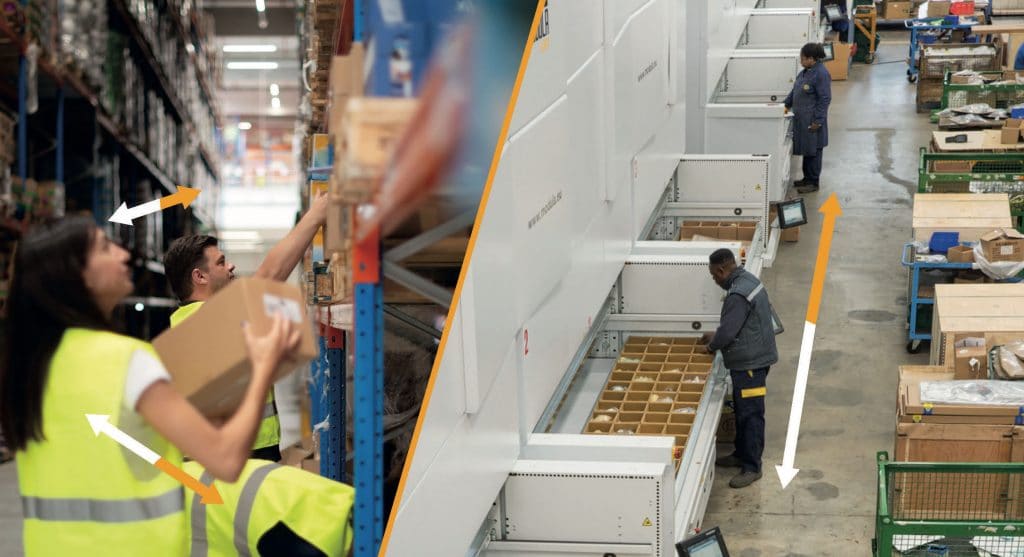 Left: Overlapping work areas create risk of infection. Right: Operators of vertical lift modules maintain safe work areas
2. SUSTAIN EFFICIENCY & PRODUCTIVITY WITH FEWER PERSONNEL
In addition to keeping their workers safe, managers also need to be able to react swiftly to change in personnel, due to illnesses or other staff interruptions. Modula vertical storage systems are ideal for providing operational continuity and productivity and are particularly valuable in these challenging times. In fact, a single operator can perform up to 120 picks per hour. Thanks to the high efficiency of Modula's dual-bay delivery system and the pick-to-light systems that quickly guide workers to select the right item, fewer resources are needed to process the same number of orders. Even with staffing shortfalls, reorganized shifts, and mandatory social distancing, productivity remains high.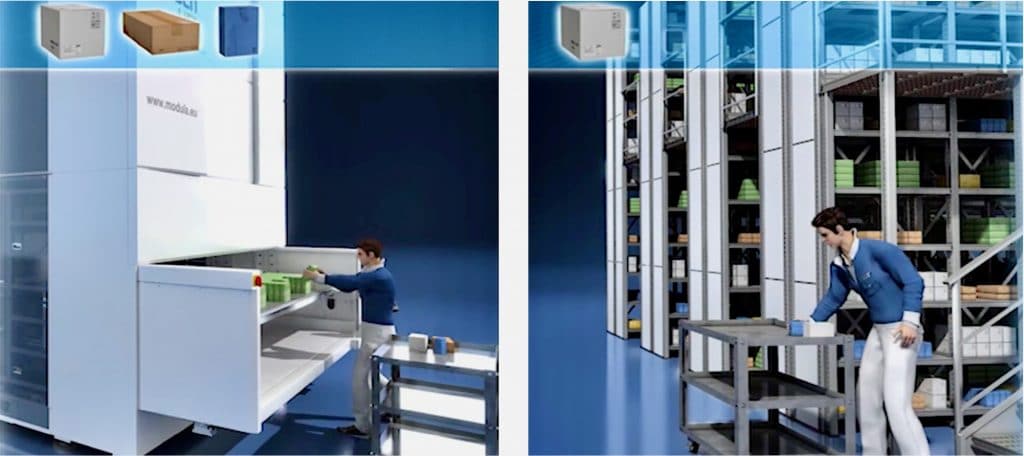 VLMs deliver items directly to the operator, saving time walking through a warehouse searching for items.
3. QUICK RETURN ON INVESTMENT & FASTEST DELIVERY IN THE MARKET
With the rapidly changing economic conditions, companies may be reluctant to make a significant expenditure now. But an investment that maximizes productivity while drastically cutting required storage space (up to 90%) may be exactly what is needed today and in the future. With a Modula VLM, companies can quickly see a return on investment: anywhere from 6 to 18 months, depending on the overall size of the project. Moreover, thanks to factories located in Maine and Ohio, Modula VLMs can be ordered, delivered, installed and loaded in an average of eight weeks. With the future increasingly speeding toward automation and advanced technology, soon companies won't be able to afford a warehouse with productivity that lags consumer expectations.
4. LEARN HOW TO OPERATE A VLM IN 30 MINUTES
With 30 minutes of training, anyone can productively and safely operate a Modula storage system. Operators can easily learn how to operate the user-friendly copilot, a color touchscreen controller that makes picking from the unit very simple and fast. This is one reason that productivity stays high, even with all the other factors affecting today's warehouses and factories.
5. INCREASE PRODUCTIVITY TO KEEP UP WITH GROWING DEMAND
Modula units are the perfect solution for companies launching an e-commerce business or keeping pace with growing demand by bumping up productivity and throughput rates. Pick-to-light systems quickly guide workers to select the right item, reducing handling times while the dual delivery bay offers even higher picking rates by delivering multiple trays simultaneously.

Manual Picking vs Automated picking: % of time spent in picking
6. SAVE COSTS BY REDUCING PICKING ERRORS
With the high pressures to boost productivity that many warehouses are now feeling, another weakness of traditional warehouses is exposed: mispicks. Sending customers the wrong item, too many items, a damaged item, or failing to send one at all is expensive. Estimates are that each mispick costs a company between $25 and $100. Add it up and it can represent the loss of tens or hundreds of thousands of dollars a year. A VLM eliminates that issue. Pick-to-light systems quickly guide workers to select the right item. Modula's laser solution pinpoints the SKU by mapping it on an X, Y axis. The item`s position is highlighted first with a red line indicating the correct column and then isolating the exact location with a green dot. This feature eliminates the need to search for items and ensures that the right part is delivered to the right person, cutting out common errors that arise when humans have to make repeated judgment calls all day.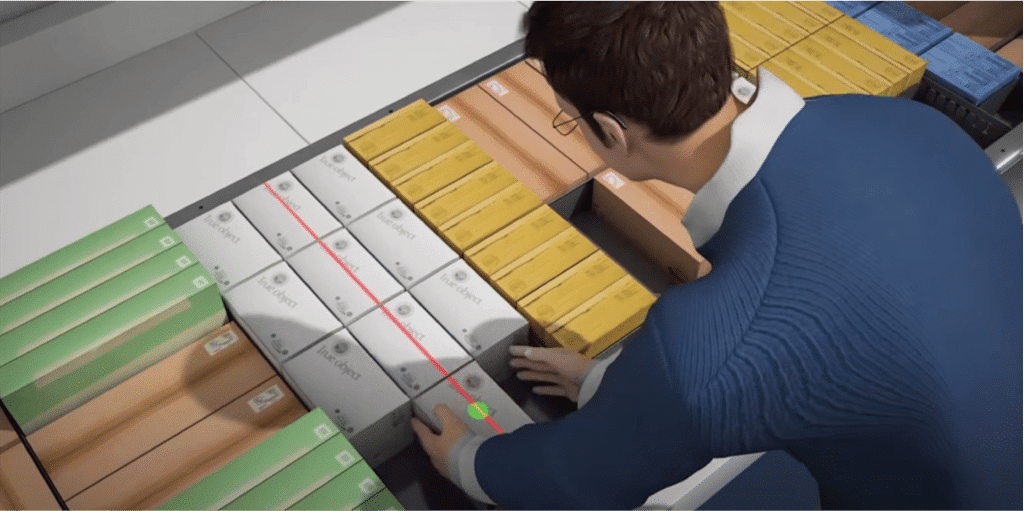 Items are highlighted with a bright laser indicator, virtually eliminating picking errors.
7. CUT WAREHOUSE SIZE WHILE BOOSTING PRODUCTIVITY
While companies want to drive up overall productivity, purchasing extra space for warehouse storage is not the ideal way to do so. Whether in a depressed or robust economy, utilizing your space in the smartest way has financial and growth benefits. Employing VLMs instead of traditional shelving in a warehouse can reduce the total footprint by 90 percent. This means a much smaller warehouse is just as productive as its larger counterpart. Companies that have the option of downsizing to a smaller space can save on fixed as well as variable costs. Conversely, existing warehouse space can be far more productive by replacing a shelf system with VLMs. Understanding how saved space in a warehouse can directly affect the cost and therefore profit and productivity is essential in any economic environment.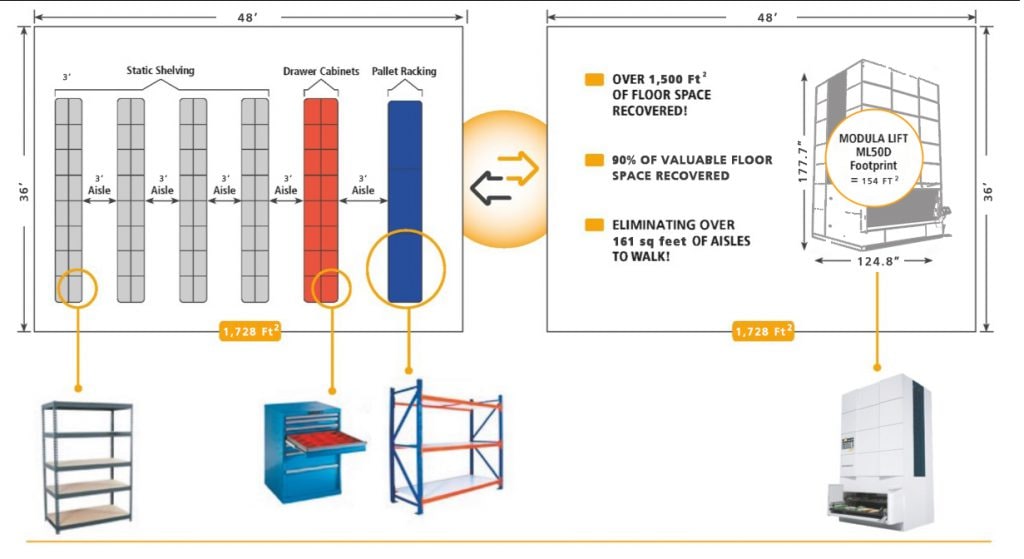 Employing VLMs instead of traditional shelving in a warehouse can reduce the total footprint by 90 percent.
For more information or to receive a personalized quote for your facility, please contact a Modula Product Specialist below.