Modula OnePick: Fully automated – no operator required
The OnePick combines in one machine all the benefits of VLM technology with an integrated robotic system to pick and place boxes or totes. The bay integrates seamlessly with conveyors, belts and other systems. It's perfect for ecommerce, self-service and automated stores.
Sophistication in automation
Fully automated: With the included picking bay and extractor, the OnePick runs without an operator
Extractor removes products in boxes or bins: There's no need for other assistance or interventions, the OnePick does it all
Adjusts automatically to different boxes, bins and containers: The OnePick readily accommodates and retrieves varying weights, volumes, sizes, and dimensions
Seamlessly integration: Incorporate it with your current conveyor belts, rollers, AGVs, and AGCs to speed deliveries
Save space, increase operating speed
Trim your floor space: Like all Modula VLMs, OnePick reduces your storage footprint
Retrieve from multiple rows: OnePick can pull items from different locations in the same tray, regardless of geometry, shape or volume
Integrate easily into your company processes: Like other Modula VLMs, OnePick comes with Modula's Warehouse Management System (WMS) to track processes and inventory
Ensure security of stocked products: Fully enclosed to keep items away from unauthorized parties
Flexible and easily modified
Four different models: The OnePick is available in four different models of varying widths and payload capacities
Adjustable trays to meet your unique needs: Dynamic tray height storage and 1-inch tray adjustability optimizes internal cubic volume
Accommodates challenging facilities: Allows the installation of a VLM even in hard-to-reach areas
Modula OnePick customization options
A range of options are available for the Modula OnePick to customize it for different operations. Your Modula dealer can help you determine which accessories are best for your situation.
Productivity
enhancements
Boost your OnePick with end-to-end inventory and warehouse management
Modula provides a range of advanced warehouse management and remote support and analytics systems with automated materials handling and complete inventory management, seamlessly integrated with our customer's choice of ERP or DMS.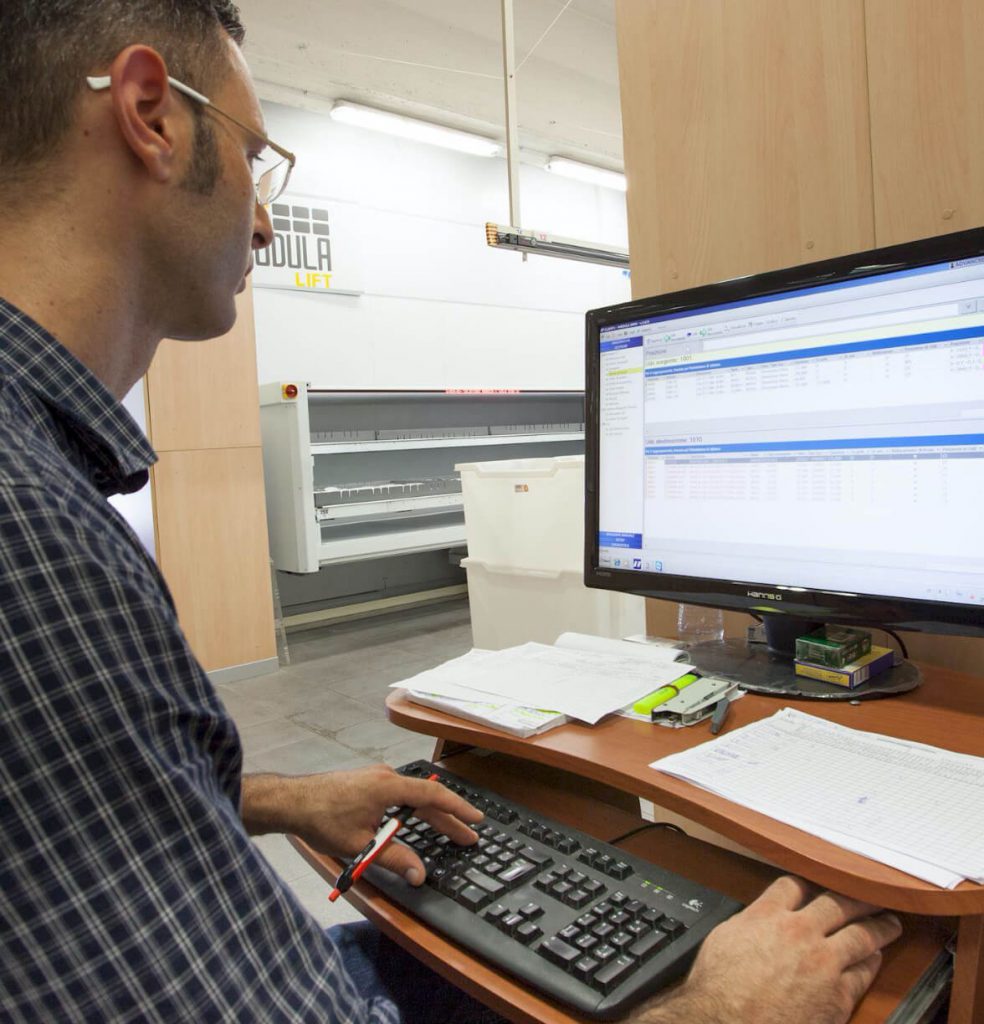 Modula WMS Base
Ideal for small or growing warehouse footprints,
free for life with any Modula unit purchase.
Modula WMS Premium
An advanced, end-to-end inventory and warehouse management solution for larger operations.
Modula OnePick technical highlights
---
Unit heights
10'10"–52'10" (3,300–16,100 mm)
Unit height increment
7.87" (200 mm)
Tray storage pitch
1" (25 mm)
Tray widths
75–161" (1,900–4,100 mm)
Tray depths
25.75" & 33.74" (654 mm & 857 mm)
Net tray payload capacities
551–2,182 lbs (250–990 kg)
Total gross payload capacity
Up to 198,416 lbs (90,000 kg)
Number of bays
Option for dual access bays
Subaru of New England revs up its parts distribution with Modula VLMs
Case Summary
Subaru of New England was moving into a new, larger facility and wanted to update its storage system to address problems of inefficiency, wasted floor space, and ergonomic risks to its workers. By installing nine Modula vertical lift modules, the distributor greatly enhanced throughput, ensuring orders are fulfilled promptly and accurately while reducing floor-space requirements and enhancing conditions for its workers.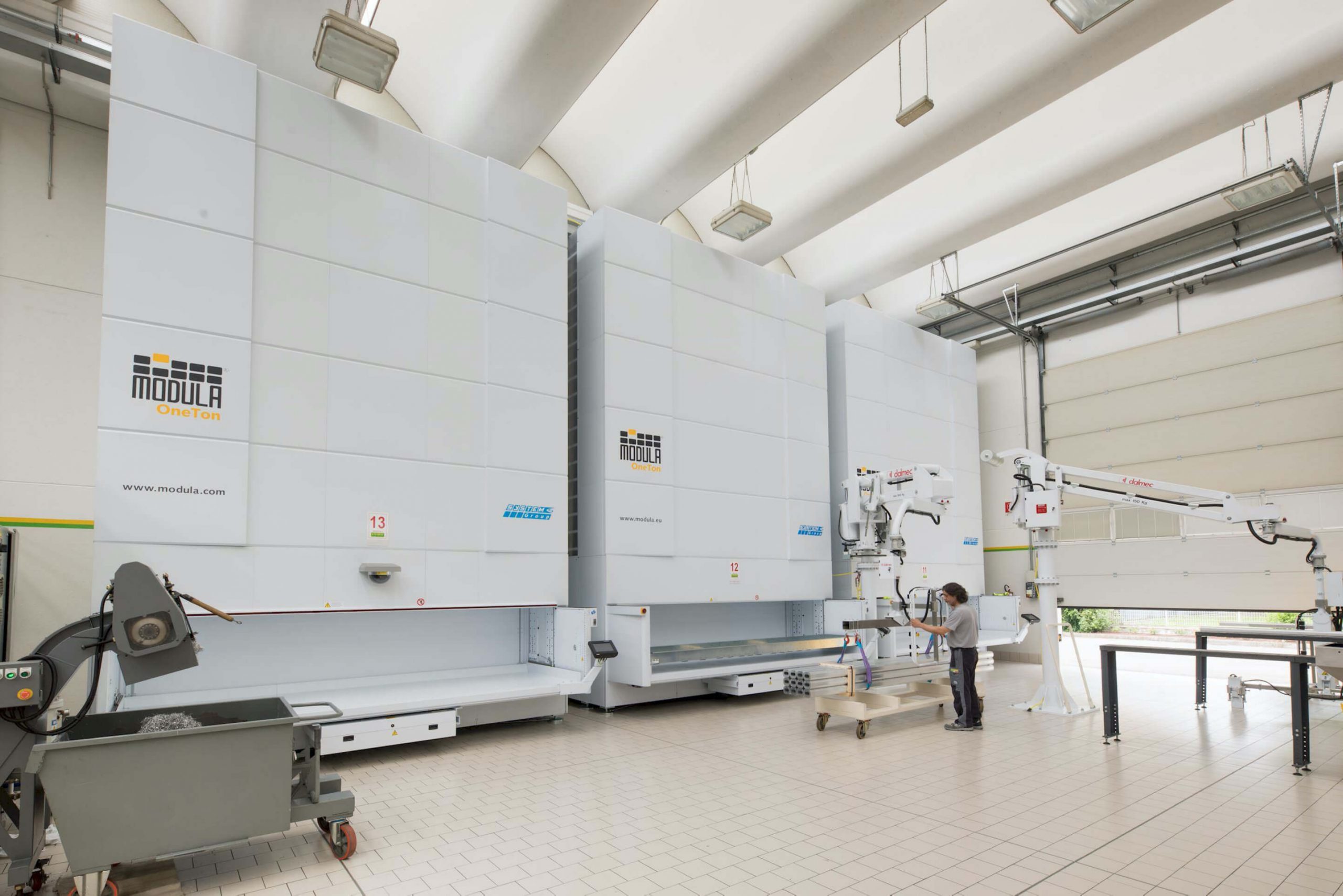 Want to improve the performance of your picking and storage operation?
Maximize the performance of every inch of your floor space with Modula Vertical Lift Modules.