Discover Modula solutions at IMTS 2022
Event: IMTS 2022
Date: 12-16 September, 2022
Location: McCormick Place in Chicago, IL
Visit our team: Booth #135033
Modula returns to the IMTS 2022 Show in Chicago to showcase vertical storage solutions
Modula is excited to be returning to the upcoming IMTS 2022 Show held on September 12-16, 2022 at McCorick Place in Chicago, IL.
The International Manufacturing Technology Show, is the largest and most prominent industry trade show in the Western Hemisphere. With the latest innovations and solutions featured among the world's leading manufacturers, Industry professionals travel from around the globe to connect, explore and find inspiration at IMTS.
Come and experience more than 15,000 new machining technologies and find processes to help solve your manufacturing challenges and improve operational efficiency.
Modula to showcase a fully automated e-grocery order fulfillment solution
A global leader in automated storage solutions, Modula will demonstrate its automated vertical storage solution, Modula Lift 2.0, to IMTS 2022 visitors:
Modula's automated storage and retrieval systems have been designed to store a large inventory of goods in a safe and secure environment. Taking up a minimum footprint by using available ceiling height, stored items are quickly accessible and automatically delivered to operators with a simple touch on the user-friendly Copilot controller or the scan of the barcode.
Visit our booth to discover how these solutions can help you:
Save Space & Reduce Operations Cost: Save up to 90% of valuable floor space compared to traditional storage methods and make space available for future growth needs.
Increase Productivity and Accuracy: Vertical lift modules automatically deliver items to the operator, drastically reducing handling times, both in picking and replenishing, as there is no walking back and forth to find and retrieve goods.
Process More Orders in Less Time: Operators can process even complex orders in the shortest possible time and with the highest quality level, even during peak workload times, as they don't have to wait between jobs when retrieving parts.
Industry studies have shown that vertical storage solutions can increase workforce productivity by up to 85% because one worker is able to handle the same volume of work previously performed by multiple operators.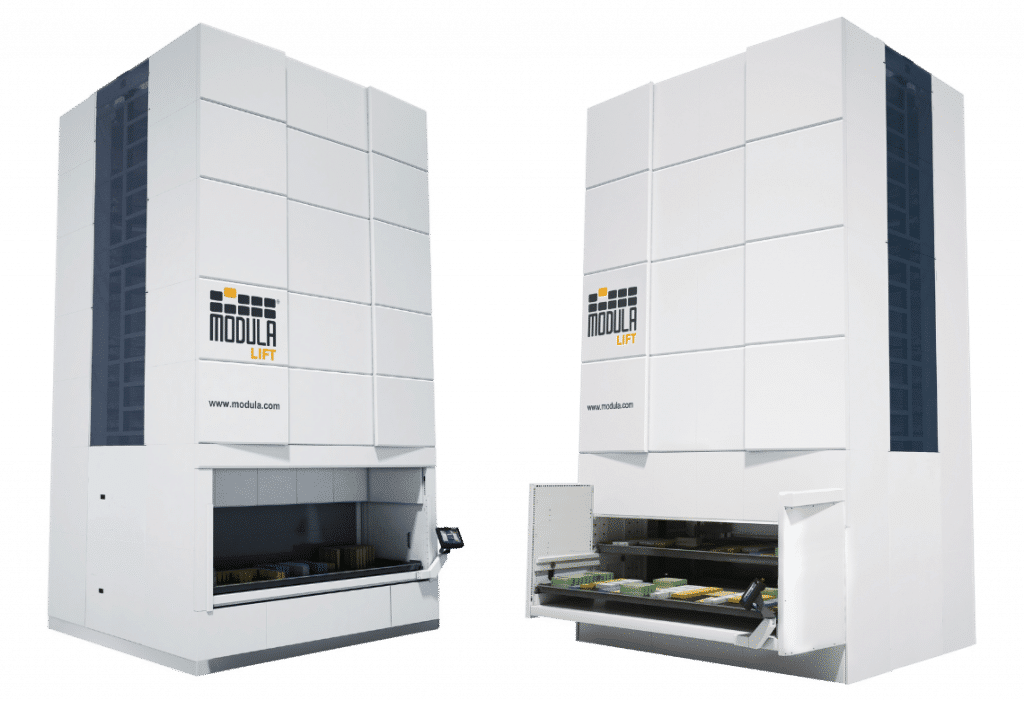 Meet Modula at IMTS 2022 Chicago – September 12-17, 2022
Modula's team of experts will be happy to discuss your project during the conference. Leverage our 20+ years of proven success in the market and over 18,000 custom AS/RS installations worldwide, to reinvent your storage, inventory management, and fulfillment processes.
Haven`t Registered yet for IMTS? Click on the button below to sign up for a free pass to the Expo.
About IMTS 2022
The International Manufacturing Technology Show (IMTS) is the largest manufacturing technology trade show in North America that features industrial machinery and technology, welding, lubrication, and materials engineering. The six-day show is held at Chicago's McCormick Place and draws attendees and exhibitors from the U.S. and over 120 other countries.
In addition to being an exhibition for suppliers of machinery and other manufacturing technology, IMTS sponsors the Emerging Technology Center, where new developments from both academia and industry are showcased. Industry professionals will visit IMTS to discover the latest innovations in digital and traditional manufacturing, experience new machining technologies, and find processes that will help solve their manufacturing challenges and improve efficiency.